This is an archived article and the information in the article may be outdated. Please look at the time stamp on the story to see when it was last updated.
As many teams look to gather around the Hot Stove this winter, most believe the Royals will be left out in the cold.
I'm not saying they need to be front and center of the fire, but feeling some of the heat wouldn't necessarily be such a bad idea.
After sitting dormant for most of last winter, the Royals pounced on short-term deals for players like Lucas Duda, Alcides Escobar, Jon Jay, and Mike Moustakas. Many of those same players were flipped for assets before the season ended.
A similar strategy may pay off again this season.
With that in mind, here are four free agents the Royals should consider signing (and moving) in the 2019 season.
3B Mike Moustakas
Yes, I'm sounding the Moose call for the upcoming season again.
By now, you know the story. After the 2017 season, the Royals offered Moustakas a qualifying offer worth one year and $17.4 million. Moose declined, seeking a contract in free agency for longer term and more money. He couldn't find it, and ultimately returned to the Royals on a one-year contract for about 40 percent of the qualifying offer value.
As the season wore on, and the Royals fell farther out of contention, they moved him to the NL Central-winning Brewers for Brett Phillips and Jorge Lopez, two once highly-regarded prospects who made immediate contributions to Kansas City upon their arrival.
In my estimation, the Royals would be wise to take a similar approach this offseason.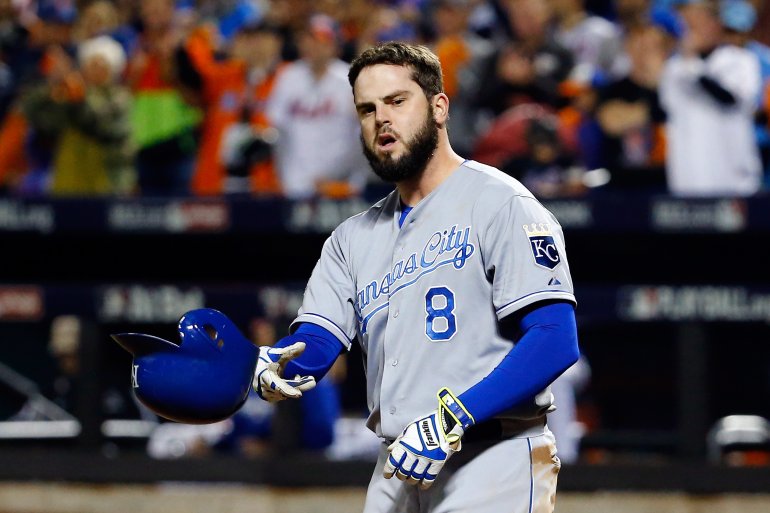 Moose's market last season was undoubtedly hampered by the qualifying offer; any team that signed him besides the Royals would've had to forfeit a draft pick in exchange. As a midseason trade, Moustakas has no such attachment this year, but I don't think teams will be pounding down his door.
At best, he's the third best third base option in this year's class behind Manny Machado and Josh Donaldson. Several teams will be reluctant in winter to give a long-term deal to a good but not great player on the wrong side of 30, especially one who's as one-dimensional as Moose. His power, however, could be coveted at the deadline just like it was in 2018 by the Brewers.
In a season where being competitive truly seems a pipe dream, it makes sense to make the relatively small financial investment in Moustakas to acquire valuable future assets.
RP Kelvin Herrera
For a second time, I'm calling for a Royal reunion.
Herrera kicked off the Royals fire sale in earnest last season. The closer was dominating in a contract year when Dayton Moore pulled the trigger on a trade to send Herrera to the then-competing Washington Nationals for three minor-leaguers, highlighted by third baseman Kelvin Gutierrez.
Herrera came back to Earth in Washington posting average results before suffering a season-ending foot injury in August. That foot injury may hamper his ability to cash in on a big deal this offseason, which is exactly why the Royals should bring back Herrera.
Of all the player types to be moved midseason, the most common is a relief pitcher on a short-term deal.
With Herrera dealing with a Lisfranc injury, I think teams won't want to commit to several years for him and would be more likely to offer a one-year, "prove it" contract. If that's the case, there's hardly any drawback to signing him.
The Royals bullpen is in flux, and Herrera could easily ascend to the closer role if he's healthy. With any kind of success, that should bring back a solid return in July. If he's not, well, it's hard to have a one-year deal truly backfire on you.
The low-risk, high-reward signing is exactly the kind of move that benefits a team that still seems on the outside of being relevant.
RP Cody Allen
Another reliever who seems an intriguing "buy low" candidate, Allen was outstanding from 2014 to 2017 out of the Cleveland bullpen, but the closer struggled with walks and the home run ball in 2018.
Additionally, it's a deep relief pitcher market. Herrera, Craig Kimbrel, Jeurys Familia, Zach Britton, Andrew Miller, David Robertson, Adam Ottavino and Joe Kelly among others are all looking for contracts that figure to be multi-year deals worth eight figures. It's easy to imagine a reliever like Allen getting lost a bit in the shuffle.
Allen seems a bit more likely than Herrera to get a longer-term contract because he's healthy, but he might also have interest in a one-year contract, prove he's still got it, and re-enter free agency before the 2020 season.
If that's the case, the Royals should entertain recruiting a former AL Central foe with the intention of moving him to a contender at the deadline.
2B/3B/OF Josh Harrison
It's still baffling the Pittsburgh Pirates didn't move Harrison for, well, anything in 2018. Much like the Royals' Whit Merrifield, Harrison offers positional versatility with at least a semblance of power. He doesn't have the speed Merrifield does, and after a down year with Pittsburgh where he posted a slash line of .250/.293/.363, most teams are likely looking at Harrison as a bench player (if they're looking at all).
The Royals may be one of only a few teams where Harrison could have a reasonable shot at cracking the starting lineup. With any luck, he could turn that opportunity into a chance to return to his All-Star status. Even if it's a longshot, the financial commitment figures to be so small that the benefits outweigh the drawbacks.
None of these players may leave Royals fans feeling red hot about the future, but at least it's more than a lump of coal.