This is an archived article and the information in the article may be outdated. Please look at the time stamp on the story to see when it was last updated.
Oklahoma City forward Kevin Durant captured the honor of the NBA's Most Valuable Player on Tuesday. Durant averaged a league-high 32 points a game this season, along with 7.4 rebounds and 5.5 assists. He helped the Thunder finish second in the Western Conference at 59-23.
Durant totaled 119 first-place votes and 1,232 points in the voting of sportscasters and writers. James picked up six first-place votes following Miami's second-place finish in the East. Los Angeles Clippers forward Blake Griffin was third in the balloting.
While his performance on the court is outstanding, Durant's speech during the ceremony was equally so.
He told the audience about all his mother did for him that made him the man and the player he is today.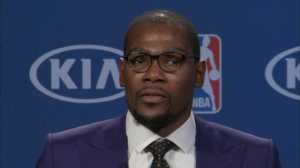 "The odds were stacked against us. Single parent with two boys, by the time you were 21 years old. Everybody told us we weren't supposed to be here. We moved from apartment to apartment by ourselves. One of the best memories I have was when we moved into our first apartment. No bed, no furniture. And we just all sat in the living room and just hugged each other 'cause we… We thought we'd made it!"
He said when something good happens he thinks about the things that brought him to that point, and Durant continued the gushing praise of his mother.
"You wake me up in the middle of the night in the summer time, making me run up the hill, making me do push-ups, screaming at me from the sidelines of my games at eight or nine-years old. We weren't supposed to be here. You made us believe. You kept us off the street, put clothes on our back, food on the table.  When you didn't eat, you made sure we ate. You went to sleep hungry. You sacrificed for us. You're the real MVP," he said through tears.