This is an archived article and the information in the article may be outdated. Please look at the time stamp on the story to see when it was last updated.
LIBERTY, Mo. -- One could say he graduated high school, but never left.
As Friday's varsity football game unfolded for Liberty High School, there might have been in a tear in the eye of some Blue Jay fans. That school, scheduled to face rival Liberty North on Friday night, recently lost a dear friend.
"I wouldn't want to spend my Friday nights anywhere else," Denise Ulhman said Thursday.
Uhlman, who worked for nearly 20 years as a teacher in the Liberty Schools district, said there's a spirit in the air at the game Friday night. Losing that beloved spirit is something she and her family are still mourning.
Kevin Uhlman, Denise's husband of 31 years, died on Aug. 20, ending a two-year battle with colorectal cancer. Fifty-year old Kevin, who graduated from LHS in 1986, helped run the first down markers for Jays home games as a member of the school's "chain gang." Athletic department administrators at the school said Kevin had helped in that role for 18 years.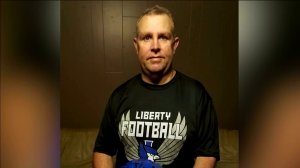 "This is his heart. This is where we spent all of our time. If we weren't at work, we were here," Denise Uhlman said.
Kevin's fight against cancer included 17 hospital stays, not to mention chemotherapy and surgery.
When funeral directors suggested holding his funeral visitation on a Friday night, the Uhlmans declined since Kevin would have wanted them to attend the LHS football game. Denise and other loved ones were honored at Liberty's opening football game of the season in late August.
"I had a lot of family here that night. We all knew this is where Kevin was going to be," Denise Uhlman said.
Now, Kevin's youngest son, Taylor, will step into Dad's role, assisting with the "chain gang" on Friday nights. The family said that will help keep their father's spirit in the games.
"The team signed a football helmet for him. My brother wanted his jerseys. (Head Coach Chad) Frigon found those for him. They wanted a flag to put over Dad's casket. Frigon was able to find that," said Jordan Uhlman, another of Denise and Kevin's sons.
"He did it for his passion for the game He loved sports and being around kids and making them better, and that's why it's so hard to lose somebody like that in our community," Frigon told FOX4.