This is an archived article and the information in the article may be outdated. Please look at the time stamp on the story to see when it was last updated.
COLUMBIA, Mo. — Missouri freshman Michael Porter Jr. has been cleared to resume basketball activities, reports say.
The 6-foot-10 Porter, the top prep prospect in the country last season, played in only two minutes of the Tigers' season-opening win over Iowa State before missing the rest of the season following surgery in November.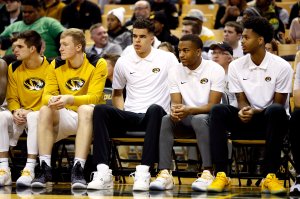 Porter averaged 36.2 points and 13.6 rebounds per game as a senior in high school in Washington, and he was a McDonald's All-American after signing with Missouri.
He was expected to miss the rest of this season after the procedure, called a microdisetomy, but now, based on multiple reports, it appears Porter will be back on the court soon.