This is an archived article and the information in the article may be outdated. Please look at the time stamp on the story to see when it was last updated.
COLUMBIA, Mo. — Missouri basketball's Jontay Porter declared for the NBA Draft on Thursday but said he will not hire an agent.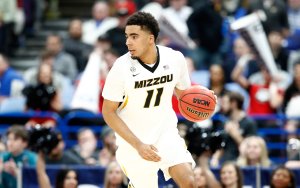 "I have loved everything about my experience on and off the court as a member of the Mizzou family, but have always dreamed of playing in the NBA," Porter said. "While I am not making any final decisions at this point, I am not hiring an agent and will be diligent in complying with all NCAA rules to ensure that I maintain my eligibility to compete at the NCAA level for Mizzou in the future. I am going to declare for the NBA Draft. this will allow me to evaluate my status with NBA teams so that I can make a fully educated decision on my future. I am excited for this opportunity and appreciate the continued support from Mizzou nation throughout this process."
By  not hiring an agent, Porter will still remain eligible  to continue playing for Missouri if he decides to withdraw his name from draft consideration.
The freshman forward reclassified to follow his older brother to Missouri a year ahead of schedule. Now he's following in Michael Porter Jr.'s footsteps once again. Porter Jr. also declared for the NBA Draft last month.
While Porter Jr. wasn't on the court for most of Missouri's season, Jontay Porter stepped up as one the Tiger's top players. He averaged 9.9 points, 6.8 rebounds and 2.2 assists per game this season.
Good luck, #️⃣1️⃣1️⃣ pic.twitter.com/v0XZ9hMadg

— Mizzou Hoops (@MizzouHoops) April 5, 2018