This is an archived article and the information in the article may be outdated. Please look at the time stamp on the story to see when it was last updated.
ST. JOSEPH, Mo. — Women are starting to play a larger role in the NFL, and the Kansas City Chiefs are no exception.
Tiffany Morton is one of six female certified athletic trainers in the league, and she works for our very own Kansas City Chiefs.
"I just feel like I`m doing my job and got lucky enough and worked hard enough to have the opportunity to do what I really wanted to," Morton said.
She works for the Chiefs but said being a woman had nothing to do with her drive and dedication to her job.
"I had to prove that I knew enough knowledge to work with a pro athlete," Morton said.
Chiefs head athletic trainer Rick Burkholder said he knew the people who taught Morton and was told to keep an eye on her. He later offered her an internship and eventually a job.
"Fifty-four percent of our athletic trainers worldwide are female, and 75 percent of our students right now are female," Burkholder said. "So I felt that if we didn't open our doors to female athletic trainers in the NFL — and I don`t think anybody purposely stopped that. It just wasn't happening — that in 10 years when health care is so important to the players, we would have really bad staff because we were taking one in four students."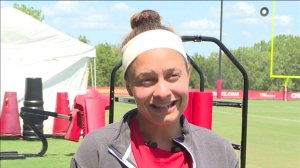 "It does take a couple of pioneers to make the first couple of steps, and then the rest of us keep pushing. There`s a crowd behind us who keeps pushing, and eventually you get it right," Morton said.
Burkholder said many NFL players had female athletic trainers in college, so this isn't anything new.
"There's guys that may fight me on something, but they won't fight her just out of respect," Burkholder said.
To help ensure women were considered for all open athletic training positions on an even scale with men, the Professional Football Athletic Trainers Society started a program in 2015 giving female athletic training students interested in pursuing a career in the NFL a special opportunity.
"The commissioner gave $32,000, $1,000 a team, to bring a female to every training camp," Burkholder said.
The goal is to hire the best person for the job, regardless of gender.
"I think there`s a really good chance that the next head athletic trainer of the Kansas City Chiefs is a female," Burkholder said.
Morton said she only notices the lack of females in the NFL when she goes to conferences or schools to speak with women who aspire to do what she does.
"Give an opportunity that wasn`t available to me, as in being a mentor to other ladies trying to come up in the NFL or pro sports in general — that`s the only time I really notice it and have to stop and take a moment and go, 'OK, this is important. This is a big deal.' Other times I`m like, 'This is my job,'" Morton said.
She hopes to be a head trainer one day.