This is an archived article and the information in the article may be outdated. Please look at the time stamp on the story to see when it was last updated.
SURPRISE, Ariz. — Thursday was 'photo day' for the Kansas City Royals in Surprise, Ariz.; it's a time when every player lines up and smiles for the camera.
The pictures will be used all season long on the Jumbotron, on banners and billboards and in packs of baseball cards.
On Thursday, it took a little more than an hour to move 70 people through the line.
Former first baseman and now coach Mike Sweeney, pitcher Danny Duffy, catcher Drew Butera and outfielders Alex Gordon and Bubba Starling were all 'up and at it' for the photo shoot.
Not everyone loved the early morning wake-up call to be a baseball model.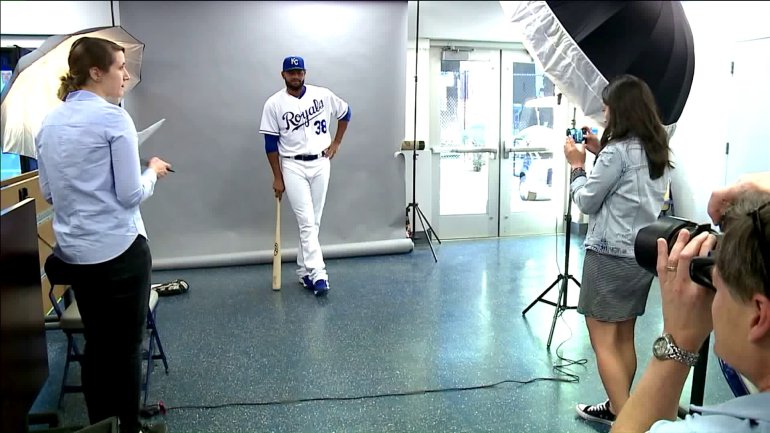 "I don't understand why we take a million pictures every year. why can't they just use the same picture? That's what I think," said Salvador Perez.
"It's an early morning," said Whit Merrifield. "You try to make sure you have coffee and you make sure your eyes are open. Go through the line and smile the best you can."
Merrifield also had to think of what his mother would say about his picture.
"It's kind of a compromise for me. My mom wants me no beard. I would rather have a beard. I try to trim it down a bit and go about halfway," he said.
Merrifield is also optimistic about the upcoming season.
"I think we're going to be a lot better than people think. We have a lot of talent and a lot of guys that might not have a big track record in the big leagues, but have a lot of talent and can play really well."
Salvy is getting to know his new teammates and trying to adjust to each style.
"There are some new faces in here. I've been trying to talk to the pitchers to see what they want me to do behind the plate. How they want me to catch for them. I want them to feel comfortable with me," said Perez.
Watch Kerri Stowell on the FOX4 Morning Show all week long, live from Spring Training in Surprise!