This is an archived article and the information in the article may be outdated. Please look at the time stamp on the story to see when it was last updated.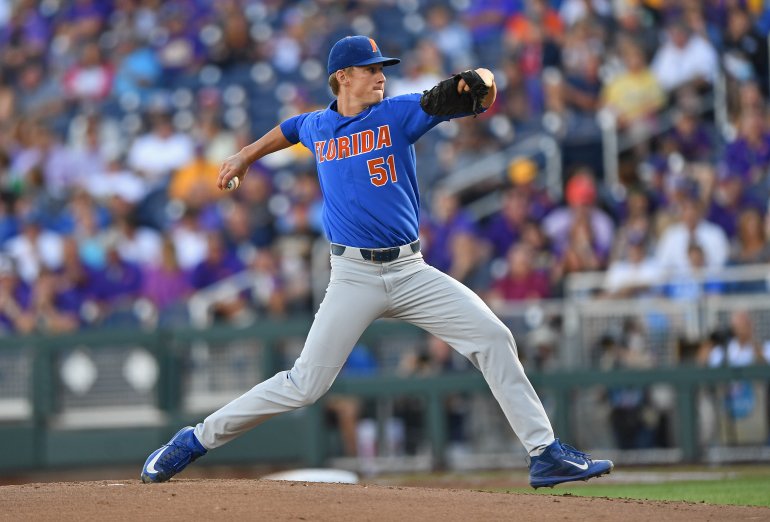 KANSAS CITY, Mo. — The Kansas City Royals used their first pick, and the 18th overall, in the MLB Draft to select a right-handed pitcher from the University of Florida.
Brady Singer was the No. 2 ranked prospect in the draft, according to MLB.com, and he was the third right-handed pitcher in the past four years the Royals have taken with their top pick.
Singer was drafted out of high school by the Toronto Blue Jays in the second round of the 2015 Draft, but opted to play for Florida instead.
The 21-year-old pitcher has a 95 mph fastball, and he's a big reason why the Florida Gators were the overall No. 1 seed in this year's NCAA Tournament. He was named the SEC Pitcher of the Year in 2018 and went 11-1 with a 2.27 ERA and 98 strikeouts in 14 starts.
With the 33rd pick in the compensatory first round, the Royals selected another right-handed pitcher from Florida. Jackson Kowar was 9-5 this past season with a 3.53 ERA over 16 starts.
For the 34th pick overall, the Royals selected left-handed pitcher Daniel Lynch from Virginia. Lynch had a 3.96 ERA and was 4-4 in his 2018 season with the Cavaliers.
The Royals drafted left-handed pitcher Kris Bubic from Stanford with the 40th pick overall in the draft. Bubic had a 2.62 ERA this past season and was 8-1.
For the 58th pick overall, the Royals stayed consistent and selected another pitcher.
The club drafted right-handed pitcher Jonathan Bowlan from Memphis. The 6-foot-6 pitcher recorded 18 strikeouts in one game this past season and had a 3.71 ERA.