This is an archived article and the information in the article may be outdated. Please look at the time stamp on the story to see when it was last updated.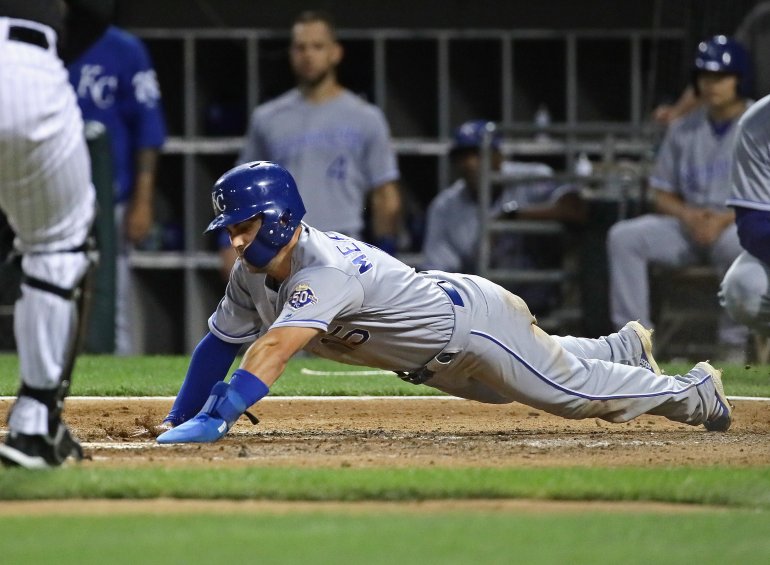 In a season to forget for the Kansas City Royals, Whit Merrifield turned in an effort to remember.
Fantasy baseball players better make sure amnesia doesn't set in for them either.
In an era dominated by launch angle and strikeouts, Merrifield keeps plugging away with an old-school approach of making contact (the fact he can do more than hit squibbers doesn't hurt either).
A Fangraphs article from last month showed Merrifield would've led the major leagues in home runs in 2018 if the games were played in space. It's because he rarely strikes out and hits ground balls at a below average clip.
On Earth, Merrifield didn't sniff the home run leaderboards, of course. He did plenty else well, though.
As most Royals fans know, Merrifield finished the season as Major League Baseball's leader in hits and stolen bases. His .304 batting average was good for sixth in the American League.
He became just the 19th player in MLB history to hit 40 doubles and steal 40 bases in a season. And, he did all this while being a versatile defender providing positive value all over the diamond.
Perhaps nearly as important for fantasy baseball players though is that, for the things Merrifield does well, there's very little he truly does poorly.
I mentioned earlier Merrifield's 12 home runs aren't exactly "heart of the order" material. For a stolen base king, it's outstanding.
Since the start of the 2000 season, only four players who've led the league in steals have posted at least 12 home runs in a season (Jonathan Villar in 2016, Mike Trout in 2012, Jose Reyes in 2006 and 2007, and Scott Podsednik in 2004).
Although modern traditional base-stealers like Dee Gordon, Billy Hamilton, and Rajai Davis have all swiped more bases in a season, their home run totals are always in the single digits (and the low single digits at that.)
For as much as they can help you win SBs in your rotisserie league, they drag you down in at least one category. You don't have that problem with Merrifield.
In his worst 5-by-5 category — home runs — Merrifield still is solidly in the bell curve of second basemen, finishing 18th. In 2017, his 19 home runs were good for 9th at the position.
In 2018, he rated in the top five as a second basemen in average, steals and runs scored. There's no way he's going to bog down your fantasy lineup.
Best of all? His well-rounded game goes unnoticed enough that you don't have to use an early pick in your league to land him.
I'm not saying Merrifield is a replacement for Mike Trout or Mookie Betts at the top of your drafts. But even if you do get one of those players who offer a power-speed threat in the first round, you don't have to reach for a Gordon or Hamilton to supplement those totals at the expense of other stats.
If you're lucky enough to have Merrifield in a keeper league where you can keep him in the round where he was drafted, Merrifield is as easy a choice as you'll have to make this offseason.