The 2023 NFL offseason will be defined, I believe, by change at the game's most important position. Quarterbacks who have had success rarely, if ever, get to the free-agent or trade market. This year, however, it seems will be an exception to that rule. There is a free-agent/trade class of quarterbacks that has as many names that have been productive as we have ever seen.
Pending free-agent or to-be-traded quarterbacks include Tom Brady, Geno Smith, Jimmy Garoppolo, Daniel Jones, Derek Carr, Baker Mayfield and more. Even beyond that group, the two most interesting names (at least to me) that may be on the move are Aaron Rodgers and Lamar Jackson. Both have been in situations with their teams that have had some subtle (or not so subtle) friction over the past three seasons, friction that should come to a head in the next month. Let's examine.
Déjà vu in Titletown?
We enter a third consecutive offseason of WWAD (What Will Aaron Do?), and although I have no inside knowledge, I sense it's time for a change. It happened 15 years ago, with a first-round quarterback ascending to the position after a three-year apprenticeship behind a Hall of Fame quarterback, and it may well happen again soon.
I am one-for-two in my prognostications about Rodgers's plans over the past two years. In 2021, when there was so much tension between Rodgers and the Packers, I correctly predicted he would return. In '22, I thought there would be a separation, yet Rodgers returned with a revised contract. I am still amused, however, about reports, both then and still now, that Green Bay committed to Rodgers—and vice versa—for two, three or even four years. Please. If we've learned anything about Rodgers and the Packers, it's that it is always a year-to-year proposition.
As to that commitment, yes, it did come with almost $60 million guaranteed for 2023. However, the structure of the contract—an option clause that can be exercised all the way up until the start of the season—makes it very amenable to a trade. Moreover, this is the only contract I have seen where the longer the player plays, the higher the dead-money cap charge is! In all other contracts, the longer the player plays, the more the dead money goes down. Simply, the contract was written to anticipate a trade or retirement, especially next year but this year, as well.
That current dead-money cap charge that would be left on Green Bay's cap were Rodgers to be traded or retire is just over $40 million. In my decade managing the team's cap (and in their cap management up until a couple of years ago), the team would never take on such a massive nonroster charge. However, I recognize we are at a different time and place in the NFL with dead cap, perhaps even for the Packers. Two years ago, the Eagles took on an eye-popping $34 million cap charge in trading Carson Wentz to the Colts, and last year the Falcons zoomed past that record with a staggering $40.5 million cap charge allocated to Matt Ryan upon trading him (also to the Colts).
Would Green Bay incur a Ryan-like number for Rodgers? Normally I would say no, but consider this: Were the Packers and Rodgers to separate next year rather than this year, that dead-money charge would rise to nearly $60 million!
The Packers have had to plan for trading Rodgers and taking on that dead-money charge. As to the prospect of trading the face of the franchise? Well, they traded Brett Favre 15 years ago (not-humble brag: there was only a $600K dead-money charge then). And yes, I can see the Packers deciding it is time to move to Jordan Love, who has been quietly waiting for a chance for three years—as Rodgers did 17, 16 and 15 years ago. I sense they are ready to make that transition, although again, I sensed that a year ago and was proved incorrect.
What about retirement for Rodgers? I know what you are saying: "Andrew, Aaron will never walk away from $60 million guaranteed; that is life-changing wealth!" Well, two things: (1) Aaron is a different cat and has spoken of experiencing different things in life beyond football before, and (2) there is precedent with the Packers' finding a middle ground with a future Hall of Fame quarterback. In 2008, after Favre unretired and wanted his job back, Green Bay offered him $20 million to stay retired and be an "ambassador" for the team. Favre declined and was traded to the Jets. Were Rodgers serious about retirement, that is precedent and a potential path for the two sides (with inflation, that amount could be $30 million).
There has already been incredible symmetry between the Favre-Rodgers transition and the Rodgers-Love transition. Both were drafted by the Packers in the first round—15 years apart to the day—with Hall of Fame quarterbacks in front of them still performing at a high level. Both barely played in their first three years, an extraordinary length of time for first-round quarterbacks in this era when they usually don't even wait three games to play.
If Rodgers does return, that would mean yet another year of waiting for Love. Either way, it is a no-brainer for the Packers to pick up his fifth-year option as that will either be his first or second year starting for them. Would they trade Love? I would seriously doubt that; a draft-and-develop team like the Packers would loathe not getting any production from a first-round pick.
As I (wrongly) thought last year, I think it's time for a change in Green Bay. It's O.K.; it happens (it happened with me after 10 years there). Rodgers and the team have had a wonderful run with fantastic success, despite some gutting playoff losses. He will one day zoom into the Packers Hall of Fame and the Pro Football Hall of Fame without any discussion. But I sense it's time for a change, and change can be good for all.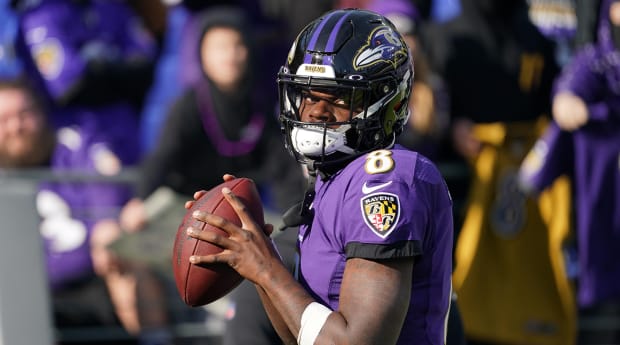 Lamar's lament
From my perspective, there has been no more intriguing NFL player contract negotiation for the past three years running than the one between Lamar Jackson and the Ravens.
In 2021, the first year Baltimore was allowed to renegotiate with Jackson (the CBA prohibits renegotiations until after a player's third season), Jackson was not extended. Although some players in that situation, such as Kyler Murray, have made enough noise about being so heavily undervalued as a starting quarterback, Jackson quietly played the '21 season under his rookie contract.
In 2022, Jackson—operating without a traditional agent—was unable to find common ground with the Ravens, leaving him to play out his contract again. The problem for Jackson now is that the end of his contract does not mean he is a free agent. His quest to "bet on himself" is blunted by the CBA's gift to NFL teams: the franchise tag. The tag takes the best free agents in the NFL off the market, restricting elite players from pursuing their true value.
I said this in September: The best thing for Jackson's financial future was to do something—I am not sure what that would be—that would make Baltimore not place the tag on him. Negotiating as a true free agent is worlds different than negotiating with only the Ravens.
The elephant in the room for this negotiation has been, and will continue to be, Deshaun Watson's five-year, fully guaranteed $230 million contract with the division rival Browns. And while other "agented" players have not pushed the envelope in negotiations for the Watson deal to serve as precedent, Jackson apparently has. Such a stance has been rebuffed by Ravens owner Steve Bisciotti, who bemoaned the Watson deal back in March.
People always ask me this question: "Andrew, why don't NFL players have guaranteed contracts like MLB and NBA players?" Well, the reason has been in plain sight since March.
The Watson contract teed up the opportunity for similar players—high-level quarterbacks—to follow up and argue for that precedent. Were that to happen, more fully guaranteed contracts would creep into the sport, eventually moving from quarterbacks to another position and changing the power dynamic in NFL player-team negotiations. However, perhaps cognizant of that possibility, NFL teams and owners have pushed back, making the Watson contract more aberration than precedent. The hope for the latter continues to lie with the one player representing himself: Jackson.
Before the tag is applied in March, I would expect more negotiations between Jackson and the Raves and more cries of "outlier!" from the Ravens at any mention of the Watson deal.
Could Jackson be traded? Perhaps, but the bigger question is what kind of contract will the acquiring team give him. Thus, for the third straight year, this will be the most interesting and, from the player point of view, most frustrating contract negotiation in the NFL.