Conference title games. Coaching searches. A lot of questions. Let's answer them …
From zuk (@zuk60746497): What is DeAndre Hopkins's realistic trade value?
Zuk, there is a lot to consider here for teams picking up the phone and calling new Cardinals general manager Monti Ossenfort. And these things, good as Hopkins has been over the last 10 seasons, will probably conspire to drive down his trade value.
Among those things …
• He's hurt a lot—he's played in 19 of 34 games the last two seasons, after showing a lot of fight in battling through a series of injuries to miss just two games over his first eight seasons as a pro. Add to that the mileage of 853 career catches, and it's hard to imagine that trend will reverse itself in 2023.
• The injury issue also has limited Hopkins severely when it comes to his ability to practice during the week. If you have a strong veteran roster that's won, you can manage that. But if you're younger, or you haven't won yet, it's harder to have one of your best players missing during long stretches of practice weeks, both from a functional and a culture standpoint.
• He's due $19.45 million in cash next year, and $14.92 million in 2024. And that's assuming he wouldn't use a trade to try to leverage more cash off the team dealing for him. Hopkins has a no-trade clause in his contract with which he could play that game.
• He'll be 31 years old on opening day. On the surface, that doesn't seem disqualifying for a receiver. But that's how old A.J. Green was when he went from Cincinnati to Arizona, and he's had just 78 catches for 1,084 yards and five touchdowns in 31 games since. And Julio Jones was 31 for his last year in Atlanta, which is when injuries started to take their toll on his production (he has just 106 catches over the last three years, that one included).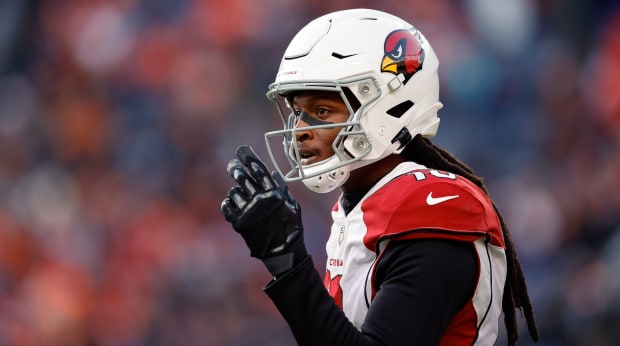 So add that up, and I think it's going to be hard for Ossenfort to get great value for Hopkins, maybe even to the point where keeping him is a better idea than dealing him. As is stands right now, if I had to ballpark it, I'd say a Day 2 pick would be what Arizona would get in return in a trade.
---
From Tom Marshall (@aredzonauk): Is Zac Taylor getting enough credit for the job he's doing with the Bengals?
Thanks, Tom. I'm glad someone asked this, so I can get on my soapbox here.
I think perception of Taylor has been shaped the last couple of years by people who were dead wrong, and aren't letting go of their takes from 2019—that the hiring of the ex-Rams assistant was a massive overreach of a trend to poach Sean McVay assistants. So last year when the team improved, it was all the players. And early this year, when the team struggled, a lot of people, again, were all over Taylor.
So what has Taylor done in his time? He's overseen a roster that has almost completely turned over since his arrival four years ago, he's helped Duke Tobin's staff identify the right draft prospects and free agents (in an organization where coaches are heavily involved in scouting), he's develop the picks and integrated the incoming veterans, and he's cultivated an identity that's unmistakable—and has shaken a stigma the Bengals carried for decades.
Oh, and he's done it while maintaining all along that Cincinnati is the city he wanted to be in from the jump, and taking that city and making sure he made the Bengals theirs.
Here's the thing: We should want more teams to think outside the box in hiring their coaches. Taylor was an outside-the-box hire, and one based on things other than whether he carried a play sheet in his hands on Sundays in his old job. Did he get a little lucky that the Bengals were the worst team in the league the year Joe Burrow was coming out? Sure he did. But even taking that into account, the Bengals hit a home run.
And it'd be cool if some people who were wrong in 2019 could concede it.
---
From Mike Liddle (@mliddle17): Are the Panthers down to two in their coaching search? Payton and Steichen?
Mike, no! It still seems unlikely to me that Sean Payton would wind up there, even though I do think it should be an attractive job, with the kitty of draft picks they have, and a really talented young core (Brian Burns, Derrick Brown, Jaycee Horn, Jeremy Chinn, Ickey Ekwonu, D.J. Moore) to build off. If it's not Payton, my guess is Steve Wilks and Frank Reich would both be under strong consideration for the job.
And I do think part of this is a little bit of a debate in owner David Tepper's head—because I do believe his initial instinct was to go get his young offensive-minded whiz kid. What made him come off that was Wilks's success, where you saw the adult-in-the-room dynamic at work, and Tepper got to see how his locker room rallied behind a strong, experienced leader. Which is why I think Wilks, Reich and even Jim Caldwell have been considered.
---
From Brad (@bhesch34): Big changes coming to the Bills ?
Brad, I don't think so. They do have free agents, with Jordan Poyer, Tremaine Edmunds and Rodger Saffold's contracts up. And there's some cap management that'll need to come, too—right now, they have nine guys on the books with eight-figure cap hits, and 11 guys over $8 million. But to me, the good news here is the hard part is taken care of. They have the quarterback. They have the No. 1 corner, and he'll be healthier next year. They have the top-end receiver. They have the left tackle, and a bevy of pass rushers. They're going to be good.
The question they have to ask themselves from there is how to maximize all of it. It sure felt like they lost a little of their aggressive edge when Von Miller went down in November. And eventually, playing a more conservative, sound, make-them-earn-it type of defense caught up with them going against a quarterback capable of stringing 12-play drive after 12-play drive together, with weapons who were capable of breaking tackles and turning six or seven yards into 20 through sheer refusal to go to the ground.
I actually think on offense, the issue was the inverse. They were either less willing or less capable of making the routine chain-moving plays that Brian Daboll had drilled Josh Allen on over his four years coaching the quarterback, and that made them more feast-or-famine.
In the end, again, these problems are things you can work on scheme-wise on both sides of the ball, and tweak your roster for (maybe by adding an offensive lineman, and having first-round corner Kaiir Elam start to ascend). That program is plenty strong enough to pull it off, of course. The Bills aren't going anywhere.
---
From Anthony whomble (@whomble7): Prediction on Sean Payton and who you think will be Denver's next coach?
I think Sean Payton will go back to Fox (and that's a guess), and would have Dan Quinn and David Shaw as names to watch for the Broncos job.
---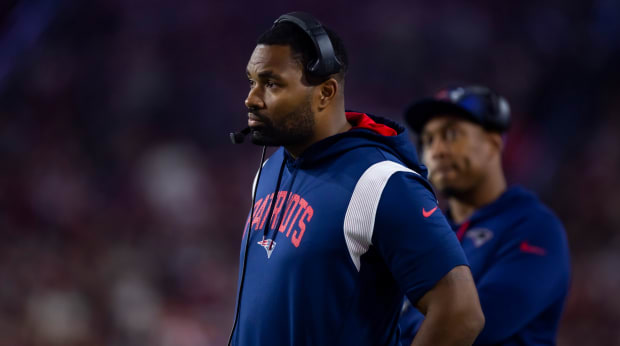 From Will Riley (@WillRiley628): With Bill O'Brien back as OC for the Pats, do you see him or Mayo as front runner for taking over for Belichick as head coach when time comes?
Will, I think Jerod Mayo is first in line. The fact that Mayo was a part of the Patriots' five offensive coordinator interviews last week tells you what you need to know—it was a small group conducting those, and Mayo was the only coach there with Bill Belichick. Over the last couple of weeks, in pushing off head coach (Carolina) and coordinator (Cleveland) interest, Mayo at the very least ingratiated himself to the Kraft family.
And the Krafts were already been fans of Mayo—helping him get into finance post-career, and maintaining a close owner-player relationship even before he returned to coach.
Mayo's deal isn't done yet, and I'd imagine when it is it won't contain promises that Mayo will succeed Belichick. However … I do think there's a good chance Mayo will get the assistant head coach title, and the acknowledgement that, should anything happen with Belichick, he'd be at least be the emergency replacement (that's part of being assistant head coach).
As for O'Brien, I can say the Krafts like him a lot, too. There's a really good shot that O'Brien would've been the team's head coach in 2018, had Belichick walked amid acrimony between him and Tom Brady—Brady actually reached out to O'Brien on that at one point in the fall of '17. So I'd say he's behind Mayo in that pecking order now, but still would be a consideration when the time comes. Which means if you're O'Brien, you probably wouldn't wait around for Belichick to leave and turn down head coach opportunities if those come.
---
From Chiefs Kingdom (@ABanksKC): In contrast from the first Chiefs-Bengals matchup this season, what are the key player personnel differences this time around that could make a difference?
I'd say the biggest difference is in state of the Bengals' offensive line, and how some of the younger players in Kansas City seem to be growing up. Jonah Williams, Alex Cappa and La'el Collins started for Cincinnati on Dec. 4 against the Chiefs. Collins is now out for the year, and other two remain iffy for this week. So that's a factor, as is the growth of guys like Isiah Pacheco and a pack of rookie corners for the Chiefs.
Where that all comes together, to me, is how Steve Spagnuolo figures to challenge the Bengals' line by sending pressure at Joe Burrow in a way Buffalo didn't—and that's risky because of how fast Burrow diagnoses that stuff, and how dangerous he is exploiting it. But Spagnuolo will have to counter all that the Bengals will throw at the Chiefs, and the line is really the only place where there's weakness on that offense.
---
From David Donovan (@dkduna): How did Ohio State let Joe Burrow transfer to LSU?
I get this question a lot, so I know the answer chapter and verse. Burrow and Dwayne Haskins were neck-and-neck in competition to back up four-year starter J.T. Barrett in fall camp of 2017 when Burrow broke his throwing hand and needed surgery to fix it a couple of weeks before the opener. That left Haskins to back up Barrett, and Haskins wound up coming in and beating Michigan that November as a result.
The following spring, Burrow and Haskins were fighting for the job and, again, it was really close. At the end of spring practice, Urban Meyer told Burrow that the competition would continue into fall camp that August, but that Haskins was ahead due to his playing experience. That left Burrow, who was graduating from Ohio State that May, the chance to transfer, and he took it with the promise of starting at LSU.
So I don't know that there's any blame to lay for that—both Meyer and Burrow did what they thought was right in the moment. Meyer got a 50-touchdown season from Haskins in 2018 for a 12–1 team, and Haskins declared right after and became the 15th pick in the draft. That year, Burrow went 10–3 and threw for 16 touchdowns and five picks, before exploding for 60 touchdowns, a Heisman and a national title in 2019.
Burrow, by the way, thanked Ryan Day, his OC and position coach at Ohio State in '17, in his Heisman speech, and has been back to Columbus plenty (he was on the sideline for the Notre Dame game) since. So all this, I think you could say, was a product of circumstance, and circumstance that mostly worked out for those involved, even if would've been cool for someone like me to see what Burrow would've been as a fifth-year senior at OSU in '19.
---
From Stech Jr. (@wsh_sports_dude): Washington OC choice? Is it as awful as a job as some make it out to be (Rivera lame duck season)/ Thanks!
Stech, the problem the Commanders have is exactly what you're saying—with perception out there that the team will be sold, and Ron Rivera will be fighting for his job in 2023, it's hard for a candidate with options to look at it and not have the fear that a single season as OC in Washington could wind up leading to a career setback. That's why a lot of folks think that Rivera will wind up promoting quarterbacks coach Ken Zampese into the role.
For his part, Zampese has nothing if not experience, having coached 22 seasons in the NFL over a quarter century, a run that includes two years as a coordinator in Cincinnati.
---
From lanchester royal (@LanchesterRoyal): Rodgers to the Jets?
Would Rodgers want to go there? There are good young offensive skill pieces in Garrett Wilson, Breece Hall and Elijah Moore. With Ali Vera-Tucker healthy again, and a little luck with Mekhi Becton, the offensive line could be a lot better. Matt LaFleur's best friend, Robert Saleh, is the head coach. And the owner, Woody Johnson, has a history of getting pretty aggressive in pursuing quarterbacks (see: Rodgers's old Packers teammate).
So there's a lot of reasons why it could happen. I just wonder if, in the case Rodgers is traded, it'll be his best option, over a place like Tennessee or Las Vegas, both of which have been to the playoffs far more recently and have connections to Rodgers of their own.
---
From Charles Gaffigan (@cwgaff): What do you think the 49ers will do with Trey Lance now that Purdy has blossomed?
Charles, they really don't have to do anything. Trey Lance is due to make $3.76 million next year, which is cheap even for a backup quarterback. Brock Purdy is set to make $870,000, which is basically stealing a starter. If that's the way you want it—with Purdy as starter and Lance as backup. Or you could swing open the gates to a competition and see what happens.
The bottom line is the Niners don't even have to make a decision on Lance's fifth-year option until May 2024. So it'd behoove them to hold on to both guys and let things play out next year, all of which, of course, could be affected by how much further San Francisco goes in this year's postseason.
---
From Jason B (@JasonB59102): Who is coaching Denver next season?
Jason, if it's up to the Broncos, I'd say Sean Payton. But my guess, as I said earlier, would be Quinn or Shaw, with maybe an outside chance of Caldwell sneaking in there.
---
From David Benjamin (@DaveBenjamin): If you were the Lions GM, what are the players you're considering in the 1st round at 6 and 18?
David, I did this last week for the Patriots, and love the exercise. So let's take a look
• At six, I think the best players available will be edge rushers and tackles. Because Detroit's got Taylor Decker at left tackle and Penei Sewell at right tackle, landing a Peter Skoronski (Northwestern) or Paris Johnson Jr. (Ohio State) wouldn't make sense there. But getting an edge rusher like Texas Tech's Tyree Wilson or Clemson's Myles Murphy would.
• At 18, if I were the Lions, I'd probably at least kick the tires on the idea of grabbing a tight end (Notre Dame's Michael Mayer could be a nice fit), while knowing that adding another piece on defense is probably the smart thing to do. Two guys who might be fun ones for Detroiters to look at, and fits for Dan Campbell—Arkansas linebacker Drew Sanders, and Illinois corner Devon Witherspoon.
Excited to get going on this draft stuff with all you guys—Senior Bowl week is next week!
---
From Marley Parc (@DuragDub): Who is coaching in AZ next season?
Marley, if I had to guess right now, I'd go Brian Flores. He and Ossenfort came up together in New England's scouting department, and there's a lot of trust and respect there. I also know owner Michael Bidwill, who serves on the league's diversity committee, is cognizant of being in front of the NFL's effort to diversify its coaching ranks, and I think for that reason Flores's lawsuit against the league might be less of an issue for him than it is for some others.
But Quinn going in for a second interview did get my attention, and if Arizona is that hot on him, it'd be smart of them to get in front of Denver in this way.
---
From Justin Anderson-Weber (@jl_weber): Why haven't the Broncos scheduled any second interviews for HC yet?
Justin, I believe their brass is meeting on narrowing the field and setting up second interviews this week. So I think you'll have news on that soon.
---
From Sly (@ThinkBlue47): Who are the #Rams eyeing at DC if Raheem Morris gets a HC gig?!
I can say that Broncos defensive coordinator Ejiro Evero is at the top of that list. But Evero's got a second interview in Houston coming. Which could work either way for Sean McVay. On one hand, if Evero lands that job or the Indy job, then he's obviously not taking a coordinator job. On the other hand, Evero waiting on head coaching jobs buys the Rams time to allow their DC situation to clarify itself—if Morris gets the Indy job, for instance, and Evero is waiting for it, well, then he'd still be on the market as the L.A. DC job opens.
But yeah, either way, Evero is at the top of their list.
---
From Adam B (@wa2k_1999): The Jets starting QB in 2023 will be ...
I'll say Jimmy Garoppolo goes to the Jets or Raiders. If not Garoppolo, maybe Derek Carr.
---
From jermaine jones (@jermaine611): So do the Colts take another swing with a vet or do they draft a rookie high as far as a qb?
Jermaine, I think they probably wind up drafting one this year. After stopgapping the most important position on the field with Jacoby Brissett, Philip Rivers, Carson Wentz and Matt Ryan, I'm not sure that owner Jim Irsay would sign off on a Carr or a Garoppolo. And honestly, I think Irsay's been eyeing the draft class and Indy's draft position, since he pulled the plug on Frank Reich in November.
So I'd bet on the Colts ending up with Bryce Young, C.J. Stroud or Will Levis.