Wet piles of cardboard were being heaved into dumpsters at Krzyzewskiville on Thursday afternoon, remnants of the soggy sleepover by Duke students camping out to get in Cameron Indoor Stadium on Saturday for the annual home hatefest with North Carolina. The tents have all been relocated to the concourse of the football stadium now, where the vigil continues amid cold temperatures, leaden skies and spitting rain. It's crappy camping weather.
That fits the muted buildup to this resumption of the epic Tobacco Road basketball series. If a rivalry can have a hangover, this one does.
The towering fanfare and flowing emotion that accompanied Mike Krzyzewski's final game in Cameron last March is gone. So are the massive stakes that went with the teams' first meeting in the Final Four a month later, when the Tar Heels ended Coach K's career. Those are impossible acts to follow.
So we enter an uncertain new era. The jerseys are a forever draw, brand magnets that pull casual fans to the sport after months of immersion in football, but the here-and-now gravitas is a bit lacking.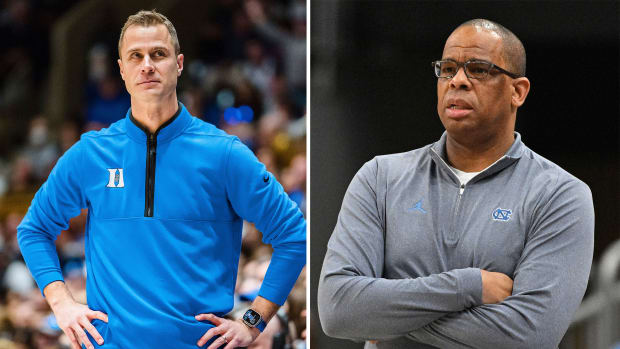 Neither Duke (16–6) nor North Carolina (15–7) is ranked for this rivalry matchup. The last time that happened in a season not affected by a pandemic was Feb. 27, 1960. That's so long ago that Dean Smith was just an assistant in Chapel Hill and Krzyzewski was a grade-schooler in Chicago. Both teams are on track to make the NCAA tournament, but not with advantageous seeding at this point.
We also have the most inexperienced coaching matchup in the rivalry since World War II. Second-year Carolina leader Hubert Davis and first-year Duke boss Jon Scheyer have logged a combined 83 games. You have to dial back to Jan. 20, 1945, to find a more callow couple of coaches: The Tar Heels' Ben Carnevale was 14 games into his tenure, and the Blue Devils' Gerry Gerard was 63 games in.
In a series replete with coaching giants, Davis and Scheyer still are feeling their way forward. Both are products of internal succession plans, if not hand-picked by their Hall of Fame mentors then certainly championed by them. They have enviable jobs but unenviable tasks, following the footsteps of multitime national champions.
The referendum on the 35-year-old Scheyer as The Duke Coach begins in earnest Saturday. He's done fairly well through 22 games, pulling together a roster made from scratch—guard Jeremy Roach is the only holdover with significant playing time, surrounded by freshmen and transfers. There have been stumbles—the Devils still have not won more than two straight ACC games—but nothing to suggest he can't do the job. Nor has there been anything to stamp him as the can't-miss successor to K.
"A blur is a good way to put it," Scheyer said of the experience since that night in New Orleans, when he entered the Superdome as an assistant and left it as Duke's head coach. "It's been everything I expected and more. It's been exciting, thrilling. I knew a lot would be thrown at us this year, with the schedule we had and a lot of new players … It's not an easy thing to do where you can block out any noise. Our team has done that, and we've had to do that as a staff as well."
As a player or Duke staffer, Scheyer has been involved in 28 games against the Tar Heels (record: 13–15). He's been a voice in the locker room before and during these games, but never the voice until now. How far will that voice carry?
When Krzyzewski was a young coach, he used to assert that Smith intimidated the officials into calling games his way. That famously came full circle over the ensuing decades, with many Duke opponents convinced that Coach K's in-game aura bent the refs to his will. Scheyer may be learning this season that he has to earn his sideline clout.
Case in point: the no-call on an accidental fist to the throat from Virginia Tech's MJ Collins to Duke big man Kyle Filipowski in the final seconds of a close Hokies victory in Blacksburg in late January.
"The old Duke gets that call on the road," one coach told me that night. "The new Duke doesn't. Look at Scheyer's road record (1–4 at that point, 2–4 now). It's real. It's the Mike impact. Those refs revered Mike and were not going to challenge his role in the game."
The officiating psychodrama is omnipresent when Duke and Carolina play. But in theory, at least, the coaches could be lesser factors now than the home crowd. The Blue Devils will have the usual frothing atmosphere Saturday, with many students who were crestfallen last March and April thirsty for revenge this time.
But given the roster makeover, using those losses as motivation would be wasted energy. "You move on," Scheyer said. "It's such a different team, different circumstance for us. Talking about last year, you look around and it's hard to do that—it would be like me and Jeremy just looking at each other and having a conversation.
"When I talk to our team, it's not going to be about that. It's about where we are right now, where they are, and about Saturday."
Davis led North Carolina's best victories ever over Duke last year, two absolute flag-plants atop this Mount Everest of a rivalry, but this season has been a disappointment after starting as AP No. 1 with a loaded roster. Starting Saturday, Davis has a chance to reassure the Carolina faithful that he's the worthy successor to Roy Williams, to prove that his tenure can be more than six weeks of late-season lightning in a bottle.
Last year, everything turned after a dispiriting February home loss to Pittsburgh—one that left fans openly questioning Davis. The Heels then won 11 of their next 12, catapulting from the NCAA tournament bubble to the national championship game. It was an extraordinary flourishing at just the right time.
Can they repeat the feat this year? Carolina had the home loss to Pitt on Wednesday, the kind of upset that was not expected to happen after a quartet of starters from the Final Four team surprisingly stayed in school. The performance against the Panthers was a microcosm of the season: spurts of brilliance undercut by brutal three-point shooting and periodic defensive lapses, as the core four returning March-April heroes have showed the flaws in their games.
Guard Caleb Love made six three-pointers twice in the NCAA tourney run last year, against UCLA and Marquette, and averaged 25 points in the two conquests of Duke. This season he's never made more than four threes in a game and scored more than 20 points only twice since November. His three-point shooting, foul shooting and assists all have declined year over year.
Big man Armando Bacot's numbers are consistent across the board with last season, which means they are once again very good. But there hasn't been much in the way of discernible improvement, and perhaps even a slight decline on the defensive glass and as a driving deterrent in the paint.
Guard RJ Davis has arguably been the best Tar Heel this season, but he also went 0-for-6 from three and missed two free throws against Pitt, both costly stats in a one-point game. Anyone banking on offensive progress from defensive stopper Leaky Black has readjusted those expectations after Black has averaged 5.3 points and made two of 20 threes over the last seven games.
"The number-one thing in regards to our team the whole year is the discipline and the details," Davis said Wednesday night. "Tightening the screws on the little things that allow you to be successful on the floor. … We weren't disciplined enough to win the game. We weren't tough enough to win the game."
Despite those lamentations, Davis remains as stubbornly optimistic now as he was before the great breakout last season. That paid off for him then, and maybe it will again. Maybe his team is bored and will flip its switch come March again.
"I relate basketball to life," Davis said. "I wish every day was sunny, and no clouds in the sky, perfect weather. There's rainy days, there's cloudy days, there's traffic jams and potholes and speed bumps. How you respond to those things, that's life. You can point fingers and make excuses, or you can get back up and fight. That is my expectation and that is their job requirement. That's what I'm going to do, and I've done that for 52 1/2 years."
The days are rainy and cloudy right now on Tobacco Road, literally and figuratively. But the rivalry that rules all others is renewed, with more intrigue and a fresher cast of characters. Where it's headed from here, nobody knows.