SI.com's Week in Wrestling is published every week and provides beneath-the-surface coverage of the business of pro wrestling.
The first day of summer doesn't arrive until June 21, but for Tony Khan, the summer of AEW has already begun.
CM Punk will return to the company in less than two weeks during the premiere of prime-time Saturday night show Collision, embarking on a whole new "Summer of Punk."
Plus, the company is only days removed from Jon Moxley and Claudio Castagnoli working a superb six-man tag at New Japan Pro-Wrestling's signature Dominion show. That show also included the announcements that Kenny Omega will wrestle Will Ospreay at Forbidden Door, as well as Bryan Danielson challenging Kazuchika Okada, creating genuine excitement buzz around the AEW product.
"Last year's Forbidden Door was a challenging time with a number of injuries and travel obstacles, and we were able to come together to put together the best event of the year in wrestling," says Khan. "This year's Forbidden Door will be the best event either company has ever participated in."
The only way Forbidden Door could have been bigger would have been by adding a superstar presence in Mercedes Moné. While Khan would not definitively comment on whether she would have been part of the card, any such plans were derailed last month when she broke her ankle in a match against Willow Nightingale to crown the first NJPW Strong women's champion.
Multiple sources close to Khan have confirmed that there were significant discussions with Moné, which bodes well for a potential appearance in the future. Injuries are an unfortunate but real part of pro wrestling, and that was a theme at last year's Forbidden Door­—where Danielson did not wrestle and a broken foot cost Punk a shot at squaring off against Hirsoshi Tanahashi.
Punk is a likely candidate to be part of this year's card, which would further increase interest in the pay-per-view. He will make his return on the June 17 debut of Collision, AEW's new Saturday night show that will feature him—although his appearances will not necessarily be exclusive to that show, which opens the door for appearances on Dynamite.
"We haven't seen CM Punk in a long time, since All Out last September," says Khan. "He looked great in his last match. To the fans, he's very important. He's very important to the company, too. He's been a big draw for us and historically throughout his career, and the launch of the new show happens to line up with the schedule on his rehab of his triceps injury.
"We have an amazing opportunity with AEW on Saturday nights on TNT, starting June 17, and it was truly the brainchild of [Warner Bros. Discovery CEO and president] David Zaslav. He asked about more AEW, specifically Saturday nights, on TNT. When it was pitched to us by TNT, I was so excited. It's so exciting the timing [of Punk's return from injury] coincides with the launch of Collision."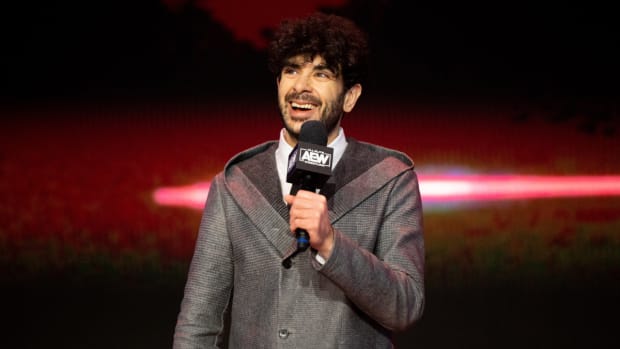 On Wednesday night's edition of Dynamite, Khan will announce the match that will serve as the main event for the Collision premiere. The majority of the focus these next few weeks will be designed to build Forbidden Door, including a six-man tag this week pitting Okada's group, Chaos (represented by Rocky Romero, Trent Beretta and Chuck Taylor), against the Blackpool Combat Club's Moxley, Castagnoli and Wheeler Yuta, with Danielson on commentary for the match.
Khan has tapped into Danielson's expertise, involving him in the AEW creative team. At the recent Double or Nothing postshow press conference, Danielson said, "I love working with Tony and I love working in AEW. … I think we have a lot of similar ideas on wrestling, and sometimes he says things to me and I'm like, 'Oh my gosh, that's a great idea,' and we riff off each other really well."
Khan was appreciative of Danielson's praise, and he offered insight as to what makes him so valuable for AEW.
"Bryan and I have had a very close relationship since he came to AEW," says Khan. "He's one of the greatest wrestlers of all time, and he's one of the most intelligent people I've ever known. He has a great mind, and I love talking to him about stories, matches, ideas and psychology. I work with a number of people closely to bounce ideas off, and Bryan has been involved with us in the office more than ever lately. He had some very complimentary things to say about our relationship and working together, and to receive that type of praise from someone I respect so much, those are quotes I'd want on my tombstone."
All of AEW's summer plans are building to August, which has the potential to be the most noteworthy month for the young company. That is when AEW makes its Wembley Stadium debut in London for All In, which has the potential to be the company's most noteworthy show.
"It's the most anticipated event in the history of AEW," says Khan. "There is so much excitement to see what this packed stadium of AEW fans is going to look like, and it will be a very important weekend in the history of AEW when we come to London in August."
The (online) week in wrestling
Intercontinental Champion @Gunther_AUT wants to teach @FightOwensFight a lesson in discipline!#WWERaw pic.twitter.com/LKxgSpx36w

— WWE (@WWE) June 6, 2023
BREAKING@bryandanielson has just challenged Kazuchika Okada!#njpw #njdominion pic.twitter.com/oWDvoUKhNI

— NJPW Global (@njpwglobal) June 4, 2023
OH. MY. GOD.@bronbreakkerwwe just challenged @WWERollins to a match for the World Heavyweight Championship 😱😱😱#WWENXT pic.twitter.com/euCaWI0Ocy

— WWE (@WWE) June 7, 2023
32 will compete in G1 Climax 33 July 15 to August 13!

What potential matches from the lineup have you ready for the summer?

Check out the official minisite!https://t.co/6E7cuCfQY4#njpw #G1CLIMAX33 pic.twitter.com/fxS8Ba22aD

— NJPW Global (@njpwglobal) June 5, 2023
A top title on Raw makes a world of difference
Seth Rollins opened Raw on Monday, promising a world title defense that very night.
The show closed with Rollins successfully defending the belt.
A simple formula, yet effective nevertheless.
For the first time in nearly two years, a world title was at stake on Raw. And for the first time in its short history, it was the world heavyweight championship on the line.
In a bout that ran just a shade over 20 minutes, Rollins and Damian Priest laid the groundwork and then picked up the intensity as the match progressed. To the surprise of very few, Rollins won—but the significance here was more than a single title defense.
The title has given a renewed purpose and structure to Raw, which was badly needed. Rollins gives the title instant credibility, and Monday's match—where Priest, to his credit, came off as a genuine threat despite an easy outcome to predict—even set up the next title program, where Rollins will eventually defend against Finn Bálor.
Can the Rollins-Bálor match wait until Money in the Bank in July? Patience isn't necessarily a key ingredient in the weekly makeup of Raw, but there is a chance to build this feud—one that dates back to 2016—in proper fashion. Though playing hot potato with a belt is rarely wise, shorter title reigns (and an unexpected win by Bálor) could add some unpredictability to a show that was once known as WWE's flagship program.
Tweet of the Week
We raised over $500 for @circleofcarect and #pediatriccancer ! Really happy to have done this and I thank everyone who grabbed one of these shirts.

Special thanks to @PWTees for partnering with me on this and @8thWonderNick for the design.

Cheers ☕️ pic.twitter.com/O0KTqJ7xW4

— Richard Holliday (@MostMarketable) June 3, 2023
For the first time in nearly a year, Richard Holliday will return to the ring this Saturday.
Justin Barrasso can be reached at JBarrasso@gmail.com. Follow him on Twitter @JustinBarrasso.