George Karlaftis remembers the Chiefs' last game before he joined the team. They were at home. He was in Dallas, preparing for the draft. He had watched Kansas City beat Buffalo ("That was all-time wild game") and then he watched the AFC championship game against Cincinnati. Kansas City raced to a 21–3 lead.
"I was like, 'All right, the Chiefs got it,'" he said Saturday in the Kansas City locker room after the Chiefs beat the Jaguars. "I turned it off at halftime."
Kansas City led 21–10 at halftime, lost in overtime, and has regretted it ever since.
"I thought about it all offseason," running back Jerick McKinnon said. "That's definitely gonna be a driving motivator like it's been all offseason. We just let it slip away."
McKinnon said this before he knew the Chiefs would play the Bengals again. It will be a rare championship game rematch, and also the rare playoff game between two teams with residual anger about the last time they played.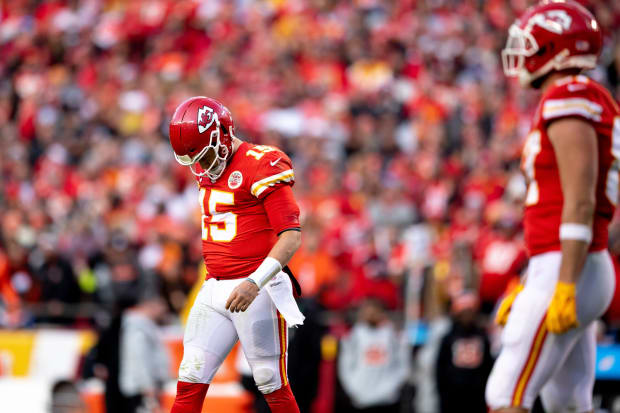 The Bengals are angry because they won, and people act like they got lucky. They have played the disrespect card for the past month—bristling at a possible coin flip to determine the AFC North winner (it didn't come to that) and scoffing at the notion that Kansas City and Buffalo were the two best teams in the conference and would meet again. The Bengals are adamant that nobody respects their team, their coaches or their chili.
The Chiefs? They're angry at themselves. They could have played in their third consecutive Super Bowl. McKinnon was with the 49ers when they blew a 10-point lead to the Chiefs and lost in Super Bowl LIV in Miami, and for him, that remains the worst loss of his career. But he said the Bengals' loss was "1B." He thought about it last spring and summer as he got up for early workouts in his hometown of Atlanta or in Miami, where he trained.
"I didn't even have to watch it," he said, pointing to his head. "It was stuck up here."
With a year of hindsight, we can say two things about last year's AFC championship game. One is that the Bengals were not the plucky underdogs they seemed to be that day. They did, after all, come within a few plays of winning the Super Bowl, and now they are in the NFL's final four again, and we know a whole lot more about Joe Burrow's greatness than we did then.
And the other thing we can say is the Chiefs should have won that game, anyway.
They started to blow it at the end of the half. They had first-and-goal on the 1-yard line with nine seconds left. Patrick Mahomes rolled left, saw nobody open, and threw the ball into the ground. Five seconds remained.
Coach Andy Reid should have sent the field goal unit out for the easy three points. Instead, he called a play that he said later he wished he could have back. Sometimes coaches say that kind of thing to cover for their players, and Reid is especially wary of publicly criticizing anybody who plays for him. But in this case, what he said was an understatement. It was an extraordinarily awful play-call—and a revealing one.
The ball was snapped from the 1, and Mahomes caught it at the 6. He faked a handoff to McKinnon, which was preposterous; there was not a chance in the world that, with five seconds left and no timeouts, Kansas City was going to hand the ball off to a running back on the 5-yard line. Not one Bengal was fooled. McKinnon ran straight into the end zone and jumped over the goal line untouched.
Then Mahomes pivoted and threw a screen to Tyreek Hill, who caught it at the 6-yard line with two seconds left.
Reid had completely disregarded the whole thought process behind running a play there. He had forfeited any chance of kicking the field goal. The Chiefs looked like they were trying to have a blast running up points on a hapless opponent instead of playing the kind of sound strategic football that wins playoff games. They played the rest of the way like a team that didn't expect a fight.
Some of the Chiefs might say last year was last year, and they have moved on. But Karlaftis says the game comes up sometimes—not just because of the stakes, but because Kansas City blew a big lead by not paying attention to details. It is reminiscent of the 2007 Patriots, who used their blown lead in the AFC championship game the season before as fuel to go full throttle in every game. The Pats won 18 straight before losing to the Giants in the Super Bowl on the David Tyree catch.
The Reid-Mahomes duo is so potent that it feels like they can win a half dozen Super Bowls, and maybe they will. Mahomes has made it to five conference championship games. The Lions, Texans and Cardinals have played in three—combined—in 135 seasons of the Super Bowl era.
And yet, even for the best of franchises, winning a championship usually comes down to one or two plays. Consider: Tom Brady is 7–3 in Super Bowls, but you could turn five of the wins into losses by changing the result of a single play. You could also turn two of the losses into wins by changing one play.
Mahomes has already won one Super Bowl. He will have more chances after this. He is on the verge of winning his second MVP award and someday will be voted into the Hall of Fame. But when he is done playing, games like this week's will color our view of him, and maybe his own view of himself. It might not be entirely fair, but it's the truth.
Kansas City has had a year to think about that play at the end of the half, the rushed interception Mahomes threw in the second half and the failure to gain a single yard after winning the coin flip in overtime. Mahomes might be limping with a high ankle sprain. The Bengals might be better. But the opportunity is there, and even for a team like this, those opportunities are precious. Karlaftis might have turned off his TV last year, but that Chiefs-Bengals game lingers, even for him.
"I'm sure we'll watch it" this week, Karlaftis said. "I'm sure guys will be, like, almost disgusted by it. It's a chance to go to the Super Bowl. You don't want to mess it up."