This is an archived article and the information in the article may be outdated. Please look at the time stamp on the story to see when it was last updated.
KANSAS CITY, Mo. -- With the Chiefs staring down a dynastic organization like the Patriots, in the biggest game of the year and for many players, the most important game of their careers, there was one big looming question. What are you going to do differently?
The answer: not a thing. Throughout the news conference the Chiefs hosted on Tuesday, players and coaches reaffirmed that they plan to take on the Patriots like they would any other team in any other game. Well, at least, they're not admitting any special adaptation for a team like New England.
Head coach Andy Reid said the Chiefs are actually looking forward to the challenge.
"We're looking forward to the challenge of playing New England. We know they're the world champions, and we're going to prepare ourselves to get ready to play a great football team and that starts today. Our guys will have a good week of practice," Reid said.
When reporters asked what special precautions the Chiefs were going to take this week, Reid shrugged it off. His focus was on staying the course -- continuing to do what they've done all season, and that's driving home the fundamentals. Reid reflected on some solid advice he once hear from a boxer.
"I once knew a boxer in Philadelphia. Boxing was big in Philadelphia, so I talked to this longtime boxer and he said, 'Listen, if you don't practice being a boxer, you're probably going to get hurt,'" Reid recalled. "I always thought about that with football, that's why we tackle during camp and do the things you do to play football."
Even now, when the stakes are at their highest for the Chiefs, with the pressure of a win-or-go home situation, Reid was steadfast.
"You concentrate on your fundamentals... and do it fast and furious, and then do it again tomorrow. Make sure you learn the game plan. That's what you can control. All that other stuff, you don't worry about that."
As for the Brady/Smith match up, Reid had nothing but confidence in his guy.
"He's top notch. He's got the whole package: very, very intelligent; got a good arm; great leadership ability with his teammates. He gets it. He just knows how to do this thing."
Injuries and position changes have been a recurring theme this season for the Chiefs. Offensive lineman Jeff Allen said the team's depth is remarkable.
"I say its pretty rare to have as many guys as we have that are versatile. They're able to switch spots and get the job done," Allen said, admitting that the offensive line has faced some difficult situations with players coming in and out of the lineup and shuffling positions. But in the end, Allen reaffirmed Reid's message.
"You just got to keep everything the same. We understand what's at stake. We understand it's a big time game, going to be a big time atmosphere, but we just got to do our best to try to keep it the same. We've been taking it one week at a time the entire season, so that's been working for us."
Linebacker Derrick Johnson sounded a bit more inspired. Perhaps his 11-years in the NFL have given him the scope to see when a situation is special, or perhaps he's just more willing to admit that the Patriots aren't just any other team in the NFL.
"I've been to the playoffs four times, and it took me 11 years to get one playoff win, but I tell you what, it's been worth it," Johnson said. "Something about this team is special, and we're just seizing the moment. Lot of high-fives after the games. Not any hugs yet, because we're saving that to the end."
In regards to Tom Brady, Johnson admitted that he's a force to be reckoned with.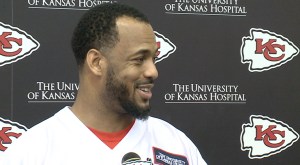 "If you give him something, he's going to take it... We have to be on our P's and Q's the whole game. We can't give him anything. When that happens, he's going to find an open guy. The great ones like that, you have to make them work for it," Johnson said. But his years of experience in the NFL have shown him that getting to the end does not come easy.
"If you want to do anything great, you're going to have to beat one of the great ones."
Running back Charcandrick West was less poetic, but no less focused. His game plan couldn't be more simple.
"Go play. Know what to do. Go do it," West said.
He wasn't looking at the weight of Saturday's game as anything different.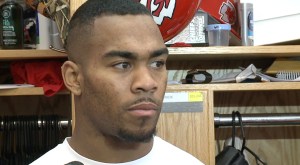 "We feel like every game is important. We're all aware that it's win or go home. So we're still going to play our game. We've been winning and doing good with what we've been doing."
West was asked if he's at all concerned with the rumors about Gillette Stadium, that visiting teams have had trouble with headset failures on the sidelines and other seemingly underhanded tactics, but he laughed it off.
"You hear about that, but you don't worry about it. We're just going to go out there and play football," West remarked.
Chiefs quarterback Alex Smith said he's been looking at video of the Patriots to prepare for what they might bring. He said one of the strengths of their team is their ability to pick a team apart.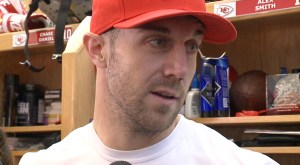 "You can tell how well coached they are. ... You can see that it changes week-to-week. They certainly have game plans, what they're trying to take away, who they're taking away and that changes week-to-week... so they make you prepare for a lot," Smith said.
With an asset like Jeremy Maclin still on the bubble about his participation on Saturday, Smith said whether he's there or not, the weight is on everyone.
"We all got to step our game up. It's not on any one person. We all got to find a way to get it done."