This is an archived article and the information in the article may be outdated. Please look at the time stamp on the story to see when it was last updated.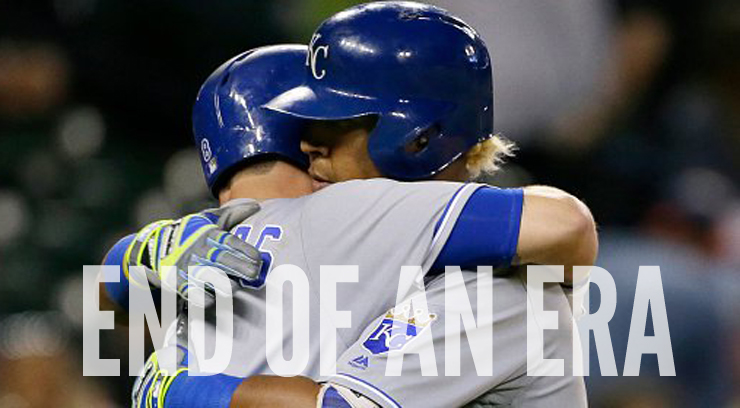 KANSAS CITY, Mo. — The golden era of Royals baseball comes to an end this weekend.
Many of your favorite players are set to become free agents, meaning they could be wearing a Royals uniform for the last time.
Moose. Hosmer. Cain. They've become household names over the past five years. These three – along with the rest of the Royals – ended decades of losing in Kansas City and brought us a world championship after a 30 year drought.
But alas, all good things must come to an end.
The contracts of Eric Hosmer, Mike Moustakas, Lorenzo Cain, Alcides Escobar, and Jason Vargas expire after the season ends Sunday.
These five were a huge part in the Royals winning an American League pennant and going to two World Series, winning it all in 2015.
The Royals might be able to re-sign one or two of them, but guys such as Hosmer, Moose and Cain will all demand a lot of money – and most likely be on another team next season.
The good news is some of your favorite players are still on contract, guys such as Danny Duffy, Salvador Perez and Alex Gordon.
While the Royals fell short of the playoffs this year, our free agents made it a memorable season: Moustakas broke the Royals home run record; Vargas leads the major leagues with wins; and Hosmer has one of the highest batting averages in the American League.
"It's so fun what we've all got to do here as far as getting drafted and coming into this organization and gathering a bunch of young guys together and saying you're going to be on a major league team and bring baseball back to a city," Eric Hosmer said.
By the way, their time here really helped the team prosper financially as more than two million fans have come to The K each of the past three years to see the Royals play.
While we're going to miss the guys who leave, it's now time for a new batch of young blood to come up through the system and win us another World Series.
Royals 2018 Free Agents
Eric Hosmer 1B
Mike Moustakas 3B
Lorenzo Cain CF
Alcides Escobar SS
Jason Vargas SP