This is an archived article and the information in the article may be outdated. Please look at the time stamp on the story to see when it was last updated.
Tiger Woods' love life is all but over. On Monday the golf pro announced via Facebook that he and Olympic skier Lindsey Vonn are dating.
In a Facebook post he said in part, "Lindsey and I have been friends for some time, but over the last few months have become very close and are now dating."
Tiger went on to ask for privacy.
As if that's going to happen.
Vonn is the first woman Tiger has been publicly involved with following the Nov. 2009 scandal that linked him to several women. His admitted affairs eventually ended his marriage with model Elin Nordegren in 2010.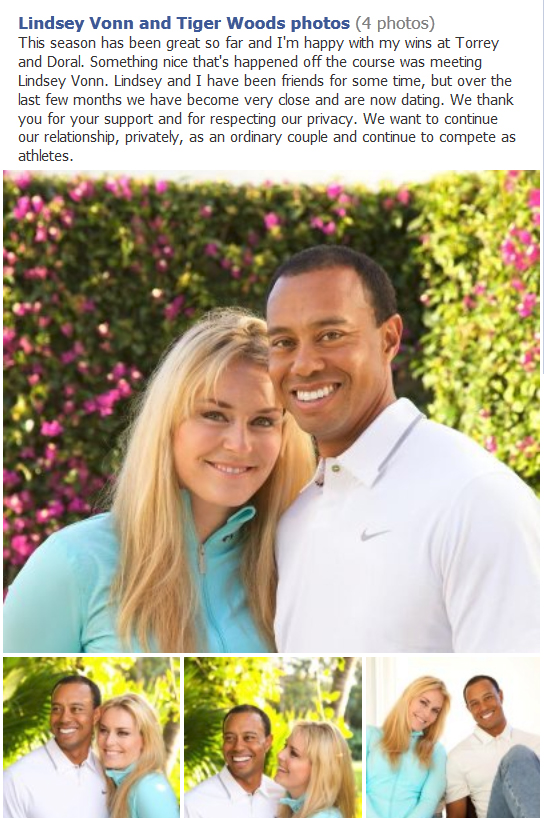 Vonn is a shining star in the world of Olympic skiing, being the first American woman to win gold medal in downhill at the 2010 Winter Olympics — among other accolades. Vonn finalized her divorce to her husband and former coach Thomas Vonn earlier this year.
In her own Internet announcement, Vonn admitted to the relationship on Facebook:
"I guess it wasn't a well-kept secret but yes, I am dating Tiger Woods. Our relationship evolved from a friendship into something more over these past few months and it has made me very happy. I don't plan on addressing this further as I would like to keep that part of my life between us, my family and close friends. Thank you for understanding and your continued support! xo LV"