This is an archived article and the information in the article may be outdated. Please look at the time stamp on the story to see when it was last updated.
OVERLAND PARK, Kan. — When two metro teams headed to Orlando last week for the first ever Jr. NBA World Championships, they managed to pull off a feat that might not be repeated for generations.
Teams from the same city — KC Prodigy Girls 14-U and Drive 5 Power Elite Boys 14-U — were both crowned World Champions.
The two teams won the Central Region spots in the Jr. NBA World Championships. Then during the weeklong tournament, they learned life and basketball skills from NBA coaches and players.
"We're a shooting team. If you can give me a tip on shooting from an NBA Coach, I'm running with it," KC Prodigy Coach Dana Copeland said.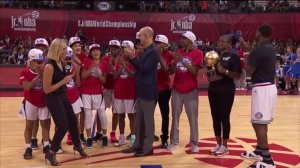 "Vince Carter and Dwyane Wade got to see us play. Everybody had a good game when they watched, so we kind of got our name already out there," Drive 5 big man Taj Manning said.
"I shot with my left hand, and all I remember is them out (of) their seats, and it was wild," Cooper Jackson said.
Both teams advanced to the U.S. Championships, which were aired on FOX this past weekend along with the World Championships.
"We thought we had a good chance at winning. Everyone else doubted us, but we still thought we were going to win," Mozae Downing Rivers said.
"We started seeing on Facebook and Twitter, it's on FOX4. I know when the game was over I picked  my phone, and I had 71 text messages," Drive 5 Coach Loren Manning said.
"It's very cool because everybody was watching it, so everybody knows about it," S'Mya Nichols said.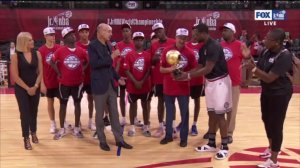 The girls team from Kansas City took on Team Europe, and the boys from Overland Park took on Team Africa and the Middle East.
"At first we were representing our city, but the last game we were representing our country, so it was an Olympic feel down there," Manning said.
On Sunday, both teams got to hoist trophies presented by the NBA Commissioner Adam Silver.
"A lot of people sleep on women's basketball, and I hope that the world got to see that these girls are on the come up," KC Prodigy Coach Sam Johnson said.
"People were watching they are interested, and these kids will be highly recruited as they go forward in high school. But they have a long way to go, and we are excited to watch their journey. And they should have something to show in the KC metro area for quite some time," Coach Allen Skeens said.