This is an archived article and the information in the article may be outdated. Please look at the time stamp on the story to see when it was last updated.
KANSAS CITY, Mo. — The Chiefs are the only undefeated team in the NFL right now, but that perfect record could be in trouble as several key players were hurt Sunday night.
Tight end Travis Kelce sat out the second half with a concussion. It's too early to tell if Kelce will be able to play next Sunday when the Chiefs take on the Steelers at Arrowhead. Kelce has to pass a five step process before he can play again and on average, NFL players miss about one of two games after a concussion.
Kelce went up for a great catch in the second quarter but when he came down, Texan defender Marcus Gilchrist hit him helmet to helmet, causing Kelce's neck to snap and then bounce against the turf. He was taken off the field and immediately began the NFL concussion protocol.
NFL protocol states if a player passes a neurological exam, he can go back into the game, and that's what team officials say happened. They took Kelce under the blue tent with the team doctor, and he appeared to be good enough to get back in the game, which he did for one play. At halftime, Kelce complained of being disoriented and memory loss, so the team doctor pulled him from the rest of the game.
"He was cleared by the UNC in the tent and then when he came in at halftime, he complained about memory and so, he remembered everything in the tent but then didn't when he got inside, so we chose to hold him out," Coach Andy Reid said.
Kelce's loss will be felt by the offense, but the good news is this team has plenty of other weapons to keep winning games and stay undefeated.
Chiefs also lost starting wide receiver Chris Conley to an Achilles injury – the same thing that happened to Eric Berry in the first game of the year.
During Sunday's game, Alex Smith threw for 324 yards and three touchdowns and Tyreek Hill added a punt return score in the fourth quarter to lead the Chiefs to a 42-34 victory over the Houston Texans in a game where J.J. Watt broke his left leg.
Deshaun Watson's 48-yard touchdown pass got the Texans within six early in the fourth quarter before Smith extended the lead for Kansas City (5-0) to 32-20 on a 10-yard pass to De'Anthony Thomas with about nine minutes left.
"Once they made it a one-score game, I knew the onus was back on us to go answer," Smith said. "If you keep answering them, it kind of becomes demoralizing when you make it a two-score game again."
It's the second 300-yard passing game for Smith this season and gives him 11 touchdown throws.
Hill padded the lead when he returned a punt 82 yards for a touchdown.
Watson threw for 261 yards and five touchdowns, but the Texans (2-3) failed to recreate the magic they found last week when they scored a franchise-record 57 points in a victory over Tennessee.
"I think every game is a learning experience for him," coach Bill O'Brien said. "I really think he's an excellent young quarterback and I thought he kept competing right to the end. He's a great kid, he's a lot of fun to coach and he's obviously got a great future."
Watt, the three-time Defensive Player of the Year, was injured in the first quarter and the team announced that he sustained a tibial plateau fracture, but didn't provide any details on how long he'll be out. The defensive end returned this season after missing the final 13 games last year after his second back surgery.
"I feel terrible for the guy," O'Brien said. "But … just knowing him and knowing the type of guy that he is, he's an amazing human being. And he will work extremely hard to be back to play for this football team. I know that."
The Texans cut their deficit when Watson threw a 9-yard touchdown pass to Fuller in the third quarter. But the 2-point conversion failed, leaving them down 23-13.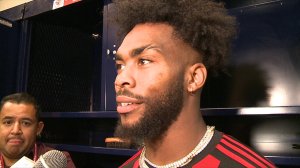 Kansas City's Charcandrick West caught two touchdown passes and Travis Kelce had eight receptions for 98 yards in the first half, but didn't return after halftime and the team said he was being evaluated for a concussion.
The Chiefs were up by six when Smith found West on an 8-yard touchdown pass to make it 13-0 in the second quarter. Houston rookie D'Onta Foreman fumbled two plays later to give Kansas City the ball right back and the Chiefs tacked on a field goal.
Foreman stepped out of one tackle before plowing over Marcus Peters as he tried to tackle him before two other Chiefs finally brought him down after a 25-yard gain that got Houston to the 10 on the Texans' next drive. The Texans cut it to 16-7 when Watson found DeAndre Hopkins in the back of the end zone for a 6-yard touchdown pass with about two minutes left in the first half.
"We played a good team," Hopkins said. "A team like that, you can't make many mistakes because they're a good team. They're undefeated for a reason."
Smith then connected with West again, this time on a 4-yard TD pass to put the Chiefs up 23-7 at halftime.
The Chiefs led 3-0 early after a 35-yard field goal by Harrison Butker on their first drive. Watt was injured on the play before the field goal and fell to the ground while being blocked. Watt remained on his hands and knees for a couple of minutes while trainers checked on him.
They flipped him onto his back and were looking at his left leg. He was then helped to his feet and looked to be in a lot of pain and didn't appear to be able to put any weight on the leg as he was helped off the field by two Texans officials. He remained on the sideline under a tent for a few minutes before being taken to the locker room on a cart and then taken by ambulance to the hospital.
Butker added another field goal early in the second quarter to make it 6-0.
Kansas City rookie Kareem Hunt had 29 carries for 107 yards to give him four 100-yard rushing games this season.
"Hunt just continues to stay strong in the fourth quarter with his endurance. He's got ball-carrying endurance," Reid said. "I don't know, for a big guy, he can skedaddle and we really needed him there."
Hopkins had four receptions for 52 yards with three touchdowns after catching two late scoring passes when the game was out of reach.