This is an archived article and the information in the article may be outdated. Please look at the time stamp on the story to see when it was last updated.
KANSAS CITY, Mo. -- The first question for Kansas City Royals manager Ned Yost and Dayton Moore, Senior Vice President of Baseball Operations/General Manager at a Thursday afternoon news conference was about Alex Gordon.
Now that the season over, what is the plan going forward with Gordon, Zobrist, Madson and Young and those guys?
"Well, we'll see what the market brings," Moore said. "Our goal is to bring back the players most impactful to us and the players you mentioned certainly have been a big part of our success here. We'll do everything we can to make sure we operate efficiently, first of all and do the best we can to get them back. We'll see what happens."
Yost was asked to express the impact Alex Gordon has had on the team.  He gushed about Alex Gordon's skills and character and made it clear he hopes he's back in Royals blue.
"He's been such a huge part of this transition from mediocre to world champion. He's been an All Star; he's Gold Glover. I don't even know what award you'd give him for personality because he's top-notch. He's just a class-individual, just a great competitor. If you could make a mold for a baseball player, Alex Gordon would be it, I mean the perfect player. He's prepared every single day. His routine is impeccable. His will to win is unbelievable. He's got great talent and ability," Yost said.
Like the rest of Kansas City, it seems Yost wants Alex Gordon to remember the loyalty the team and city has shown him.
"We believed in this kid way back when he was struggling. We always believed he could end up this type of player. We gave him the opportunity to be that player and he became it. I told Dayton we all knew he would probably opt-out of his contract but it still took my breath away a little bit when I saw it, but... I mean, I just love Alex Gordon. He's just a tremendous individual, a tremendous baseball player."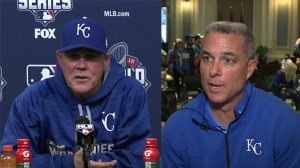 Moore said the discussions with the free-agent players will remain confidential.
"They'll remain private. We're not going to discuss the negotiations with any of our players or free agents. Those discussions are best kept that way in the spirit of trying to get a deal done."
FOX 4's Al Wallace asked Moore if having the prestige of the crown would change anything about the way they operate and build the 2016 team.
"I've never been in this situation before obviously. I don't know that it's going to affect us a whole lot. It's obviously great joy, winning... but it doesn't last forever. It's a lot of fun building the team. It's a lot of fun interacting and working with your staff every single day; and having baseball discussions and working with Ned and coaching staff and interacting with our fans and in the community. I mean those are the things that drive us," said Moore.
He continued saying, "I expect us to fight for our lives like we did in '10,'11, '12."
As far as what they accomplished last week, Yost said it's been a strange phenomenon.
"This has really been weird for me, a weird feeling. I don't think it's sunk in yet. I thought that I'd be jumping up and down and just so excited I wanna blow up into like 90 different pieces," Yost said.
"I feel like it's what we knew was going to happen and we went out and accomplished it. Maybe as the winter goes on (I'll) sit back and really realize, 'hey, we won the World Series.' It's very, very special, don't get me wrong, but it's just something I knew in my heart we were going to do, I just knew it."
Even when the Royals were down to their final six outs and facing a four run deficit in Houston, Yost said the team had faith based on previous experience.
"What I found out is that in these situations you can't control anything. I can't say, 'get hits.' So you sit back and you trust your players, you have faith in your players that they're going to go out and give their best effort. If their best effort is not good enough on that given day, then you put your arms around them and thank 'em for it because that's all they can do. So there was no panic, there was no fear, and then all of a sudden, boom, boom, boom, there they went. But I didn't have any doubt, and I don't' think anybody had any doubt in the 8th inning of that game because we went thought the Wild Card game last year. We'd done it before. So the mindest is always, 'hey, we can do it again.' And they did.
Moore was asked if the Royals had changed the way the rest of the league approaches team-building with a focus on athleticism and power pitching. He told reporters that they don't really focus on the other 29 teams' dealings, and instead hone in on what they have to do given the team's circumstances.
"Truth of the matter is that's the way we have to do it in this ballpark. If this team was in another ballpark we may do it a different way. But that's how we've tried to do it. When you've watched the Royal great teams in the past, they had speed, they had athleticism, they had power pitching, they had quality bullpens. That's the way we've always tried to do it," Moore said.
On the topic of the team's reception and the parade and rally attended by an estimated 800,000 people, Yost and Moore gushed about Royals fans.
"I told my wife, 'our fans gave us the greatest gift they could give us today. And that's a lifelong memory of how special they are, and how special this accomplishment meant to them, so it was an extremely cool event," said Yost.
"Kansas City is a special place. We've got tremendous people that care deeply about doing the right thing, and coming out and supporting this team when this team brought so much respect to our community. They earned that, they earned that following, they earned that support. But it was a special moment, and hopefully we'll get several opportunities in the future to do it," Moore said.
Yost also spoke about a special call he received on the team's flight back to KC from President Barack Obama.
"I was sitting on the plane and the phone rang and it said 'no caller ID.' I thought, 'well, that's Joe Torre… What does Joe Torre want?' He (President Obama) was just so excited for Kansas City, our organization. He loved the way we played, he thought that our team was a very exciting team to watch, and he could hardly wait to meet us all when we come to the White House."
Reporters also asked how Moore and Yost felt for pitcher Luke Hochevar, who spent 2014 on the disabled list following Tommy John surgery. When the Royals took a 3-2 lead in the 12th inning of Game 5, Yost said Hochevar was immediately on his mind.
"The first thing I thought of when we scored that run was, 'Hoch is going to win this game… he's going to win the game that wins us the World Series.' After everything he'd been through last year, and you knew how hard that was for him, but not one time did he ever pout, did he ever not be there for his team rooting 100 percent like Holly (Greg Holland) was this year. I was very, very proud to see that for him."