This is an archived article and the information in the article may be outdated. Please look at the time stamp on the story to see when it was last updated.
This should be pretty cool to follow…what I've done, assuming it works correctly is compare day by day the most recent nasty Summer Heatwaves that we remember. I choose 1980, 1983, 1988 and 2012 and went day by day from June 1st through July 22nd (for 2012) and August 31st for the other years…you can see each days highs from the FOX 4 Weather Almanac.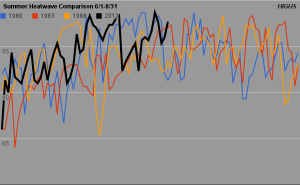 If you copy paste the following code, you can interact with the chart above and trace each day's highs for the various heatwaves
Click here to get the full spreadsheet with interactive chart. You need to click on the chart I believe to make it interactive and then move across the chart to see the various day to day comparisons.Click on the "copy of sheet1" to get the better chart with the dates included. On second thought the interactive part may not work. I'm trying to embed by google document on here and it's not working the way I want it to. Maybe IF you have gmail it works better?
What do you think?
Joe