This is an archived article and the information in the article may be outdated. Please look at the time stamp on the story to see when it was last updated.
Check out yesterday's blog concerning how the effects of the drought across the Plains states may actually be saving lives. Last night I did some very quick research and while the numbers are approximate there are glaring differences when you compare the heat wave of 1980 and for Chicago the heatwave of 1995 and the heat wave of 2012. The differences in the death toll can't simply be attributed to better A/C or more widespread usage of A/C or better warnings or better preparation, although all these are extremely beneficial I feel that a major reason is the type of heat we're experiencing now compared to heat waves of the past.
Now granted this data is still somewhat early in the current heat wave situation that is gripping much of the middle part of the country but it's still interesting to me in terms of the vast differences in the death toll from heat related causes (or suspected) from a few cities that I briefly looked at.
Kansas City: 2012 (9) 1980 (160)
St Louis:  2012 (23) 1980 (153)
Chicago: 2012 (26) 1995 (750+)
Memphis: 2012 (3) 1980 (83)
All these numbers are based on fast research I did…but I think you get the point.
My continued feeling is that the drought which has plagued much of the Midwest has led to a dramatic reduction in the dewpoints/heat index numbers. Typically we have dewpoints in the 70's to near 80 with all this heat contributing to heat index values that would be through the roof. Lately we've seen dewpoints in the 50s (even the lower 50s) which means the heat index and the temperature are closely matched together and it feels more like the Desert SW as opposed to our typical nasty and humid KC summer season. As a matter of fact there have been some days with our heatwave where our highs have been hotter than Phoenix and the dewpoints here drier than there. Part of this is that they're into the monsoon season now which typically creates more humid weather out there and lower highs. The reason why the dewpoints are so low for us this time is that the soils are baked out. There is no moisture left to evaporate into into the air just above the ground. The terrain has turned brown and that has cut out much of the evapotranspiration which is the release of water vapor through plant leaves. How substantial is this…according to the USGS… "An acre of corn gives off about 3,000-4,000 gallons (11,400-15,100 liters) of water each day, and a large oak tree can transpire 40,000 gallons (151,000 liters)" That's a lot of moisture going into the atmosphere near the surface that isn't these days and it contributes to lower dewpoints/humidity levels in a huge way.
Chicago's situation though is much more curious. After a devastating heat wave in 1995 that killed 750-1500 people (there are still disagreements about this) Chicago put together a master plan to prevent large death tolls during long periods of excessive heat. I do feel that this has contributed tremendously to their improved situation. Also compared to 30+ years ago there are more A/C's out there but again I don't think this is the sole reason why we're doing better dealing with the substantial heat.
The drought has also affected the terrain in the southern Plains states and the best way I could illustrate that is by showing you a comparison of satellite pictures from last year at about this time and this year…
First let's look at a satellite picture taken in mid July of 2011…the drought was raging across OK, southern KS and TX then, but we were in pretty good shape. Notice how green the land mass is across our region.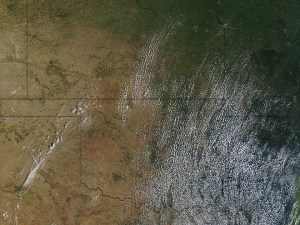 Now let's flash forward one year to a satellite picture taken yesterday afternoon. Notice all the green terrain around here has been replaced by a lot of "browness" for lack of a better word. This shows the stress on our land from the grass in your backyard to the crops to now even the trees (especially the younger ones and even some shallow-rooted older ones are stressing)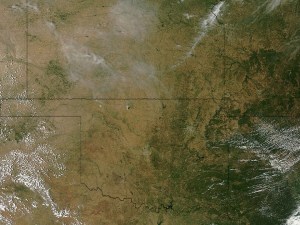 Click on both those images to make them larger so you can really see the differences.
Fascinating for sure with even hotter weather heading this way through Wednesday then hopefully we'll have that rain chance on Thursday and we'll see some minor cooling later in the week. Whatever "cooling" there is will be brief I believe as we heat back up later next weekend.
Before I leave you…there were some nice storms in the AZ area yesterday, as the storms gusted out they created dust storms or haboobs. Here is some neat video in the Phoenix area.
Joe