This is an archived article and the information in the article may be outdated. Please look at the time stamp on the story to see when it was last updated.
A briefly gray morning has given way to clear blue skies early this afternoon and temperatures that will approach the freezing mark later this afternoon, overall a nice quiet day. The chilly airmass in place will move away beginning tonight and as high pressure slides towards the east, the circulation around that high will allow S/SW winds to bring in "milder" air overnight and into Sunday. The winds will be gusty tomorrow with gusts to 20-30 MPH likely. Those winds will allow temperatures to warn to between 40-45°. I've forecasted temperatures on the low side of that range on the assumption that we see enough cirrus cloud cover to filter out the very weak late December sunshine. IF there are thinner clouds or the clouds hold off long ago, we can easily make the mid 40s tomorrow afternoon. Before we get there temperatures tonight will initially drop off then level out and perhaps even rise a degree or two towards daybreak tomorrow.
Obviously the main focus for the forecast is our storm which right now looks small and a little ragged in the western part of the country.
This storm will be moving through the Rockies over the next 36 hours then falling apart (shearing out) as it moves through our region. Storms that do this rarely produce a lot of snow around here and that will be the case I think with this one as well. The NAM is going ballistic with the amount of precipitation, cranking out close to 3/4″ of moisture with this weird, dysfunctional storm system. The GFS on the other hand is down to .05″ @ KCI…that's 5/100th of an inch basically keeping most of the precip to the south of the airport. Obviously this has huge implications on the snow amounts…it really is incredible to see the difference.
Here is the NAM forecasted snowfall..showing a broad area of 4-10″ snows through the region.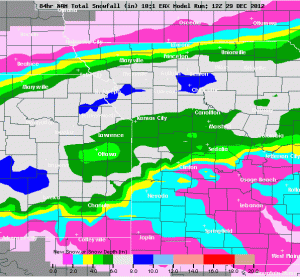 Now take a look at the GFS…really is a different animal in terms of it's placement of things basically saying a broad area of 1-3″ snows from Downtown southwards.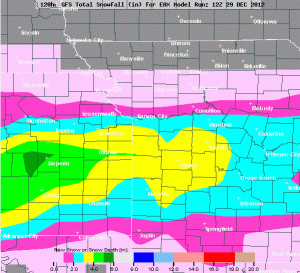 Next I wanted to show you the hi res NAM model…it is vastly different from the lower resolution NAM and did well in the previous storm if I remember.
This model shows a dusting to 2″ across the KC area with some higher totals from St Joe westwards.
The lower res NAM is having issues I believe Monday afternoon in particular. Notice this map from about 10K feet (700 mbs). Notice the brightly colored bullseye. That represents an incredible amount of lift.
That is why the model goes nuts with the amounts of precipitation.
Here is the same time frame off the GFS.
MUCH less pronounced and more broken up in nature, essentially what you would expect to see with a shearing system.
The latest EURO is painting about 1/4″ of liquid from I-70 southwards with a SHARP cutoff to the precip from St Joe southwards.
So with all this said and with the data available…at this point I see no reason to change a lot of my thinking from yesterday (maybe a slight downgrade)….basically a dusting-3″ event possible from KC southwards. Farther northwards, probably more of a dusting to 1″ event. I don't want to go to crazy with higher numbers at this point down south because of some melting potential and possibly some mixing of precip types for a few hours or at least a wetter type snow that melts on contact.
The next trick is how much of that snow may initially melt since temperatures will be near or even a bit above freezing in places, especially IF the snow holds off till noontime. It's possible (more on this chance tomorrow) that we see some initial melting on the pavement/roads depending on whether or not the snow is falling lightly. IF it is, some will certainly melt during the day on Monday.
Man though, that NAM model is a dream come true for snow lovers…again it just doesn't look right to me, especially in terms of the amounts of precip it's cranking out. Our in house Microcast models last night were bullish on the runs based off the NAM model parameters, and much less so on the run based off the GFS model parameters.
The snowfall forecast has all sorts of implications on how the rest of the week goes from a temperature standpoint. Several inches of snow, combined with cold high pressure building in from the northern Plains states with the right set-up for a couple of nights of good radiational cooling is the set-up single digit (or colder) lows. So what happens on Monday will have big implications for the rest of the week.
So let's put all this together. For tomorrow (Sunday) gustier winds and cirrus clouds start to move into the area…highs near or above 40°.
Sunday Night: Clouds thicken up and lower. SW winds of 10-20 MPH will keep temperatures from dropping much…probably down to 30-35° towards Monday AM. Possible snow/mix showers moving through quickly.
Monday AM: Light snow breaks out to the south and moves our way. Temperatures hold in the 30-35°
Monday PM: The "bulk" of the snow may occur here. Any areas around KC getting a mixture of precip should see a switch to snow. With the daylight helping there should be some melting for awhile on the roads, especially if they're treated. Temperatures drop to 30-32° by evening rush.
Monday Night: Light snow continues, with daylight gone, the roads may slicken as temperatures drop into the 20s. Snow should end early Tuesday and skies should clear sometime Tuesday.
Obviously ALL of this is subject to change. I really haven't talked about the warm air advection phenomena that is driving the NAM precip totals I think. Should that aspect be stronger than what I'm thinking, this forecast won't work out and will be too conservative. Should the storm hold together better that would be a possibility.
That will do it today, I'll add some comments as needed in the comment section later this evening as the new model runs come in.
Have a great weekend and we'll update the blog again tomorrow afternoon.
Joe