KANSAS CITY, Mo. — It's going to be another day with temperatures nicely above average in a winter where it seems almost every day features temperatures above average.
Sunshine during the first part of the day will allow highs to surge well into the 40s on the north side before rain comes up the State Line towards KC later this afternoon.
That rain will be with us this evening as the temperatures start to drop into the 30s. Aloft, the atmosphere just won't support snow (yet), but that too may change heading towards the midnight hour, and this is where things get very tricky.
++++++++++++++++++++++++++++++++++++++++++++++++++++++
Kansas City Forecast:
Today: Sunshine this morning with clouds and developing areas of showers later this afternoon (a bit earlier on the southside). Highs in the upper 40s towards KCI and in the lower 40s farther south of the metro.
Tonight: Rain changing to snow towards midnight. Snow may be heavy for several hours tonight. The big, wet-type snowflakes will likely stick to grass and exposed surfaces, cars, decks, etc. Lows down to near 32 degrees
Tomorrow: Partly sunny in the morning then mostly cloudy in the afternoon. There may be some scattered rain showers later tomorrow into tomorrow night. Highs back in to the mid-40s, so if there is snow on the ground, it will melt fast.
Friday: There may be some snow showers around in the morning. Colder and blustery with highs back into the 40-degree range.
++++++++++++++++++++++++++++++++++++++++++++++++++++++
Discussion:
A few degrees… that's all it's going to be to determine whether we have a snowstorm of sorts (it would be sloppy wet snow) or if we get some snow that melts as it falls.
There is a lot going on with this storm. It's very dynamic and it will be really working over the atmosphere. In a winter in which snow is at a premium, it seems every flake has issues and this will be no exception.
There are two parts of the system. One is the upper-level storm, which we've been tracking for the last few days. That part of the storm is near Amarillo, Texas, this morning and that will track into central Missouri tomorrow and strengthen.
The other part of the system is what's happening at the surface with a developing area of low pressure towards Arkansas. The black lines below are isobars or lines of equal pressure. You'll see them start circling the surface storm as the afternoon and overnight moves along.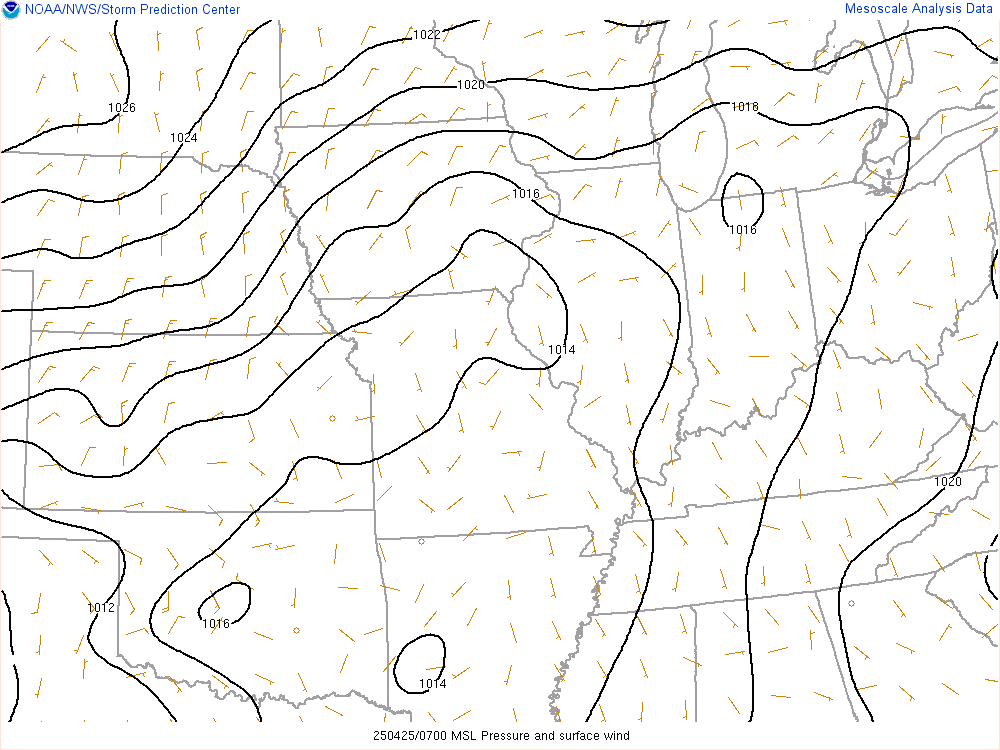 So that area toward the surface will move up towards Interstate 44 tonight and then head into and through central Missouri tomorrow.
The track is ideal for us to get snow.
Aloft, the upper-level part of the storm will do something similar.
Both features are really promising for accumulating snows in the region. Yet here we are fighting the temperatures.
The issue isn't so much where we're going to be here on the ground for a temperature standpoint. The issue is what's going on a few thousand feet above us.
Will that part of the atmosphere support the snow that will be falling above us to reach lower towards the ground? Because with the rates of precipitation expected overnight for a few hours, the falling snow will chill the atmosphere down.
This is what happened a few weeks ago. Remember that when we had a couple of inches of snow on the grass with little accumulations on the roads. Also remember how northern Missouri had a snowstorm, over 8 inches in localized areas?
It's got me nervous because as I've been saying for the last few days, when just looking at forecast tracks of the various features, this is a pretty decent snow setup for us.
At this point, odds favor the atmosphere chilling down enough to support snow making it to the ground sometime between 11 p.m. and 2 a.m. in gradual fashion. It may snow rather hard for several hours, but the snow window is overall short and the accumulation window is shorter. By daybreak this is done for KC.
With this type of glop snow, the snow ratios won't be 10:1, but instead perhaps 5:1. That too is a factor in how much snow we could end up with.
We will be in the comma-head part of the system, and those areas can overproduce. With the dynamics of the setup, I remain concerned that someone tomorrow may have a "surprise" amount of snow like what happened in northern Missouri a few weeks ago. Maybe not to that degree, but something more substantial.
Right now though, I don't think that will be KC though. I do think if that happens it might be more towards the northeast of the KC metro into north central Missouri.
We are going to be close and if there was a 2-5 inches snow in KC tomorrow morning, I won't be totally shocked. I think this is a low probability, but not 100% off the table. Again, it just depends on when or if the atmosphere in the lower part of the atmosphere is conducive to snow making it to the ground.
For the metro, I'm sort of more in the coating to 2-inches range with the potential of more in a worse case scenario towards the northeast of Kansas City (in excess of 3 inches perhaps). But again, so tentative on changeover timing and the small snow window. Odds are most of this would be on grass and not so much the roads.
Could this be nothing and just rain? Absolutely. If the lower few thousand feet of the atmosphere never drops below 32 degrees, this is all rain or mostly all rain. It's tough in this situation because we don't have thermometers above the ground.
We don't know what the actual temperature is above us except for twice per day at 6 a.m. and 6 p.m. as the balloon is launched from Topeka, Kansas, no less and is subject to the prevailing winds of the atmosphere. So if it sounds like we're flying blind tonight… we are.
We'll be relying on airport observations later tonight. We should see rain switching to snow towards the southwest of the metro, and that should be working up towards the northeast.
My criteria for a real snowstorm is that we're cold enough to not worry about a degree here or there separating us from no snow and perhaps more significant snows.
Alas, not meant to be apparently.
Is it possible some get a snow day tomorrow? I think so. Odds don't favor that in the KC metro area.
I'll be nowcasting the situation this evening for you.
The feature photo comes from Cary Bahora of a great sun pillar from last week.
Joe