KANSAS CITY, Mo. — Happy Tuesday! Although the weather again today will be rather dreary for most of the day with occasional patches of drizzle this morning replaced by lots of gray skies and below-average highs once again.
There isn't really a lot to push the extensive moisture field away from the region today. I think it will only gradually break up later today. So as a result, highs will be running more than 10 degrees below average, but we'll quickly turn this around tomorrow.
Some really nice weather is on tap, aside from Friday morning. Temperatures will moderate and then cool back down over the weekend, which still looks to be spectacular in the region. That is something to look forward to!
+++++++++++++++++++++++++++++++++++++++++++++++++++++
Kansas City Forecast
Today: Cloudy with some morning patches of drizzle and light rain. Highs in the mid-60s.
Tonight: We should be clearing out. Lows in the 50s.
Tomorrow: Sunny and warmer with highs around 80 degrees.
Thursday: Sunshine then some clouds coming in. Warm with highs in the lower 80s.
++++++++++++++++++++++++++++++++++++++++++++++++++++++
Discussion:
It's not the prettiest out there, but we're sort of overdue for this type of weather really. We can't complain too much either. The first 15 days of May have been mild to warm with temperatures running about 5 degrees above average. That makes this the 24th-warmest start to May and the fifth-warmest start since 2000. The last time we started this warm was back in 2018 and that was considerably warmer too.
This moisture continues to be extensive this morning. The first morning visible pictures show extensive cloud cover again today.
It's just going to take awhile today to break this up I think. And with us starting the morning in the mid-50s, just not a great day overall.
While the sunshine is going to work north of here, temperatures should be into the mid-70s to near 80 degrees towards the Interstate 80 corridor area. All we need is that sunshine to work itself into the region tomorrow and then we can warm up as well.
Next cold front in KC
Our next cold front is due some time on Friday, likely during the first part of the day and that should bring us at least some rain into the region. The rain may not be too beneficial in terms of the amounts, especially assuming the front comes through during the morning hours without any instability building up to create bigger storms. In our severe weather season locally (that mostly isn't), this front will likely come through harmlessly around these parts.
Behind the front, some cool late-May weather will push into the region sending morning lows and afternoon highs over the weekend somewhat below average. Sunday afternoon we should be close to average.
After Friday morning's chance, the GFS and the EURO really don't show much into next week. Maybe some showers next Tuesday or Wednesday.
El Niño update
Meanwhile, I wanted to follow up on the developing El Niño in the equatorial Pacific Ocean, which continues to show its self more and more. This warming has been ongoing for the last several months at a rather rapid pace. We're looking for warmer-than-average waters, and there is a lot of that happening from the coast of South America west into the Pacific Ocean as the next map shows.

The area most monitored is what happens in the overlap between 3 and 4 towards the central Pacific Ocean, referred to as 3.4.
There water temperature anomalies aren't as dramatic as near the coastline of South America. The thought process is what happens towards the 3.4 region has more of a correlation to altering weather patterns in the northern hemisphere especially. It's here that the anomalies, while there, are not nearly as high as you can see on the bottom of the next chart. See how the lightest of yellow sort of trails off towards the west. That area needs to get warmer and it should.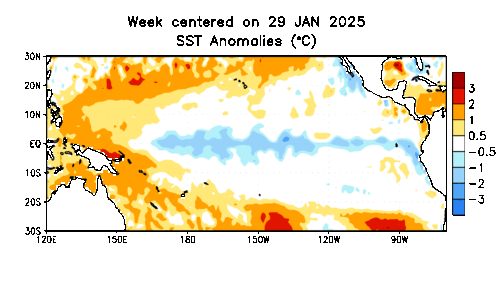 Why? Well we can see that the below-surface waters are warmer than average. It's a matter of time before these warmer waters work their way to the surface.
You can clearly see this as we go down through the waters of the Pacific Ocean in that general area.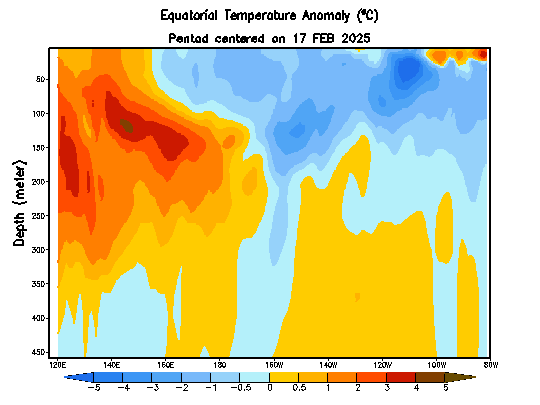 As these warmer waters rise towards the surface, the El Niño regions of 3 and 4 will get warmer and warmer. This will then start to increase the "strength" of El Niño and allow it to start perhaps influencing more on the weather patterns in the hemisphere.
There is speculation that it's already altering things perhaps in the transition from La Niña (cooler-than-average waters, which we were dealing with for three straight years) and El Niño (the opposite).
You can see the probabilities though of El Nino conditions becoming the driver heading into the summer months and beyond, likely into next weekend.
There was a very strong El Nino in 2015-16 which started to develop in 2014 and weaker versions in 2018-19. So it's been a bit since we've had these conditions.
El Niño's impact in Kansas City
What does this mean for us? Well the development thus far with this El Niño is sort of reminiscent of the timeline of the developing strong El Niño in 1997-98, at least for now in terms of timing. During the back half of 1997, El Niño conditions had arrived during the April-May-June three-month period. This time it may be similar, or perhaps delayed by a month or two. This lead us into the late 1997-98 El Niño.
What I sort of find interesting is that that summer trended cooler overall and somewhat drier as well.
Just sort of interesting. Certainly not a forecast but something that I'll watch for over the coming months.
For what it's worth, going back to that May of 1997 setting up for the developing El Niño, the national temperature anomalies looked like this:
While the anomalies this May look like this:
Ummmm not even close, and one could really argue almost the complete opposite.
Does all this mean anything? Maybe not, but we do know El Niño will be a force to be dealt with. Just how much and how it affects things (there are many other things in play a usual) remains to be seen. But we do know that this phenomena creates lots of heat around the hemisphere in many areas, whether on land or in the oceans.
The feature photos today are from Alex Pickman of a couple of tornadoes he captured north of Hiawatha, Kansas, last Friday.
Thanks Alex! There was an EF-2 tornado there.
Joe