This is an archived article and the information in the article may be outdated. Please look at the time stamp on the story to see when it was last updated.
Well a lot of folks are out celebrating today. Red is all over the place and many are feeling a little blue about the colder temperatures that have moved back into the region. Yesterday I talked about how temperatures would be about 10° cooler today and sure enough it's playing out with readings, as of this writing in the 25- 30° range.
In reality it was another one of those strange nights int he region where temperatures initially fell then rose again. This created issues with some re-freezing on roads. Several accidents occurred before temperatures bounced back upwards. There were also some scattered rain/sleet/ice showers out there including a bizarre report of some thunder sleet in the Carrolton area which was confirmed via FOX 4 Warn with several lightning strikes showing up. Here is the temperature trace from overnight showing the bouncing temperatures from weatherspark.com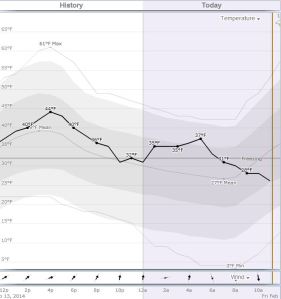 So here is the surface weather map for 11AM this morning…showing the chillier air sneaking through the region…which combined with the cloud cover is contributing to a not so great afternoon.
The temperatures in the above map are in RED. Notice there are some teens mixed in there…I think the short range models did a good job with this from last night…hence my forecast for falling temperatures, although they are running about 5° colder than I expected.
Folks back east are still talking about the snowstorm yesterday…what a storm it was. Once again another big city (this time NYC) made some critical mistakes in the way they reacted to the snow. Between the 8-12″ or so and the ice and sleet and rain…they had kids go to school…which didn't work out so great when the Mayor declared a State of Emergency for the region because of the storms effects. Once again blame was put on the NWS and once again it was misdirected as the forecast worked out very well from 24 hours ahead of time.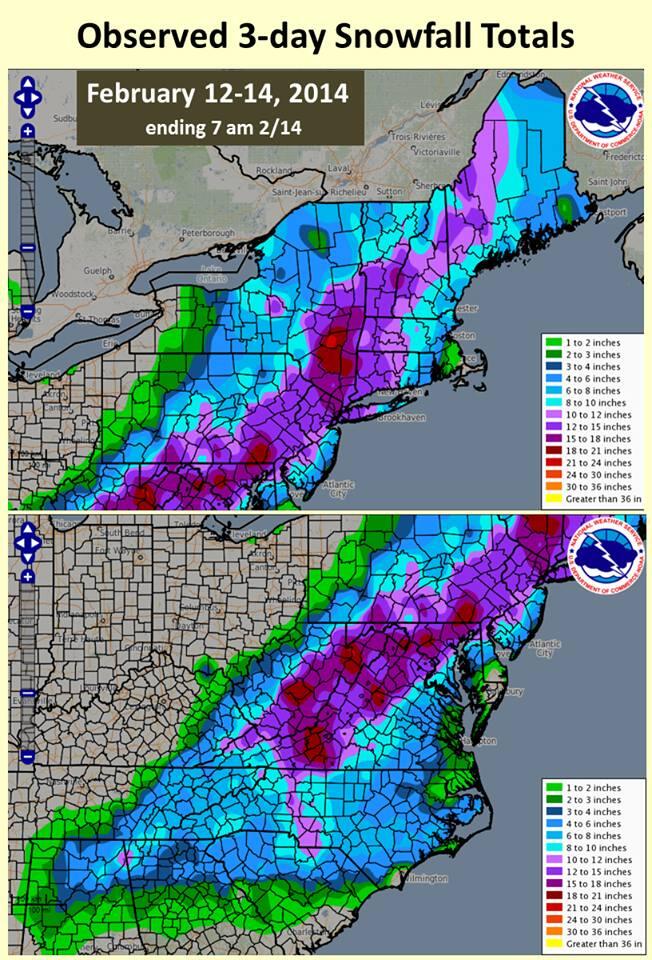 Salt shortages are becoming more apparent through the country and that includes our area as well. It's a situation where stocks are running low and for businesses and communities trying to get additional shipments…in many cases the amount they're getting is much lower than the amount they need. We need to remember that even though an event is small…if they're still putting down treatments…it's using up the salt supply. So a couple of minor events chews away at the supplies…even this morning MODOT was out treating the roads in spots because of the refreezing that was happening.
As far as the forecast goes…it's not exactly clear cut. Temperatures will be warming up over the weekend that I'm confident in. How high they end up going though is still tricky. 1) we still have a good deal of snow we need to get rid of…which should happen by the end of the weekend. 2) clouds…it may not exactly be the brightest of weekends, especially tomorrow…that will tend to knock off a few degrees…so I think 45-50° is as good as we can do. Then on Sunday…a lack of wind combined with leftover snow may contribute to another day in the 40s. So maybe not as great as hoped for…but still pretty darn good and IF we can get rid of the snow a little faster and more efficiently tomorrow…there might be some upside to Sunday's forecast.
We will moderate more early next week and I still think we'll get to near 60° or above before the next front moves through on Thursday.
That's it for today…exhausted actually with a lack of sleep and helping out the FOX 4 Love Fund early this morning with their Chocolate Breakfast. It was a huge success so it's a good tired!
Joe