This is an archived article and the information in the article may be outdated. Please look at the time stamp on the story to see when it was last updated.
Today is what we call the 1st day of meteorological summer. It's really a data issue since the 1st day of the any season will vary by a day or two (astronomically). For example…summer starts for us in KC on June 20th (late in the evening) but on June 21st (early in the morning). Sometimes summer will start on the 20th or 21st (mostly) and VERY rarely (1975) on June 22nd. As a matter of fact the next time summer starts on the 22nd will be in the year 2203! I won't see it…and neither will you.
---
Forecast:
Tonight: Gradual clearing and pleasant. Lows in the 60s
Tomorrow: Mostly sunny and warm with highs in the 82-85° range. South winds 10-15 MPH
Saturday: Ditto with highs in the mid 80s. South winds 5-15
Sunday: Ditto with highs in the 85-90° range. NW winds 5-15. There is a small chance of some fading showers early in the morning. This should be a pretty toasty day…and some may get above 90° (hottest day of the year, so far, potential)
---
Discussion:
So on this 1st day of climatological summer…and also the start of hurricane season (more on that tomorrow)…overall we've enjoyed some decent moisture…some pleasant days/nights and really not a lot of thick dew points (yet). That typically changes in June, and while it will be rather nice and pleasant next week (overall)…in time, especially towards mid month…our storm chances return and so with the thicker air again.
This afternoon I'm tracking a disturbance that has generated more rather slow moving storms west of KC as of this writing. They will move through parts of the area this afternoon. Right now the best rain chances seem to be from the KC metro area northwards…let's see if they throw some outflow boundaries out to regenerate storms later this afternoon to affect areas somewhat farther south.
Ahead of that wave, we are warming up and getting more unstable. So those storms, as they come into the building instability, may strengthen somewhat in spots…and perhaps start generating some hail or gusty winds…
Yesterday was another busy day for hail, towards the south of the I-70 corridor. Tennis ball size chunks of ice fell towards the Hillsdale Lake area into Miami County.
Hail from the area of 231st and Gardner road in Miami County, north side of Hillsdale lake. @NWSKansasCity pic.twitter.com/LZQBPoXEPg

— MICO Sheriff (@MICOsheriff) May 31, 2017
2" hail just north of Hillsdale Lake in Miami County, KS; photo from off-duty @OlatheFire pic.twitter.com/dMGINKjqu0

— NWS Kansas City (@NWSKansasCity) May 31, 2017
This is what it looked like when it was coming down…
Video of the golfball to nearly tennis ball size hail falling at Hillsdale Lake in Miami County, KS around 1:30pm today. #KSwx pic.twitter.com/lYhs4rUfPy

— Ryan Difani (@RyanDifani) June 1, 2017
On top of the huge hail in Bates county over the weekend…an impressive few days of storms.
Things though should start calming down rather considerably for about 7+ days it appears…we do have a weak front sliding towards N MO later Saturday that "may" trigger some convection well north of the area towards far N MO and S IA…but right now I'm not overly thrilled about the prospects of much, if any, of that convection holding together and dropping towards the KC metro…it may be worth a 20% mention for late Saturday night or early Sunday. The front though…will fall apart approaching the region…and as a result we'll be pretty toasty to finish the weekend too.
A somewhat stronger front will move into the region Monday…Sunday looks like a hot one. So far the hottest we've been is 88° (officially in KC) with a 90° high at the Downtown airport. Sunday may exceed those values ahead of the front.
The front itself may struggle to produce much in the way of active weather, assuming it comes through MON AM…not a favorable time of the day. This will, in time, gradually switch our winds towards the NE and then E. This will allow some cooler air to work it's way from the NE to the SW and from the E to the W…and this will temper the heat for most of next week. Pleasant days and especially nights look to be the main effect from the front.
As I've written about…this is the wettest time of the year…really through mid-June…and while one always needs to be watching out for these fronts moving through…there doesn't appear to be anything overly dramatic heading this way.
Which got me thinking…sort of a "strange" severe weather season…active but not…tornadoes but not…in the month of May here is how things went…
Nearly 1,500 reports of tornadoes, high winds and hail were submitted in May to the @NWSSPC in an active month of severe weather. pic.twitter.com/YF0PVSUjnm

— MRCC (@MidwestClimate) June 1, 2017
There were 290 reports of tornadoes…above the 242 3 year average. That 290 number will come down substantially after eliminating the duplicate reports. Overall we're up to apprx. 802 tornadoes (estimated after eliminating duplicate reports) which is up, rather significantly, compared to the past 5 years…but I think because there haven't been too many "big" outbreak days in the Plains region…it hasn't "felt" like an active year. Then again MO has had 91 reports and KS 55 reports so far of tornadoes this year. GA and TX are neck and neck with around 120-125 reports.
Nationwide though there have been almost 6500 reports of stronger winds (60 MPH+) and or wind damage.
Things may get more active heading towards mid-month…typically the severe weather season winds down towards then…but there may actually be a bit of an uptick again towards mid-month or so, especially in the Plains region.
That's about it for today…our feature photo comes from @Dadiosradios959 and Mark who does such great work out there! This is from last Saturday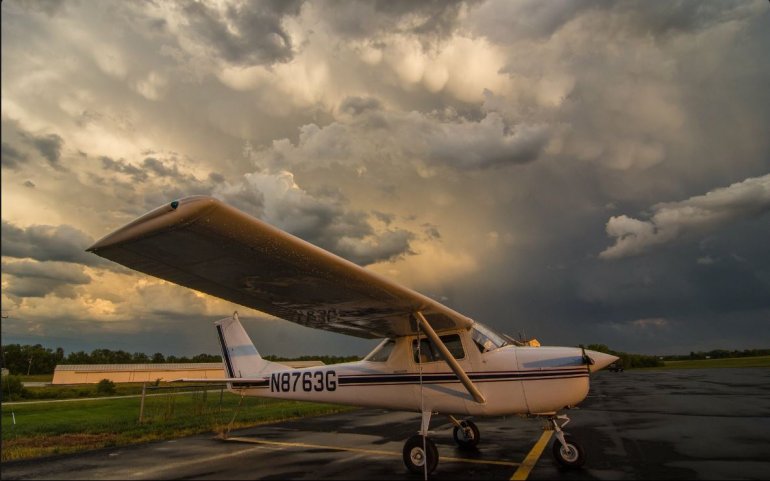 Joe