This is an archived article and the information in the article may be outdated. Please look at the time stamp on the story to see when it was last updated.
Good morning…it's like I never left. I was following the storms a few nights ago from the SW part of the country for my annual trip to the Desert SW. Phoenix and Sedona are where I usually hang for about 7-10 days. As they say it's  "dry heat" out there and that would be an understatement. 110°+ for a few days…but I've said this once…I'll say it again…I can deal with that heat playing golf anytime. I on't sweated once playing and that was because there was no breeze at all. The other two times it was fine. Meanwhile a few days before I left I was sweating so much here playing golf that I got heat rash on my legs. That type of nasty heat and humidity is coming right back to the area starting Friday into early next week.
---
---
Forecast:
Today: Variable clouds and seasonable with highs in the mid 80s
Tonight: Mostly clear with lows in the 70° range
Thursday: Partly cloudy with some AM showers/storms possible in the region. Can't promise all will get rain however…some may though. Highs into the near 90°
Friday: Here we go again with highs well into the 90s with humidity.
---
---
Discussion:
Well I was expecting to have to get out and mow the grass this morning…since it's been about 10 days since the last mow…and I can tell there wasn't much rain here at the house because it looks like that won't be a high priority for me for the day and with the building heat in the region on the way…I'll let it stay higher for awhile I think. I haven't checked the rain gauge yet…but judging by the look at the grass I'm guessing the storms the other night gave me about 1/3″ or so of needed rain…
So aside from the heat…and the storms the other night…doesn't look like I missed much…which was what I was expecting.
As a matter of fact here is a tidbit for you as we start the morning off…
In the last 47 days (4-29>6/12) we've had 1 day with temperatures below average…and that was only by 1°. JL

— Fox 4 Weather KC (@fox4wx) June 13, 2018
Today, just based on the low of about 71° (some 8° above average) will be another day with temperatures above average…and today is the "cool" day.
It's really a remarkable run…it was so cold in April…then light a light switch flipping…on 4/29 it stopped being cold…and on 4/30 it got hot…and it's been hot ever since (essentially with a small break here or there).
It's a remarkable run of long term warmth. Almost 50 days now…
In today's edition of "fun with numbers"…remember hearing about the dust bowl days of the 1930s? (especially 1934 for heat)…well since 4/29 here in KC…it's been that just that warm (on average). JL pic.twitter.com/F04AZlf8vu

— Fox 4 Weather KC (@fox4wx) June 13, 2018
Whenever I dig up information that's close to 1934…you know something is going on.
Actually in the SW part of the country it's been pretty nasty…even for them. They again missed out on the needed winter rains out there…but there is a dying hurricane off the coast of Baja CA…named Bud…that might actually bring parts of AZ some needed rain.
Tropical moisture from hurricane Bud to spread north and into the area later this week. Storm chances really go up by Friday! Look for gusty wind, dense blowing dust, locally heavy rain and much cooler temps. #azwx pic.twitter.com/QWJLcOmk4N

— NWS Phoenix (@NWSPhoenix) June 13, 2018
Through the weekend…some areas may see 1-3″ of needed rain especially towards the SE part of AZ.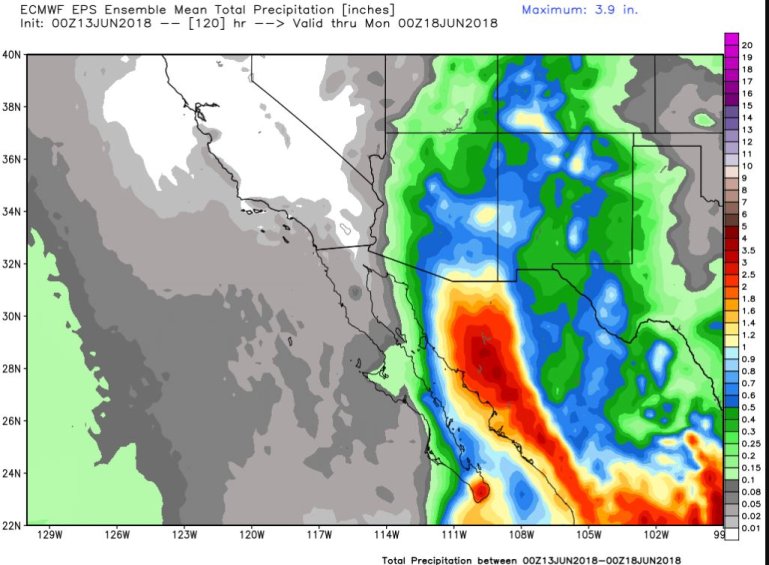 I spent a few days up in Sedona as well while Ii was gone. It was actually about 10° less hot there but as soon as the sun went down…with the dry air…the temperatures would go down fast. They also haven't had much moisture in quite some time and I really worry that they're setting up for more disastrous wildfires down the road. This next 5 days could be rather helpful to some extent before the dry weather kicks in again.
So there is hope for Bud which is spinning and weakening off the coast.
Whatever disturbance is leftover from Bud will actually move into the northern Plains over the weekend…this will be around a building ridge/dome of hot air that will be the thorn in our side over the next 5 days or so…as that dome builds more and more…the heat will build more and more. Hence the return, after a brief respite, of the nasty heat and humidity for Father's Day weekend. Temperatures should be around 95° with dew points near or above 70°…
This dome of heat may break down a bit sometime towards the middle of next week…putting us back into NW flow…and opening the door to more storm opportunities and potentially more severe weather risks in the Plains (wind/hail scenarios). There also should be a return to more seasonable temperatures..again about a week away or so. For how long and how close to average we go…we'll see. Average by then is 85°+ or so for highs at least.
Also of note is a batch of tropical moisture that will be watched towards the Gulf region later in the weekend. IF there are some alterations in the upper air flow next TUE/WED…it's possible that some of that moisture can also work it's way northwards. This may turn into an important consideration when it comes to rain potential and also heavy rain potential towards WED/THU of next week.
We'll definitely be needing the rain. The next map isn't perfect but it gives you an idea of how the last 60 days have gone…what is considered the wettest time of the year in the KC region.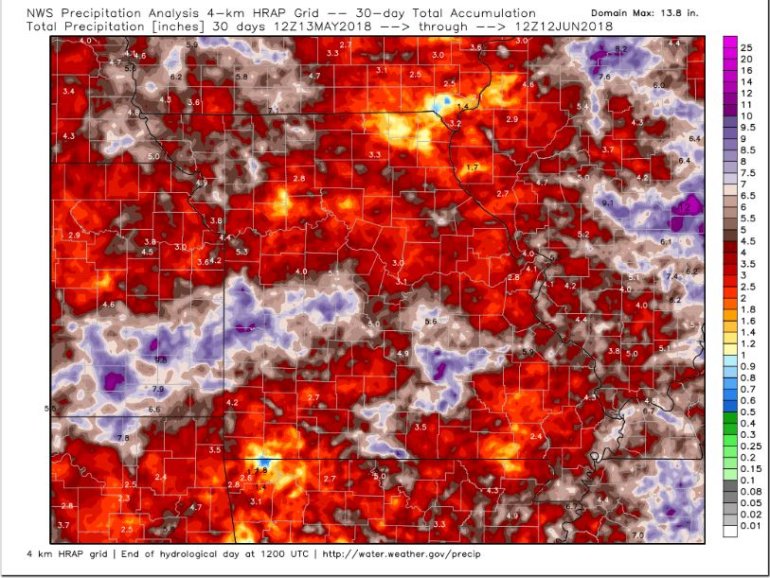 If we open this up to the last 60 days…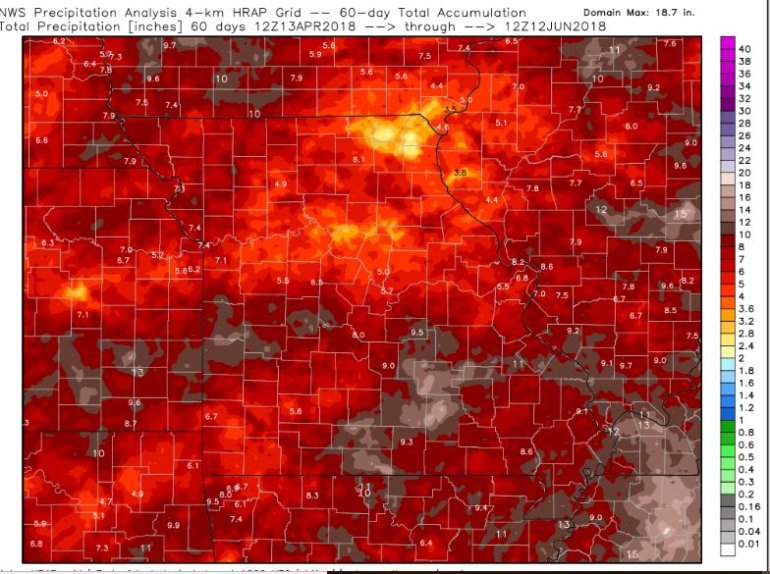 More tomorrow…I'll be filling in for MT over the next few days…lots of golf coming (weather in the Long Island area will be good for the US Open…so we have a lot of cancelled newscasts coming after today, into the weekend.
I leave you today with a nice shot of the Red Rocks in the Sedona area that I took a few days ago.
Joe