This is an archived article and the information in the article may be outdated. Please look at the time stamp on the story to see when it was last updated.
Good afternoon…and yet another wonderful weather day in the area as NW winds behind a weak cold front haven't really brought down much cool air…as a matter of fact since we started off so mild…it's not taking much for us to warm up into the 60s again this afternoon. You know you're living right when a cold front in FEB no less doesn't deliver much cold weather. Another cool push though will move in tomorrow and that will bring more seasonable air into the region for 24 hours or so.
Forecast:
Tonight: Fair skies giving way to clouds tomorrow AM. Lows dropping to near 30°
Tomorrow: Mostly cloudy and cooler with highs 40-45°. The thickness of the clouds this far to the SW will be a factor. Should they be too think we may be stuck in the 30s.
Tuesday: We should warm right back up again into the 50s
Discussion:
Blogs are getting tougher and tougher to write as I really struggle to come up with something that can't be read anywhere else. I do have some points through…
Brief research this winter (since 10/1 through yesterday)
10/1-2/7=130 days. 43 (& counting) of those had avg temp anomalies in #KC 5°+ or higher…38 of those were 5° or lower avg temp anomalies.

— Fox 4 Weather KC (@fox4wx) February 8, 2015
This is sort of interesting to me…I don't remember a winter where there seems to have been finite cold and finite mild spells more than this winter…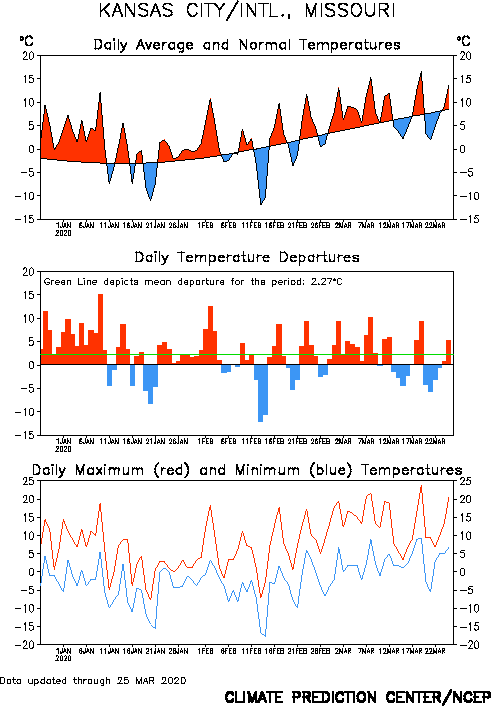 The top part of the above diagram shows this well since early NOV. When it was cold…it was really cold (mostly all without snowcover which really is astounding) then when we flipped we really flipped into a mild regime. Essentially for the last 3 weeks or so…aside from a couple of blips earlier this month…it's been warmer than average…and not by a couple of degrees either.
You can certainly tack another warm day onto the above stats.
Not only on the ground but just above the surface as well…this tweet was from yesterday AM.
IF there was a 305 story building in the #KC area…and u went to the TOP of the building…it would be 68 degrees. #inversion JL

— Fox 4 Weather KC (@fox4wx) February 7, 2015
That's pretty amazing (for February). I was somewhat disappointed in how things went yesterday because for whatever reason…KCI couldn't pop yesterday. Downtown hit 66° but KCI "only' got to 62°. Springfield, MO hit 74° and Topeka hit 68°. The former was a record high (by 4° too). We had the air aloft…we had some wind at the surface…it just didn't work out.
Then there was this in today in the balloon launch in Topeka, KS.
IF u took @OneWTC & planted it in #KC this AM…at the top of the bldg it would b 66°! #inversion Day 2

— Fox 4 Weather KC (@fox4wx) February 8, 2015
So the milder air aloft actually dropped a couple of more thousand feet compared to yesterday AM. This is the result of winds last night keeping the air aloft nicely stirred up.
One has to remember though that there is a difference in terms of the atmosphere between Topeka and KC sometimes and what's above us.
Feb 8 snow cover the lowest since 2004. Last year was highest. Quite a diff between two. pic.twitter.com/OVtIFlyzBW

— Ian Livingston (@islivingston) February 8, 2015
Oh yes…the snowcover. Not exactly that prevalent for the US as a whole on this day. Today's visible satellite pictures shows the erosion of the snow continuing to the north of KC…
Working on a #snow graphic 4 this…#Boston thru 11/30: 2.6"…thru 12/31: 2.9"..thru 1/15: 5.5"…thru 1/31: 37.2"…thru 2/7: 55.1" WOW!

— Fox 4 Weather KC (@fox4wx) February 8, 2015
Boy though it's rocking back in the NE part of the country however. Boston will be getting slammed again. They had another 3+" this morning. This tweet includes totals through yesterday.
Working on a #snow graphic 4 this…#Boston thru 11/30: 2.6"…thru 12/31: 2.9"..thru 1/15: 5.5"…thru 1/31: 37.2"…thru 2/7: 55.1" WOW!

— Fox 4 Weather KC (@fox4wx) February 8, 2015
Almost 4 1/2 FEET of snow since JANUARY 15th!
So yes we're living large right now from a weather stand point…which reminds me of this tweet that I came out with yesterday…
#KC AM lows 2/7 thru 2/13 1899
-1° -13° -20°(!) -5° -19° -22°(!) -10° h/t @Climatologist49

— Fox 4 Weather KC (@fox4wx) February 7, 2015
That was one amazing period in KC back in the day of less "convenience" in the world. Not only here but across the country too!
https://twitter.com/Climatologist49/status/564208594774544386
Nothing like that is coming to KC…maybe to the NE part of the country…where temperatures aloft at least will be almost off the chart cold for them over the next 5-10 days. For us though…
IF u r wondering about next 2 weeks (MON>SUN)…next week up and down. Colder week of the 17th. JL

— Fox 4 Weather KC (@fox4wx) February 7, 2015
Yes there will be cold weather coming…and while we'll get a decent shot for WED>THU this week…most of the following week looks rather cold around here. Also keep in mind that from an average standpoint we're recovering from the depths of winter so the anomalies have the potential of being lower than IF the same airmass came in a month ago.
One will wonder IF there can be some sort of storm when we switch again towards the 16th or 17th of the month. It may be a case of going from pretty chilly (next weekend) to colder. We'll see. One will also wonder if the potential change will be like all the others…mostly dry with snow close to the area…but yet somehow not in KC mostly. I like the odds of the latter more than the former.
Joe