This is an archived article and the information in the article may be outdated. Please look at the time stamp on the story to see when it was last updated.
Good afternoon…a much more pleasant day in the region with bright sunshine and milder temperatures. Yesterday we set a record for the coolest high temperature on May 20th (54°). The previous record was 55° going all the way back to 1892! I think you'll agree that today is the better of the two days. Enjoy it while you can though because the weekend, while not a rain out…isn't going to be the greatest. Interesting to note as well that many pools typically open this weekend…but some are not because the water temperatures are too cold with a lack of warmth and all the rain we've seen for the last several weeks.
Forecast:
This afternoon: Fair skies and pleasant with highs 65-70°
Tonight: Clear and cool with lows back into the 40s
Tomorrow: Increasing clouds with highs near 70°. There may be a few sprinkles/light showers arriving sometime tomorrow or tomorrow night.
This weekend: Variable clouds with rain chances continuing. Have a plan B ready. It will be tough to make outdoor plans this weekend. There will be dry time but timing out the rain is rather messy. Just be prepared and have an umbrella throughout the weekend. Temperatures will be in the 70s…but could be cooler…especially on Sunday depending on the coverage of rain (which looks higher on Sunday). Severe weather chances are barely there but not overly high at this point.
Discussion:
Thought I'd start with the rain…and more rain…and more rain. I just dug up that through today we have had 49 days with at least .01+" of moisture (mostly rain…some melted snow). This ranks as the #3 in terms of frequency of moisture in KC. The 2nd most frequent is 1999 with 54 and the most frequent is 1993 with 56. The kicker is that we had another few hundredths after 12AM this morning…so it's possible now we're tied for #2!
If you want to go back farther…in the last 6 months we've had days with >.01″ of moisture 61 x's (including today). This ranks as the second wettest frequency in #KC. The record is 64 in 1992-93. In the bigger scheme however through 5/20…this is only the 38th wettest year thus far for KC overall…although when you just limit it to KCI Airport it's the 12th wettest.
With all that said…we're not done with the rain by a long shot…neither are other places in the Plains and the southern Plains states. Major drought relief…not in the form of flooding has broken out in the southern Plains especially. Communities hat were rationing water are now flooding out. Wichita Falls was running out of water entirely…now they're handing out free sandbags to folks who need them to protect from the the flooding rainfall. Reservoirs down there which were less than 1/4 full a month ago are now almost 60% full and surging.
Pretty amazing…and you can see the turnaround on the latest drought monitor report that came out today.
Look at the change in TX from this year to last year (right). Click to make the image larger and more readable.
So there is a lot of improvement going on and more flooding (improvement) is likely in the southern Plains region over the next week. in Texas alone the conditions, from a drought status, are the best they've been since 2010.
With 0.57" this morning, DFW has tallied 21.54" for the year. This is more than all of 2014. #dfwwx #txwx pic.twitter.com/sC6co1mY1a

— NWS Fort Worth (@NWSFortWorth) May 21, 2015
Look at how much rain has fallen down there over the last month…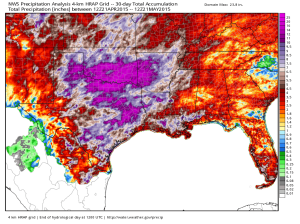 My goodness…take a look at how  much rain main fall in spots over the next 7 days.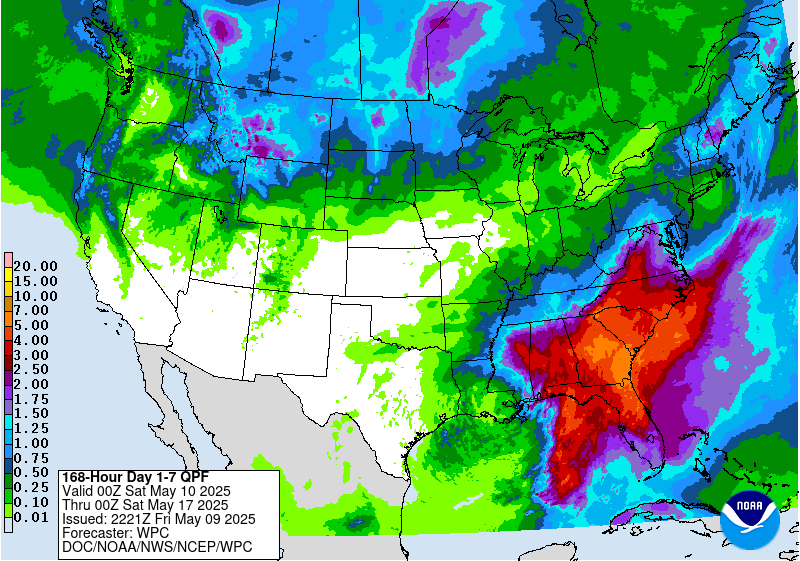 There is some good news even in CA…at least for the higher elevations there. 1-2″ may fall over the next week.
There are really no signs of any change on a big scale with the weather pattern into the early part of June…so essentially it appears just as things start to dry out a bit…more rain may very well fall.
Another thought about this is that eventually all this will turn into thick humidity somewhere down the road. When it get's going it will be thick as can be out there.
That's about all for today. Tomorrow I'll focus in more on the rain chances over the weekend…let's just say that IF your sump pump is not doing to well now…you may really want to think about getting it replaced sooner rather than later.
Joe