This is an archived article and the information in the article may be outdated. Please look at the time stamp on the story to see when it was last updated.
9PM Update…Good evening…I wanted to get another update out before newstime…as heavy rain and t/storms are moving and "training" across areas north of Downtown (for now). There will be a gradual sinking to the south overnight. Some areas this evening have had close to 2-5″ of rain and it's still coming down. The atmosphere as I mentioned in the afternoon blog is swollen with moisture so the storms are generating tons of rainfall as the move predominately from west to east. This "training" is what generates larger areas of flooding rains.
There was some significant flooding late this afternoon on the northside of KC towards the Parkville area. More heavy rains are heading towards there tonight. There should be a gradual shift southwards tonight and some of our short range model data indicates that 3-6″ of rain may fall near or in the KC Metro area tonight. There is a small risk of some 60 MPH winds as well from these storms as they churn through the area.
Remember the entire region is under a FLASH FLOOD WATCH tonight into Tuesday morning…some warnings have already gone out and more are expected during the night #TurnAroundDontDrown.
---
Good afternoon…what a day. Many were left disappointed in N MO and NE KS by clouds…however for some of us though from KC eastwards it was a show. In the City Market area where I was…we broke out into sunshine for about 90 minutes…then at 12:30 I looked at the new satellite picture…and I could see the clouds to my west coming in…I knew we'd be threading the needle…and somehow…just as totality was getting ready to occur…there were some breaks and thin spots and we got to see the main show…including the corona…Bailey's Beads and even some prominences. Very cool…but man I was sweating that out.
I wanted to capture this GOES16 satellite image right about eclipse time (just before) because it shows the clouds nicely and the shadow of the suns light too!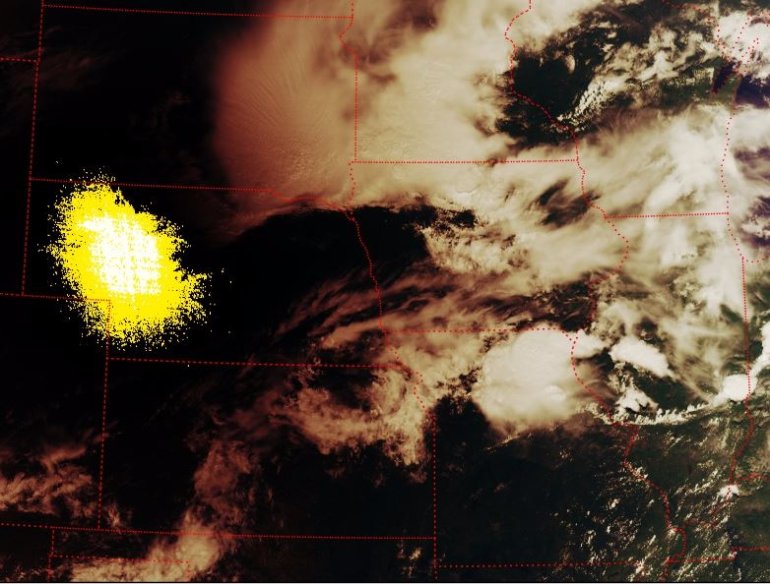 Notice from about the Downtown area eastwards we managed to have enough clear weather to see the really cool stuff from the eclipse. NW MO and NE KS, as well as SE NE got messed up by clouds :(.
Notice the difference in the lighting from 12:15 and 1:15pm #SolarEclipse pic.twitter.com/l2Z65aYsrm

— Fox 4 Weather KC (@fox4wx) August 21, 2017
A look at the effect on the satellite images as #SolarEclipse happened… pic.twitter.com/0IAvOu5ums

— Fox 4 Weather KC (@fox4wx) August 21, 2017
UPDATE: A big-picture view from the eye of NOAA's #GOES16, tracking the moon's shadow across the U.S. #SolarEclipse2017 pic.twitter.com/ioT3QYBWcU

— NOAA Satellites – Public Affairs (@NOAASatellitePA) August 21, 2017
You can see the tough part of this whole thing…trying to forecast clouds for a precise few minutes was ludicrous really because things changes so much from minutes to minutes in the area.
Here is a shot from Grain Valley South showing the corona during totality!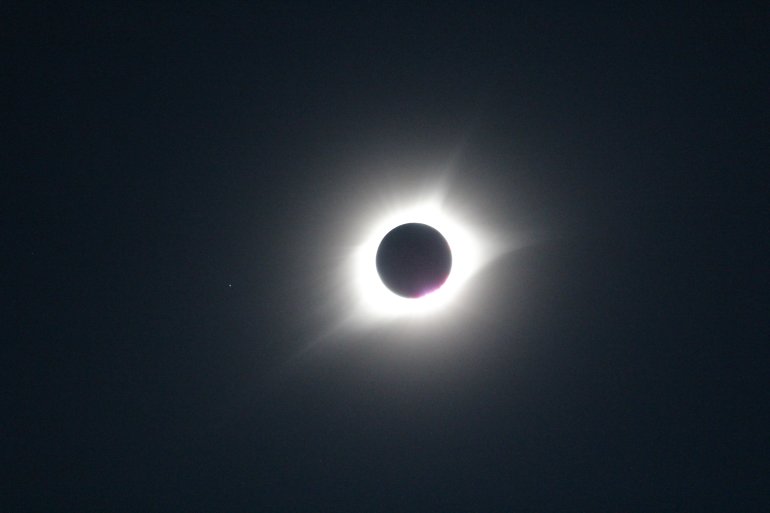 Now the focus for the blog will gradually shift back to weather. I'll enclose a few eclipse photos in this blog…and perhaps one or two tomorrow as the best ones come in.
From a weather standpoint…already heavy rains are hitting the north side of KC. Almost 3″ of rain has fallen just south of Zona Rosa as I type this blog…and that's just in the last 1 hour (through 3:15 pm). The atmosphere is swollen with moisture and the storms are VERY efficient rain producers.
Flooding issues on the northside of the #KC metro area…close to 3" reported in less than 3 hours. JL pic.twitter.com/vxP8K3xUqx

— Fox 4 Weather KC (@fox4wx) August 21, 2017
Deluge in Platte County along SB I 29. Raining so hard you can't see. @fox4wx #fox4kc pic.twitter.com/IrdvN84a3l

— Nick Vasos (@NickVasos) August 21, 2017
The set-up for tonight into early Tuesday is reminiscent of previous heavy rain events around the region. Strong heating towards the south of KC…along with dew points that are soaring to near 80° are feeding northwards…at the same time a cold front is dropping to the south…the front is not a fast mover and as it slows overnight renewed convection should keep forming and move from west to east in repeated fashion. This sets up a "training" scenario where areas of heavy rain go over the same locales.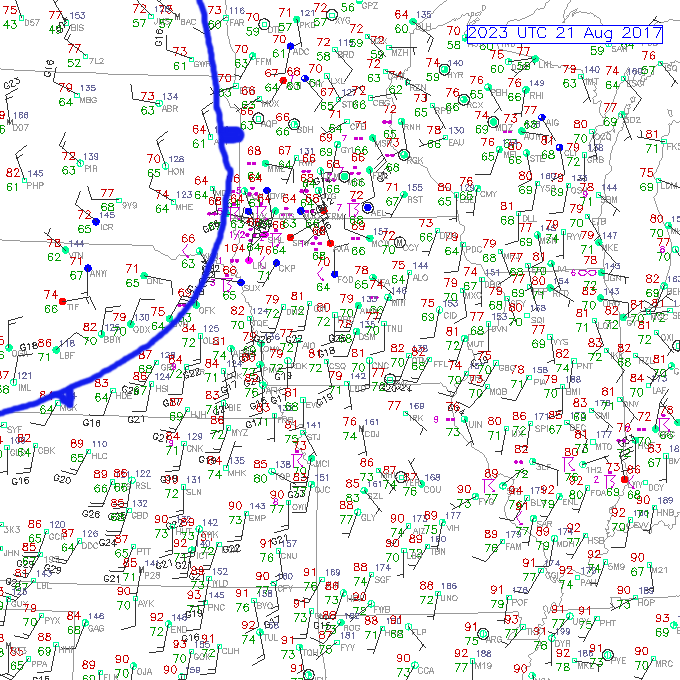 The heaviest of the rain will gradually shift southwards before daybreak on Tuesday. Some areas may end up with over 6″ of rain (considering some have already had 3″ or so on the northside).
Here is a look at the HRRR model…this will auto-update as the night moves along…
It's going to be a long stormy night through most of the region…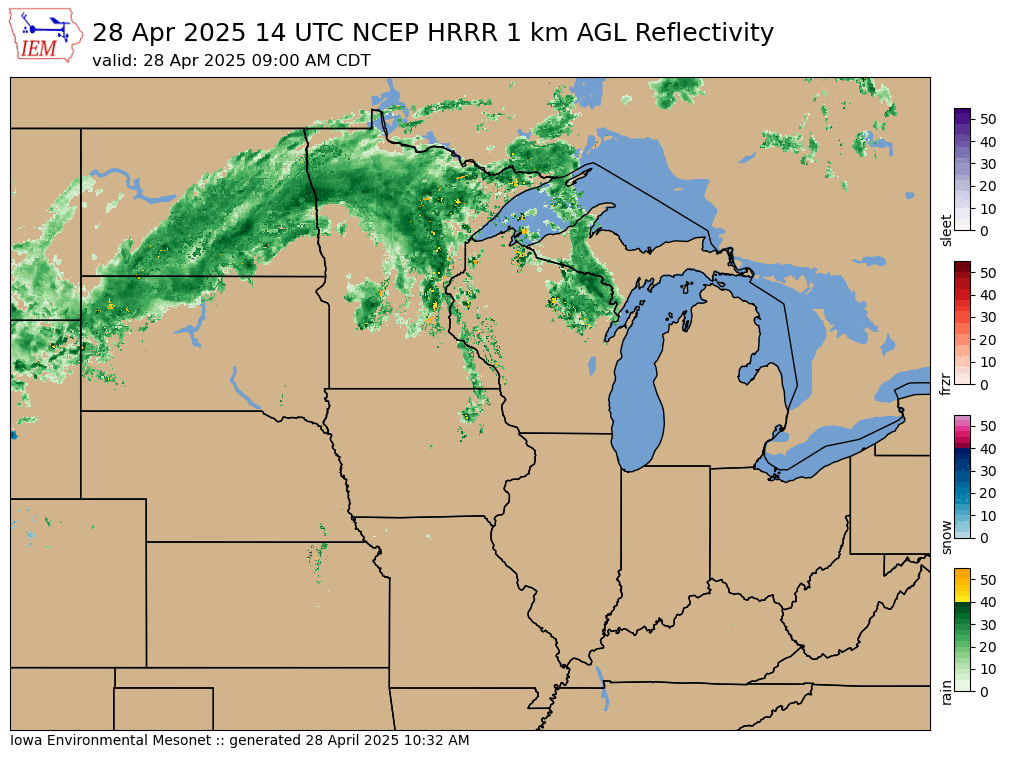 From the early afternoon run of that model…here is a forecast of total rains…I think you get the idea…placement of the heaviest rains will waffle around…but be prepared for 2-6″ of rain tonight.
beyond this…some beautiful weather is expected in the region Tuesday PM>Thursday with highs Wednesday struggling to 80° and overnight lows in the 50s!
Our feature photo comes from Keith Campbell in Liberty via Alysha Mitchell of what else right?
Joe