This is an archived article and the information in the article may be outdated. Please look at the time stamp on the story to see when it was last updated.
Good afternoon…and no don't worry it won't stay like December for much longer but the surface pattern sort of reminds me of the winter where we have moisture trapped at the surface, there's cloud cover moving up from the SW filtering out the sunshine and temperatures are really struggling. This is more common in the winter months and it's bound to happen more than a few times this winter. The good news is that once the sun returns (hopefully tomorrow PM) we should see a fast rebound in temperatures through Wednesday.
Forecast:
Tonight: Cloudy skies and cool with lows in the lower 50s
Tomorrow: AM clouds, hopefully thinning and breaking a bit more in the afternoon. Highs 70-75° with enough sunshine. Light winds.
Wednesday: Sun and clouds, warmer with highs near 80°
Thursday (Game #1 ALDS): Mostly cloudy and mild with highs near 80°. Rain chances increasing later in the AM into the PM hours. It won't rain all day I don't believe. Rain impacts are possible for an afternoon game, and if the front slows down by 3+ hours for the evening game. What rain we get doesn't look to last that long so I don't anticipate a rainout.
Discussion:
The satellite pictures today are not painting a Chamber of Commerce day in the area. Light winds + cool moist surface and above air + higher level clouds filtering out the October sunshine are all conspiring to create more stagnant conditions in the area.
There are thin spots in the clouds in some areas…temperatures with a little sunshine will pop quickly. Here is the 2PM surface map. The temperatures are in RED.
There are a few patches of light rain/sprinkles on the KS side as of this writing. Moving NEwards. Wouldn't be shocked if someone gets a sprinkle or light shower this evening…but it appears the rain moving up from KS is weakening as it gets closer to NE KS.
Hopefully we can break the clouds a bit more tomorrow afternoon. Wednesday looks rather mild. Thursday will be the transition day. This is when the next seasonably strong October cold front is due.
This front will move through sometime THU PM it appears. The data today is slightly faster with the frontal movement with it arriving in the afternoon. Rain chances will be there but I'm not anticipating a ton of rain with this front. That's not the greatest news considering after that I'm not expecting really much rain through mid October…so essentially the below average rainfall trends will continue for another 10+ days or so.
In other news, I spent a lot of time talking about the stunning rainfall in the SE part of the country. There has been some good write-ups about the meteorological aspect of this past weekend and this one is probably the best of them all via Capital Weather Gang (who have a fabulous weather geeky blog!!!)
The rain totals are still adding up. Here are some totals…these are since 8AM on 10/1. Keep in mind some areas down there picked up rain on the 30th as well.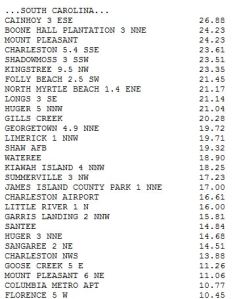 Yes that's almost 27″ of rain in Cainmoy, SC.
As you know the flooding there has been really bad, and in many cases it may actually get worse with some of that water draining into the already swollen creeks/rivers. The levels are still rising. To add insult to injury in some cases the water levels have been so high and or the current so strong that some of the gauges used to measure the levels have been swept away in the water.
Here are the 5 day totals from the NWS in SC.
Updated 5 Day rainfall total map ending 7 AM Monday October 5th #SCFlood #scwx pic.twitter.com/ynH0eNwL1Q

— NWS GSP (@NWSGSP) October 5, 2015
Some of the records in Charleston that have been set include…
As we've talked about…the flooding has been horrific. So far the death toll in SC is up to about 10. Damage estimates are approaching $1 billion dollars…and I wouldn't be surprised if that figure ends up being on the low side.
There has been some confusion about the scale of the flooding. You may have heard that this is a 1 in a 1000 year rain or 1 in 500 years or whatever. It would be easy to assume that something like what happened over the weekend in SC won't occur for another 1000 years. That  is a misnomer. The fact is that this type of rain event has a 1 in a 1000 chance of happening every year…or 1 in 500 chance. So yes we're talking a .1 of 1% chance of recurrence. We obviously don't know the weather 1000 years ago so we can't really say for sure if something like this has happened in the past.
A lot of talk over the 1,000 year flood stat… Here's what it really means. @weatherchannel #SCFlood pic.twitter.com/7Onk0yAwHv

— Justin Abraham (@jjabraham) October 5, 2015
So now hopefully you're less confused?
So with all that said, and with power being out in some areas and with water being turned off and life in general being not pleasant down there things should start to dry out shortly from a rain standpoint.
We often talk about T.A.D.D. (Turn Around Don't Drown). Here is some video from the weekend that shows a great #1 example of why this is so important when dealing with flood waters.
This is something that has happened quite a bit down there…
Well that's it for today…have a great Monday night!
Joe