This is an archived article and the information in the article may be outdated. Please look at the time stamp on the story to see when it was last updated.
Good afternoon…some great weather out there today with temperatures into the 80s and dew points around 50°. That is a great combination for early June, especially considering all the moisture we have in the ground right now. Our good stretch of weather will mostly continue through early next week. There are some wrinkles though over the next 48 hours that may give parts of the area some scattered showers and storms as early as tomorrow.
Forecast:
Tonight: Mostly clear and pleasant with lows near 60°
Friday: Partly cloudy and mild. Highs in the 80-85° range with higher but still tolerable by summer standards, dew points. Light winds. There should be at least some scattered PM storms/showers to the south of KC proper…perhaps towards Sedalia/Clinton/Butler/Pleasanton areas.
Saturday: It's not out of the question that some showers could be around the area during the 1st part of the day. Then later in the afternoon towards the Lakes region into central MO and the I-44 corridor area. Highs into the 80s
Sunday: Nice weather with highs in the 80s
Discussion:
Every so often my twitter feed fills up with interesting things that I want to touch on…or perhaps there are other weather notes that I want to pass along to you but because of active weather…I push them to another part of the desk with the hopes of getting back to them…well today is that day…
Yesterday was the start of the Atlantic hurricane season. Interesting to note that there was a VERY rare named storm back in JAN of all times…Alex. Over the weekend there was Bonnie that came ashore in NC…and has now come back offshore and is trying to regain intensity. It was upgraded to a depression earlier…and may be trying to regain tropical storm status (39 MPH+ winds).
You can clearly see it in the satellite pics…
It's given the outer banks of NC a bunch of rainfall (over 5-7″) this week so far…and it's still raining.
Another system may try to organize in the SW Gulf or the far NE Caribbean over the weekend…that would be named  Colin. It would be VERY rare to have a 3rd named storm so early in the year. The record for storm #3 is 6/12/1887. This though is a dubious record since really reliable information on these types of systems really only goes back to the use of satellites in the 1970s or so.
Today is the 1st day of Atlantic Hurricane Season. ICYMI, here are the 2016 Names 🌀 #HurricaneStrong #ItOnlyTakesOne pic.twitter.com/gPmn6XKhTT

— National Weather Association (@nwas) June 1, 2016
It's NOT that unusual to have tropical activity potentially affect the states in June though…
Tropical storms and hurricanes that have impacted Florida in June typically start in the western Caribbean/Gulf pic.twitter.com/46FhuYFaGq

— Michael Lowry (@MichaelRLowry) June 2, 2016
Meanwhile out west the heat is cranking up in a big kind of way. Some cities including Phoenix…Las Vegas and others up the western 1/3 of the US may see record heat for early June.
This weekend may feature Phoenix's earliest 115° and Las Vegas' earliest 110° on record, also perhaps Portland's 2nd-earliest 100°

— Maxar | WeatherDesk (@Maxar_Weather) June 2, 2016
Here is some information from the NWS in Phoenix…
Here is the forecast for PHX into early next week. I start my annual golf vacation next week out there…won't be as brutal…thankfully…only 100-105°
As a matter of fact the "ridge" or heat generator is going to be one of the strongest, if not the strongest for early June…at least as we look at the pattern aloft…up at about 18,000 feet or so.
Why so hot this weekend? Very strong ridge over the W, near record for late May/early June. #azwx #cawx pic.twitter.com/T9ZZrfppri

— Paul Iniguez (@pauliniguez) June 1, 2016
This brighter red colors represent the forecast compared to historical values.
This is obviously not helping the raging drought out there…saw this on the NASA feed today…showing the changes in Lake Mead. Pretty dramatic stuff. Lake levels are at their lowest since it was created back in the 1950s. It's only 37% full at this point
ICYMI: This animated gif shows falling water levels in Lake Mead between 2000 & 2015. https://t.co/gmje4qnNHQ pic.twitter.com/D1lQoqm3cF

— NOAA Climate.gov (@NOAAClimate) June 2, 2016
Here is a graphical representation of the water levels just for 2016…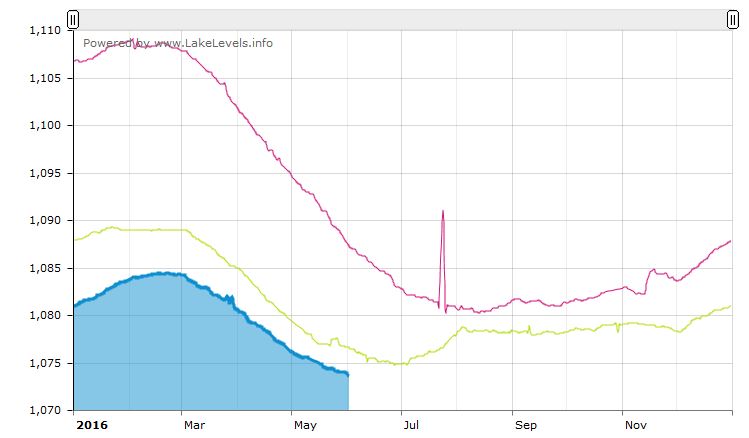 Like I mentioned…the drought out there is real…and getting worse by the week. Let's see what happens when monsoon season starts out there in the next 4-6 weeks or so…
U.S monthly #drought outlook for June: Drought likely to continue in far west, develop in SE https://t.co/mcSt7QsGLo pic.twitter.com/Xc8d0BqP7O

— NOAA (@NOAA) June 2, 2016
One of the things that are interesting to see out in the deserts during extreme heating are dust devils. They are sort of like tornadoes but don't form the same way. As the sun heats the desert the air rises. This rising air is then replaced at the surface by air rushing in at the surface.
Well this process can sort of happen in other places as well…look at this video of the same type of process happening in OH…except a hay bale got in the way.
Great video of a #HayDevil yesterday in Vinton County, #Ohio. Spinning rising warm air (Corey Parsons). #WSAZ #ohwx pic.twitter.com/QN5jpXjEes

— Josh Fitzpatrick (@JoshFitzWx) June 2, 2016
Meanwhile in the more traditional sense of tornado formation…Chad Cowan was storm chasing last week with all the big storms out in western KS. He caught quite a bit of video and speed up the video to create a cool time-lapse.
Fascinating view of two tornadic circulations merging and forming the first big tornado near Dodge City on May 24th pic.twitter.com/UveXygv9fW

— 🌩️ Chad Cowan (@stormtimelapse) June 2, 2016
Definitely worth a look at!
OK that will do it for the desk cleaning. Nice and tidy now!
Joe