This is an archived article and the information in the article may be outdated. Please look at the time stamp on the story to see when it was last updated.
So here it is…almost March…and it's still awfully cold out there. This is NOT going to change much over the next 10 days as another long stretch of cold weather is all but guaranteed for the region. We won't be alone in this…the central and eastern part of the country will be very chilly…and as our averages approach 50° for highs heading into early March…we won't even get close.
Depressing huh? Well the thing that may add to it..are the snow chances. The storm on Sunday into Monday AM is still there…and the EURO model at least has been trying to sniff out something this Friday as well…more on that potential tomorrow and Wednesday. The bottom line with this cold weather expected to continue…and pacific storms trying to run into the cold airmass in place…and additional reinforcing shots coming…whatever falls will have a much better chance of being white than wet and that will go into the 1st week of March.
For some this will be good news…as the pattern will allow CA to pick up some needed moisture…and while it won't cure the drought that's been going on there for so long…at least it will help…because time is running out on their wet season out there and they really need to play catch-up a little bit. Check out this forecast off the GFS model showing the amount of moisture expected out there over the next 8 days or so…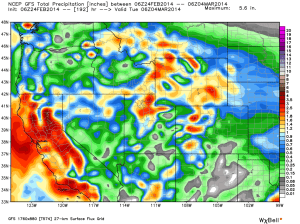 IF this verifies that would represent upwards of 5″ of moisture for the Sierra Nevada mountain region…which will really help because I don't think Lake Tahoe is supposed to look like this. (from @NWSReno)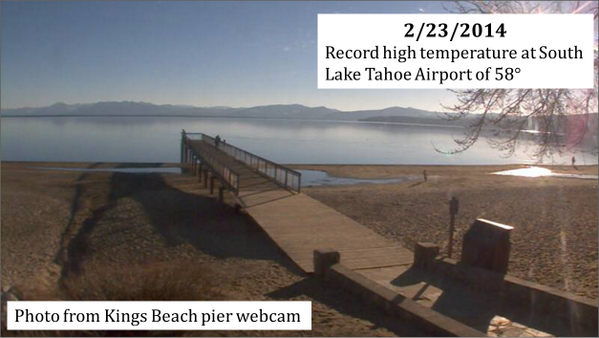 The storm that I'm watching is still west of the Aleutian Islands near Russia…longs ways away and it will go through a transition over the the next 24 hours per our model forecasts…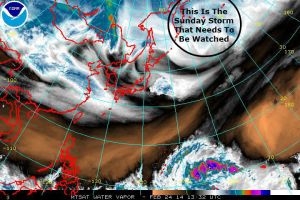 A piece of jetstream energy will break loose and makes it's way across the Pacific Ocean…this is still 1000s of miles away so obviously a lot will happen with it between now and the weekend…but that's what I'm tracking for you. The other thing to think about…and this is some speculation…is that with the cold air in place over the weekend…the potential for another high fluff factor snow (increased snow accums) is also very real…you can just see how we're setting up for something. The EURO model is targeting the KC area with an over 50% chance of at least 3″ of snow…which is pretty high from 6+ days out.
I'm going to increase the Snowfall Potential Index to a 2 at this point…mainly for any potential of something sneaky on Friday
So lots of cold…snow potentials and more cold over the next 2 weeks at least in the Plains…the winter won't quit on us…and we can blame the furry little rodent for all this.
Finally a couple of tweets sent out last night…during the Daytona 500.
Random #KCwx tweet…there have been only 10 other 12/1-2/23's with fewer days of highs 32° or above going back 120 yrs. #MOwx #KSwx #KC

— Fox 4 Weather KC (@fox4wx) February 24, 2014
Random tweet #2…in terms of 60°+ days… since last 2/23/13 thru yesterday we've had the 5th FEWEST highs of 60°+ in #KCwx #KC #MOwx

— Fox 4 Weather KC (@fox4wx) February 24, 2014
Joe