This is an archived article and the information in the article may be outdated. Please look at the time stamp on the story to see when it was last updated.
I'm on vacation this week and either today or tomorrow's blog will probably be it for a few days. Overall though nothing that is going to happen over the next few days will be a surprise since I've been blogging about it for the last several days. The bottom line is that today is the warmest of the work-week and we get substantially cooler tomorrow.
Forecast:
Today: Bright and sunny with highs well into the 70s. Winds from the south at 15-25 MPH.
Tonight: Mild with lows around 60°
Wednesday: Rain likely with some thunderstorms in the AM. What ever we are from a temperature standpoint around or just after daybreak will be the high…we'll be dropping down through the 50s in the morning and afternoon with steadying temperatures. Chilly and windy is a big change from today's weather. North winds of 15 MPH will make it feel colder.
Thursday: Pretty good chance of a widespread frost and for some a light freeze. Northern MO may be colder that elsewhere. Remember to cover or take in those potted plants..
Discussion:
A series of fronts…some seasonably strong (tomorrow AM) and some rather weak (Sunday AM) will be influencing our weather into early next week. The one for tomorrow though will catch you're attention especially after being out and about today in shorts and short sleeves.
Skies today will be brighter this morning and aside from some filtered sunshine this afternoon…overall a nice day is on tap. The front that we're watching is already moving into the Plains states.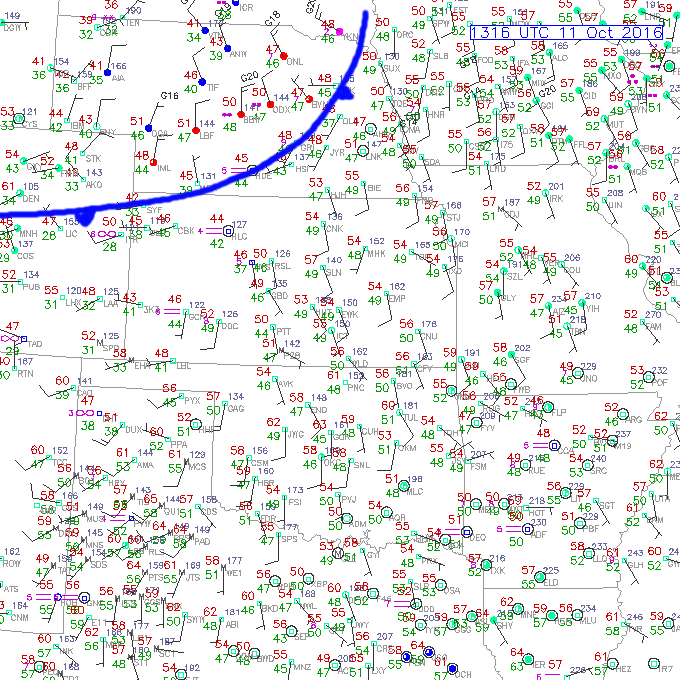 This front will slowly move to the ESE as colder air starts coming down through the northern Rockies today and into tonight. Then it will push past the area tomorrow AM. In the above and below map the temperatures are in RED.
Notice as we go farther north into the northern Rockies (above) it does get colder. An accumulating snow is expected up in SE MT today.
While not unusual for October…it does point out the chill that's ahead for us.
This colder air mass will drop into our area tomorrow…and then the core of the cold will be nearby on Thursday morning. assuming skies are clear and with the dry air and light wind regime in place…we're set up for our coldest night in months. Temperatures may drop in some paces in N MO into the upper 20s while locally mid 30s should be common with some colder areas. This means widespread frost is likely.
I don't think we'll have 32° officially @ KCI (not out of the question though).
Today marks the beginning period of October in which we typically observe freezing temperatures for the 1st time of the season. pic.twitter.com/5JSITRYvVh

— NWS Kansas City (@NWSKansasCity) October 9, 2016
For northern MO especially a light freeze is about right for this week and even for areas closer to the 36 highway corridor…wouldn't be out of the ordinary. Let's see how far south it gets on Thursday morning.
In between fronts on Friday and Saturday we'll moderate then warm right back up again. Some sort of weak boundary will move through on Saturday night into Sunday morning. There may be at least some rain with that…or some thunder…but I don't think it will impact the racing at KS Speedway. As a matter of fact the air behind the weak boundary won't be cold so highs on Sunday will again be well into the 70s.
Next Monday and perhaps looks promising as well.
See a nice short weather blog for you for a change.
Today's great feature photo is from Kemberly Creager.
Joe