This is an archived article and the information in the article may be outdated. Please look at the time stamp on the story to see when it was last updated.
Yup…it rained again this morning…another .04″ added to the rain totals for the month of May. It brought our monthly total up to 10.25″ of rainfall…making this May the 6th wettest in KC weather history with records going back to the 1880s. Impressive to say the least.
Forecast:
Rest of today: Cloudy and cool with temperatures 55-60° Not exactly pool weather out there.
Tonight: Cloudy with somewhat steady temperatures. Lows in the upper 40s
Tomorrow: Finally some more sunshine and nicer weather. It actually should be a nice day!. High near 70° (average is around 80°)
Monday: Variable clouds and pleasant with highs 70-75°
Discussion:
Odds are this will be the end of the rain for the month…6th wettest May though is pretty impressive overall in the record books. The wettest was 1995 with 12.75″ of rainfall. We've had 21 days with at least .01″ of rainfall which is a record in and of itself. We've had 12 days with at least 1/4″…another record for May. It's wet and we need a break!
A cold front moved through the area this morning…it's left a trail of cloud cover behind it…but at least we're starting to dry out. The latest satellite picture isn't too encouraging with the sunshine for the time being.
The 1PM surface map, with the temperatures in red shows the cool air in place…
Notice it's warmer up north in the Plains than here…because they're seeing sunshine
and when you look at the nation overall…we're just not in the right spot for warmth right now. Click on the following image to make it larger and more readable.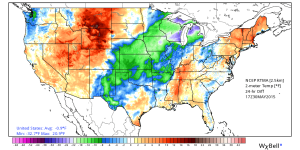 This cool pocket will start moving away on Tuesday…and the latter part of the week will be warm and muggy(!). All this moisture is going too take some time to get evaporated and for awhile it will take the form of thicker humidity settling into the region…because remember it's been wet for a lot of folks from I-70 southwards towards TX this month. Again click on that image to make it more readable.
There are some near 30″ totals closer to SE OK.
That is 35 #Trillion if you didn't want to count all the zero's. More rain is heading for #Texas over the Weekend! pic.twitter.com/Lh5cZLzuNe

— WeatherNation (@WeatherNation) May 30, 2015
Month-to-date May precipitation (area-avg):
Oklahoma: 14+ inches
Texas & Kansas: 9''
Rhode Island: 0.5''
Sorted list: http://t.co/fkG9cmbqWs

— Ryan Maue (@RyanMaue) May 30, 2015
The good news is that aloft a ridge is going to start to slowly build into the Plains states…however we're not quite out of the rainy woods yet because as this process happens…a series of disturbances will be rippling on the north side of the ridge and sliding through the Plains states…The GFS model has a series of weak waves that may be correlated to areas of showers and thunderstorms moving through the I-70 to I-80 corridor region from WED through FRI. Where exactly these waves go will determine the rain chances this week. Right now I've got 30% chances for WED and FRI. It's very possible these small tiny waves created by thunderstorms that won't even for for another few days , will be in different locations, hence the rain with them will be as well. It's certainly not a set in stone thing that we do get additional rainfall before FRI in KC. So in a perfect world we'll stay dry for 5+ days here.
That's it for today…have a great weekend. There may or may not be a blog tomorrow/Monday.
Joe