This is an archived article and the information in the article may be outdated. Please look at the time stamp on the story to see when it was last updated.
The last day of the month is here and it appears that the new month will start rather mild to rather steamy in the KC region. A significant run of above average temperatures will greet the new month…and I"m not really sure when we'll have more than a day or two below average in the next 10 days or so. There is a lot of gulf moisture to be tapped by any front that gets into the region but there aren't any overwhelming signals for widespread decent rains yet at least into Friday…beyond that though there may be some hope…we'll see.
---
---
Forecast:
Tonight: Cloudy and mild with lows in the mid>upper 60s
Monday: Mostly cloudy and mild with highs near 80° (of we get some sunshine)
Tuesday: We may actually have a few showers around in the AM…then partly cloudy and warmer with highs in the 80s
Wednesday: If there is a hot day…it's probably Wednesday. Gusty winds and hotter with highs well into the 80s. The record is 95°. It's safe.
---
---
Discussion:
The real estate manta…location…location…location applies in a big kind of way when it comes to weather. Sometimes we try and be so precise that we talk about how the weather will change from 25-50 miles away to locally. That is somewhat the case today with another rather wide variation due to a stationary front that is draped just north of KCI but south of St Joe…and the effects on the temperatures are rather stark.
This front will continue to waffle around up there…we should stay in the warm and muggy air through Monday but the front may briefly dip southwards later Monday into Tuesday AM…allowing at least part of the KC area to dip into the cooler air for awhile TUE AM before the front retreats northwards again. This may create some mist or drizzle in parts of the area TUE AM before the front retreats.
Then we again pop into the warm and humid air mass…and with some additional sunshine it should get hotter and windier on Wednesday. Data today indicates that the winds above the surface will be 40-50 MPH on Wednesday…and it won't take much at all to get some of those stronger wind gusts to come down to the surface…so Wednesday will NOT be a golf day for yours truly. Gusts to 45 MPH are possible I think.
It is worth noting the 1st week of October and the warmth records. While we won't threaten any daily record highs it is worth noting as well the the record warm lows are mostly in the 72-75° range during the 1st 7 days of October.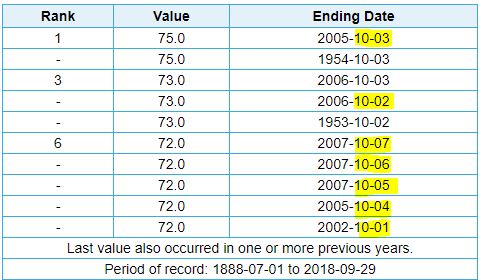 Now about the rain chances…
Sketchy…I could see something light and a nuisance on Tuesday AM as the front oozes southwards and stalls near or just south of the Metro…that means areas north of the front could see some minor amounts. Then we again play the waiting game with the front and how quickly it surges back northwards. Faster and we heat up more on Tuesday…slower and we're more stuck in the grunge on Tuesday. Highs may again vacillate from the 60s to the 80s depending on the front's location and the sunshine situation in the afternoon.
Then a new push of a new cold front will again try and make it to the region on Thursday…that to may give us a chance of rain in the region…that push too will fade near the area…although perhaps it could push barely through…IF that's the case then we're cooler on Thursday. IF the front doesn't make it we'll remain in the warm air again.
I mentioned last week that this was going to be a mess to figure out…and would be one of the reasons why forecasts were going to do a lot of swinging back and forth. The placements of fronts are a huge issue and will remain so all week long. They try and dip in…then retreat in 12 -24 hours…and that has major implications on the weather locally.
If it dumps in…then it should retreat on Friday and we again go into the warmer air ahead of another push on Saturday. The model data isn't really helpful…when dealing with a frontal placement that IF it varies by 100 or so miles will mean the difference between 65 and 85° (or thereabouts) in KC temperatures. So again bear with your friendly meteorologist this week.
It's a good week to take a vacation I think…and I will. I'll be off until the 12th so the blogs will be somewhat erratic. I will get a few together though in my absence.
IF you want to get a few laughs and learn about what made me what I am…well I've got that covered for you. Nick and I did a podcast a couple of weeks ago that is now online. This is a set-up to MY podcast that I'll be doing when I return from vacation. This project has taken me a bit longer to get going but it will be happening and this is an appetizer of what I'm about and what drives me to do the best I can everyday for you. There are some funny (I think) stories in there and things that you don't know about the person who's been writing weather blogs for over 15 years and has been with you on the air for over 20 years. Take a listen and let me know what you think.
[protected-iframe id="2189e8c1e77674b0fcdd88308c31892c-28016812-27967000″ info="https://www.facebook.com/plugins/post.php?href=https%3A%2F%2Fwww.facebook.com%2Fjoe.lauria.10%2Fposts%2F2086738084691780&width=500″ width="500″ height="405″ frameborder="0″ style="border:none;overflow:hidden" scrolling="no"]
Oh and by the way…I'll be answering some of YOUR questions during the podcasts too. Blog readers get 1st dibs on what I talk about since you've supported the blog all these years. I'll let you know how you can ask me those questions and then I'll answer them on the podcast. I'm not sure what to expect and how this will go…but I'm going to jump into the deep waters right off the bat and see how I like the format.
Paul Callahan was kind enough to comment…
"2 of my favorite people – Joe and Nick. That was enjoyable, fun, and easy listening. Agree about Karli. Think when she realized that the only shoes she had to fill were her own, she was off and running. Joe, Karli, Bogo, and Mike are an awesome weather team. Liked the Florence/Lake analogy and your therapy sessions on the golf course and writing on your blog. Think I'll just tell my wife, "Joe recommends it….". Podcast was great. You guys had way to much fun with this."
Our feature photo comes from Rob Reeves and was taken in Olathe!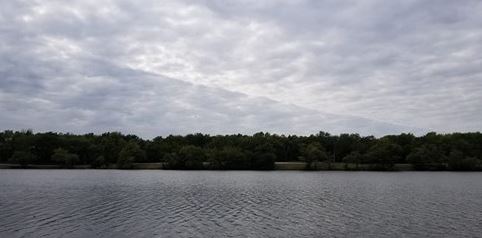 Joe