This is an archived article and the information in the article may be outdated. Please look at the time stamp on the story to see when it was last updated.
Back in early February when good ole Phil came out of his home and saw his shadow in Pennsylvania…folklore has that that means 6 more weeks of winter. Well here we are in the Plains with weather that has been more April and May like practically every day since it seems. We've been incredibly warm…warm that the allergy season is cranking away weeks ahead of schedule…and the trees and grasses are coming out of dormancy already. While the 6 more weeks of winter has been a failure for the last 5 1/2 weeks…perhaps Phil should've said 6 more days of winter or maybe 6 more hours of winter…because we MAY have something cooking for Saturday, for at least parts of the area.
Forecast:
Rest of this afternoon: Warmer and windy with highs well into the 60s to near 70
Tonight: Fair skies and cool with lows near 40°
Thursday: The warmest day for a little while…highs well into the 70s with variable clouds. There may be some showers as well, especially south of KC…but it bears watching for the mid-early part of the afternoon
Friday: Cooler with highs in the 40s and mostly cloudy skies.
Discussion:
Let's start with a probable final look at the tornado outbreak from Monday evening…the NWS was rating the various touchdowns in the area and the ratings were released late yesterday.
"Oak Grove" tornado rated EF-3. Peak wind speed estimated at 152 mph. pic.twitter.com/SmZzEf3vhu

— NWS Kansas City (@NWSKansasCity) March 7, 2017
Smithville to Lathrop MO tornado rated EF-2. Other tornado surveys ongoing and will be released when available. pic.twitter.com/aGYVxPl1Z4

— NWS Kansas City (@NWSKansasCity) March 7, 2017
Corrected graphic for Lee's Summit EF-1 tornado. pic.twitter.com/xj3WguVBEJ

— NWS Kansas City (@NWSKansasCity) March 7, 2017
Leawood tornado rated EF-0 with estimated maximum winds of around 80mph. pic.twitter.com/ZuNTmfnxCF

— NWS Kansas City (@NWSKansasCity) March 7, 2017
Carrollton Tornado rated EF-1 with winds approximately 110 mph. pic.twitter.com/fMj0qGwy73

— NWS Kansas City (@NWSKansasCity) March 8, 2017
It's possible that there was another tornado in JOCO KS. Storm chasers appear to have spotted "something" that night near Gardner, KS. It's tough to make out in the lightning flash…but there may be evidence of "something".
Meanwhile…
So more warm weather for the next couple of days before colder trends come into the picture.
Now onto the weekend…a cold front will be moving into the region later Thursday afternoon/evening. This will remove the warm air and replace it with an increasing colder air mass that will ooze through the region Friday into Saturday. It's Saturday that we're watching more closely at this point.
As the colder air becomes more entrenched…temperatures will drop into the 20s Saturday morning. Caught in the NW flow aloft will be some sort of disturbance or series of small disturbances that will be moving through the flow towards the OH Valley. This is going to be our conundrum for Saturday and what actually happens.
I have concerns about several things…1) It's Snake Saturday…big parade day…looks cold/miserable regardless. Maybe only around 30° with a stiff east breeze during the parade. 2) Broken up pieces of waves are notoriously fickle in terms of who can get what when it comes to bands of snow…I'd much rather see a more cohesive system coming towards the area. 3) the air will be cold…and rather dry ahead of these disturbances…so are we fighting that issue…for awhile in the early morning hours. 4) These types of broken-piece waves can produce bands of decent snowfall..but where those bands set up won't be known really till they start setting up in the AM. 5) whatever happens…it won't last that long..perhaps 6 hours or so. 6) with that said…there could be some nice little banding structures to produce accumulations in the area. 7) temperatures should creep to 32°+ after noon…with the sun angle in March…this should limit accumulations after that if anything is still falling of the wintry type.
So Saturday appears to be messy when taking all these things into account. To me, right now, it looks like one of our typical (typical in the last 2 winters) type snows. Nuisance to get around in the morning…better in the afternoon. What falls in the AM will be melting fast in the PM. It's still premature to talk about accumulations…and I see what some model data is doing…and some of the data is rather "ambitious" at this point…but I'm not getting the warm fuzzies for this right now in terms of anything really problematic unless some of these potential banding features sets up in the right spot in the KC metro. Would I be shocked if someone in the viewing area got 2-3″…right now no. Would I be surprised if we get <1″…absolutely not. Can we get very little from this…yup.  So again still too early.
I want to show you a comparison of models…between the NAM model and the GFS model. We're looking at the mid-level lift up at the 700 mb level…or about 10,000 feet up. Above that, it looks even worse for snow lovers…but this event is going to be driven by moisture coming into the area from the mid-levels of the atmosphere and below being "lifted" and creating snow locally.
[protected-iframe id="b9ef30e0ce33ea17f5a52f47e148a897-28016812-27967000″ info="https://cdn.knightlab.com/libs/juxtapose/latest/embed/index.html?uid=aed65d94-042d-11e7-9182-0edaf8f81e27″ width="100%" height="850″ frameborder="0″ class="juxtapose"]
Notice as you use the slider bar to go right and left. The farther right…you see the NAM model forecast…the farther left…the GFS forecast. Notice the placement differences for the best "lift". This means there will be banding placement differences…and these areas of best "left" will move all over the place in the next 2+ days…more or less it's like herding cats (as the saying goes). We're somewhat confident that "lift" will be around…we just don't the the best areas of focus at this point.
Now notice the difference in "model output" of liquid precipitation.
[protected-iframe id="226724d484a24d74ffa406cc2b8a6c60-28016812-27967000″ info="https://cdn.knightlab.com/libs/juxtapose/latest/embed/index.html?uid=5dfbdbd2-042e-11e7-9182-0edaf8f81e27″ width="100%" height="850″ frameborder="0″ class="juxtapose"]
So the models are showing potential of something…perhaps accumulating. I wouldn't get too wrapped up in the model liquid totals though right now but you can see how the model is trying to "see" the bands of precipitation.
So basically it's time to watch the situation carefully for potential impacts for the 1st part of the day on Saturday.
We'll just blame Phil. One other note would be another real hard freeze coming Sunday morning. Take pictures of the early flowering trees in the next 2 days or so…they may not look so nice by Sunday afternoon.
Our feature photo comes from Jamie Taylor of OP KS with a vivid shot of lightning from the other night!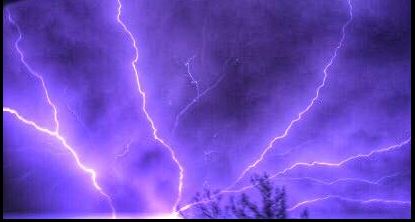 Joe