This is an archived article and the information in the article may be outdated. Please look at the time stamp on the story to see when it was last updated.
Good afternoon. Temperatures aren't quite as oppressive today thanks to an abundance of filtered sunshine out there. There is a disturbance coming through eastern KS that should create additional showers and storms this afternoon. Hopefully you get some rain. some of our short range models are rather bullish about the rain prospects locally…we'll see. Something though would certainly be welcome from KC southwards.
Forecast:
Tonight: Variable clouds with some evening showers/storms possible. Whether or not we can get redevelopment overnight in parts of the area, especially NW of KC proper…remains to be see. Lows tonight 70-75°
Saturday: Hot and humid…we may spike to about 95°. Rain chances look low during the daytime. Heat index 100-105°
Saturday night: There will be a chance of some showers/storms moving through into Sunday morning>9AM. We'll be monitoring the developments in NE KS and NW MO to see if something can work towards the region. They probably will be fading though as they do so. So we'll see how much rain we can get from it.
Sunday: If there is any leftover rain it should quickly end in the AM before 9AM (if not much earlier). Highs on Sunday may not be as hot…90° or so but with dew points up there it will still be rather uncomfortable.
Discussion:
I had a feeling a few days ago that today could be kind of a "weird" day. We certainly have more clouds out there…and that is helping keep temperatures from going crazy.
Notice in this picture the thicker cloud cover off towards the west. There is a MCV or Mesoscale Convective Vortex  NE of Wichita…moving sort of our way…weakening though. What will be interesting to see is IF that MCV which will bring some lift in the atmosphere with it…can generate new areas of showers/storms over the next few hours into the evening.
Here is the radar from the NWS …not the greatest look but there is something out there worth watching.
Check in with Mike and keep an eye on radar if you have some evening plans.
Meanwhile tomorrow just looks like a hot summer day in the area.
Later tomorrow storms should fire along a cold front in the Plains…but this front won't be getting to us locally till sometime Sunday morning. The storms will be frisky out west…but as they come to us…and as the atmosphere cools tomorrow night after the sun goes down…the storms will be moving towards a more stable environment it appears. That doesn't really bode well for lots of heavy rain (which many areas really could use). I'll be watching that and updating the blog tomorrow afternoon in case something looks more promising.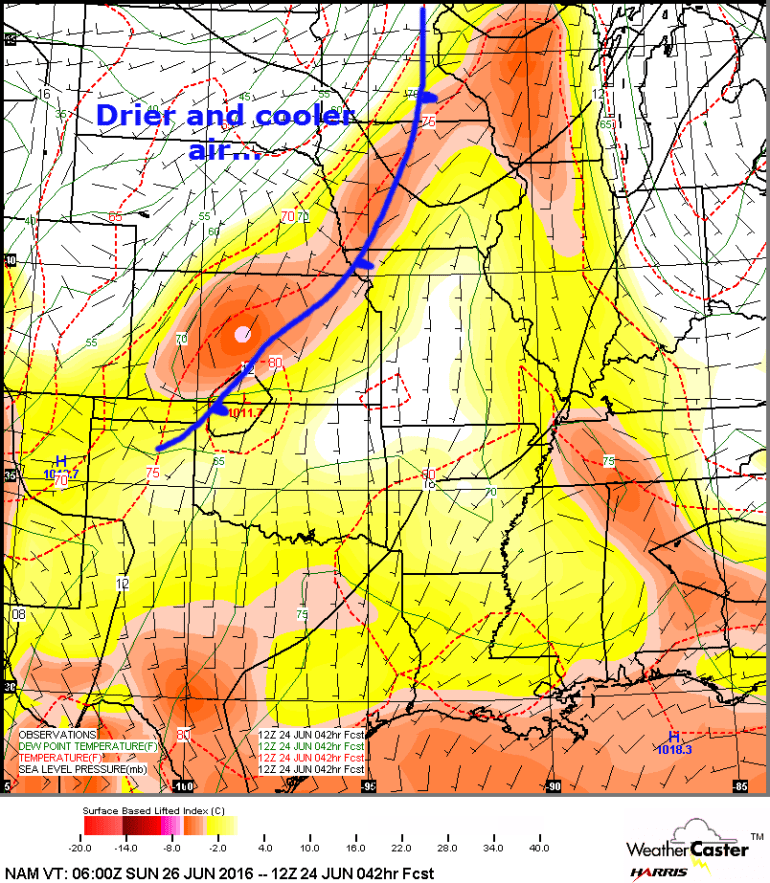 We should have clouds around at least on Sunday for awhile + slightly "less hot" air filtering into the area.
Speaking of rainfall…through yesterday we're running about 3.46″ below average for the month. Other areas are even drier…southside I'm talking about you. JOCO Executive Airport is almost 4.5″ below average for June…
What about future rain opportunities…well as I mentioned yesterday and the day before I think…we could be setting up for something…however whether or not we'll be the ones getting the heaviest rains…or even more than 2″ of rain next week remains to be seen.
A stronger heat dome will be building towards the Salt Lake City area early next week. This will place us into what we refer to as NW flow. We will be vulnerable to disturbances coming across the central Rockies and then moving towards the western Plains before dropping towards the SE. This means several things…one a reduction in temperatures and 2) the potential of thunderstorm complexes. Item #2 though is still a tough one to pin down…because I'm not sure IF we're in teh bulls-eye or not. Model data such as the GFS…says we are but then again we aren't.
I want to share two model forecasts…off the GFS for the same ending time…showing the amount of rainfall. Notice the shift int eh heavier rain axis from the early model run today to the current model run (as of this writing).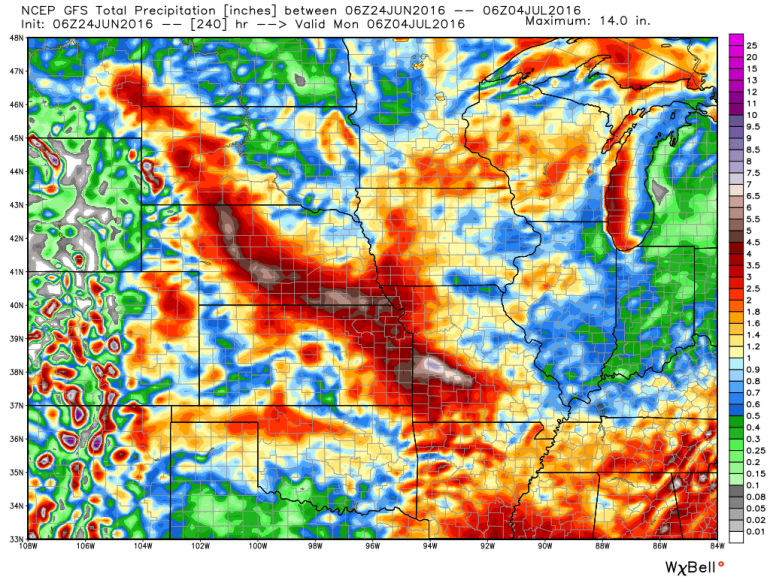 Now look at the latest run…
We average about 1.2″ of rainfall a week during this time of the year…so in reality the latest run is basically showing "average rain" for KC proper into the 4th. In looking at the GFS ensembles…there does appear to be a more bullish outlook for rain into the 4th…with many of the runs indicating almost 3″ (or more of rain) potential.
The latest EURO run isn't quite as bullish with amounts ranging from 1/2″-1″ through the next 10 days…near to below average really. The model data just cant resolve the precise locations of these future disturbances and where they end up traversing. Hence where the heaviest rain axis will be. Would I be surprised if by the end of NEXT weekend some areas have over 6″ of rain…no. Would I be surprised if some areas only have 1″ of rain…no. Just depends on where this little bugger complexes end up moving.
ALL the model data though does show a break in the extreme heat for quite some time. We won't be worrying about 100° heat for awhile.
OK that's it for today…have a great weekend and I'll be updating the weather blog over the weekend.
Oh and the featured weather picture is from Kenn Willard down in Osage Co, KS…there is some rain down there today so maybe a few of these cracks look a bit better.
Joe