This is an archived article and the information in the article may be outdated. Please look at the time stamp on the story to see when it was last updated.
This weather pattern that continues to give us abrupt cold snaps continues in the Plains. No doubt farm planting is being impacted severely. Home stores are bumming I'm sure because nobody wants to be in the garden or really doing anything outside on weekends like this. Temperatures today have gone nowhere and will start falling later on into the mid 30s…tomorrow, IF we don't get much sunshine we may well have our coldest high temperature on 4/15 in KC weather history! Record lows are very possible Monday morning. Meanwhile in the upper Midwest a raging blizzard is in progress.
---
---
Forecast:
Tonight: Rain showers will convert to snow showers. Temperatures will be dropping into the 20s overnight. Something to monitor is the wet roads that may try to freeze up, especially bridges and overpasses. Watch for that tomorrow AM. A miserable night overall with winds increasing from the NW at 15-30 MPH Wind chills will be closer to 10° by daybreak.
Sunday: Any patches of snow showers (coating for some areas possible on the grass) will end…skies will be mainly cloudy although we may see some thinner spots in the clouds later in the day. Highs in the 30s
Monday: Better but still very cool for mid April. Highs near 55°.
---
---
Discussion:
Spring keeps going through fits and starts. We're now going through another "fit" it seems. Temperatures this weekend are well below average, although today will go down as a high of 52° after 12AM…but we were around 37° at daybreak and have only mustered a few degrees today of warmth.
The radar is showing areas of snow to the west of the Topeka area this afternoon. Rain>snow is out there and moving east.
Here is a look at local radar…
Meanwhile the big upper circulation is spinning around very close to the KC area…you can see the broad precipitation field on radar…that is mostly snow north of I-80
At 1PM snow was falling at a nice clip up there…I've shaded in the reports.
Yesterday's system was a prolific severe weather producer. For the KC region it was really the hail that was noteworthy…very few wind gusts of 60+ mph.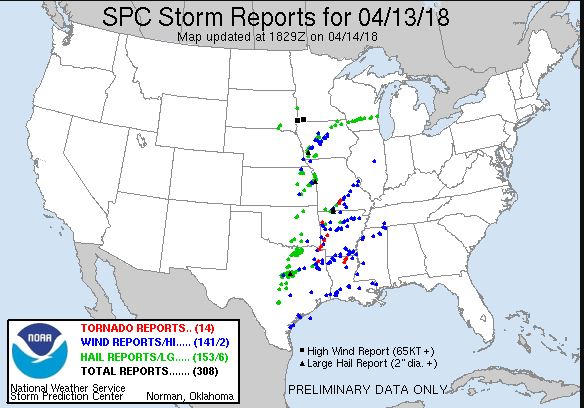 Specifically for the KC area…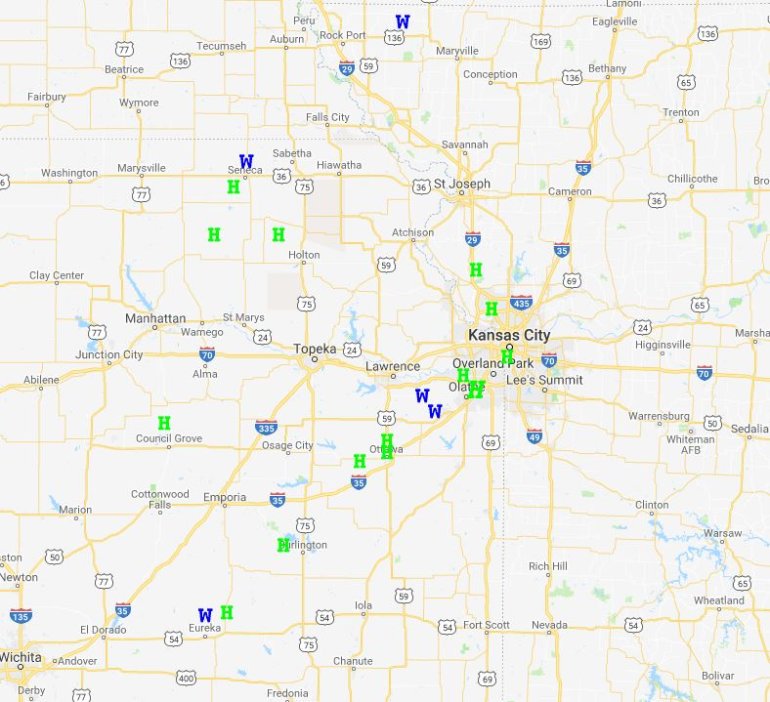 The largest hail was close to hen egg sized in JOCO I think towards 151st Street in the Olathe area.
There were some interesting aspects of this…including a separate storm at around 6:45 that come in from JOCO up I-35. On radar it had th best "look" to it including a "hook echo". Thank goodness it was ingesting rain cooled air…it never quite was able to generate a tornado…but it was trying to. It did generate a wall cloud that passed right by the station. Here is some video…go to about the 32 second mark to see the wall cloud.
[protected-iframe id="9245c226b007b92b6b193a4201135675-28016812-27967000″ info="https://www.facebook.com/plugins/video.php?href=https%3A%2F%2Fwww.facebook.com%2Ffox4kc%2Fvideos%2F10155815450618645%2F&show_text=0&width=476″ width="476″ height="476″ frameborder="0″ style="border:none;overflow:hidden" scrolling="no"]
If you don't know…a wall cloud is an abrupt lowering of a cumulonimbus cloud (thunderstorm cloud). They can rotate or not. Typically non-rotating wall clouds don't immediately produce a tornado…faster rotating ones can though and is a precursor to tornado formation.
Here is another view…from Union Station
https://twitter.com/kansascityk8/status/984956524018749446
As far as this storm goes…it will move away tomorrow…unfortunately though the coldest air within the storms' circulation will linger in the region…so that means Sunday is another raw day. They'll get the game in at the K and Sporting KC will be raw and breezy but dry in the afternoon. Tomorrow may also be the coldest 4/15 in KC weather history.
Getting ready to start writing a blog…posting by 2:30…meanwhile here are the coldest 4/15s in KC weather history. pic.twitter.com/Bos91XbFLm

— Fox 4 Weather KC (@fox4wx) April 14, 2018
Then there is Monday morning and the potential for a 20-25° cold start to the day.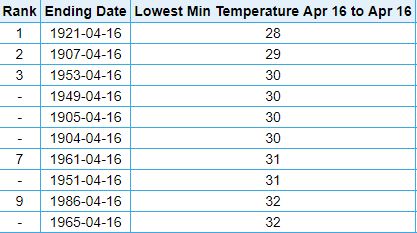 So we have that going for us…so far through the 13…April is running more than 10° below average.
This overall should be a pretty dry week…until…wait for it…next weekend.
Our feature photo comes from Tyler Blake of some cool lightning from the Raymore area.
Joe