This is an archived article and the information in the article may be outdated. Please look at the time stamp on the story to see when it was last updated.
Wind Chill Advisories for the KC Metro area…Wind Chill Warnings for areas north of KC from roughly 36 highway northwards. These continue through tomorrow morning. I'm expecting plenty of school cancellations again tomorrow…especially in the rural areas
I think you know me well enough by now…that I enjoy a good snowstorm…now granted after last year and the winter that came at the end…I was just about over it after the 3rd or 4th big storm…but I find this stuff fascinating.
In addition to the heavy snow and the winds…by the way not a blizzard…the waves of snow and the lasting snow was the most impressive to me. Also interesting to me were the reports of sleet that came in…I'm still wondering what that was about…and one of my colleagues and I were twittering back and forth last night wondering as well. It's not that I don't believe it didn't happen…I do…and there were about 10-20 reports of the phenomena…just not sure why it happened. Guessing is that the reports were concurrent with the dry slot moving nearby…and perhaps the moisture was briefly stripped from the snow producing cloud layer…and moisture below that just started to freeze and fall. It's a head-scratcher though.
The US is now more than half covered in snow…some 64% of the folks in the country woke up to a blanket of snow at various depths this morning. This may be the most of the winter season.
Locally we're certainly included after yesterday.
IF you look carefully, and you know how much I enjoy showing you these snow covered visible satellite pictures…you can see a darkish circle around the KC area. That is caused by our infrastructure…cities…roads etc. It shows how big we are. Also note the terrain down towards the Lakes region and also the ice and snow covered rivers that look like veins. The darker areas that appear like larger specks are the various lakes in the region.
So how much did we get…on average I'd say a solid 8-12″ through the metro…the forecast was for 5-10″ with some heavier locales…it was OK but could've been better. I did think that there would be some heavier totals on the KS side…and I sort of picked out the location of one of the heaviest bands where amounts would be close to 12″. I'm seeing reports scattered through the region of 10-15″ of snow in spots. Lawrence and Topeka had 14″! Overall I'd give myself a B- for this one. From a timing and accumulation forecast as the day went on though…that is an A…the timeline information/accumulations was nearly spot on…I think I suffered though a bit in the end stages of the storm and how it just kept on going…through the wee hours of the morning. I knew it would keep going…but not with all the heavy snow on the back side of it. I think in my self-critique that I correctly forecast/adjusted the model output concerning how much "liquid equivalent" would fall but I got burned by the 15 and/or 20:1 ratios…I was more in the 12:1 to 14:1 thinking…so with those higher ratios…the "fluffier" snows…amounts exceeded my expectations.
By the way…KCI set a record yesterday for the most snow on the 4th of February…coming in at 7.5″…breaking the previous record by 1/10″! It was also tied for the 9th most snow in a calendar day during the month of February. Here are the top 20 days of snow in February.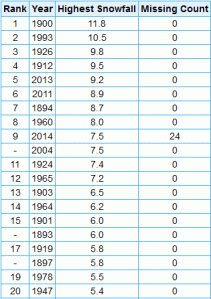 The weakness with evaluating a storm based on this strict criteria…one calendar day…is it doesn't take into account events that are spread out over 2 calendar days…which happens a lot! For example…with the 4/10″ of snow after 12AM…this storm was actually a  7.9″ snowstorm for KC (officially).
When looking at the rarity of 6″+ snowstorms in the KC area going back to the late 1880s…this one falls into the 3.6% category…in other words only about 4% of snow events produce this much snow in KC. Here is a graph from the NWS in Pleasant Hill.
Here are a bunch of reports, since 12AM from the NWS in Pleasant Hill.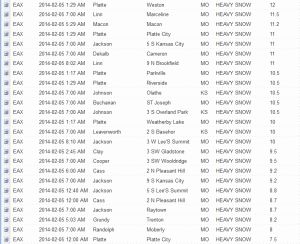 On the KS side…here you go from the NWS in Topeka.
Very impressive storm.
OK let's move on to tonight and the forecast headaches associated with the low temperatures. This has been blogged about by yours truly for about a week now…and it's still tough to figure out how cold it will get. In reality it may tank tonight through the wee hours of the morning to well below 0°…then it may pop up as clouds drift through the skies and act as a blanket…then it could drop again where the clouds are more patchy.
Here is a temperature forecast off the hi-res NAM model…keep in mind this model last night was taking us to almost -20° (record territory for the 6th).
Click on the image to make it more readable. Notice how temperatures at THU 6Z (12AM) drop to -8°…then then bounce up to 2°…then drop again to -9° by 15Z tomorrow or 9AM.
This is the model factoring in a cloud deck that should be moving through…then thinking the clouds move out.
The latest water vapor loop shows the departing storm…making a mess across the east by the way (salt emergencies in NY apparently)…it also shows moisture starting to move into the western Plains…that should streak towards us this evening and overnight..how thick they are and how much coverage they take up will determine just how cold conditions get tonight. For areas that stay clear…15-25° below (air temps) are not unexpected by me. it happened a month ago…it can happen easily again.
My feeling is that we'll tank to 0 to -5° in KC (at KCI) and then start bouncing around as the clouds move through. It may go up for awhile and stay up…or it could drop again if the blanket of clouds moves away. The city should see lows in the 0 to -5° range then bounce up to 5° above with cloud cover…assuming the clouds are thick enough.
For those who residence is prone to frozen water pipes…PLEASE use your precautions tonight and try to avoid costly repairs/damage tomorrow. You should know the drill but if not…here you go. Frozen Water Pipe Precautions
So I bought an electric snow blower for myself for Christmas this year…it was about $185 then I needed to buy a 10 gauge extension cord…that was about $65…it worked great when we had 3-4″ of snow last month…but today's efforts were going to test it…and color me impressed. I estimating I had close to 10-12″ of snow at the house…can't really tell because of the blowing and drifting…but it was a trooper. It groaned a bit with all that snow…it's meant to take on <8″ storms…but it did amazingly well and I recommend it for those who hate shoveling. Actually I should say my wife learned how to work it this AM…took less than 2 minutes to run through it with her…and she did 90% of it before she got too cold. It was easy and since she has a balky back at times…it required very little effort to take care of things…once she figured out the best way/direction to blow the snow.
On a side note…why can't there be something reasonably priced to help with cold fingers…those heated gloves I see are so expensive and every glove…mitten…double layers…just doesn't work for me! I've tried hand warmer things that don't get warm at all…very aggravating!
Finally…today is National Weather Person's Day!
If your pipes end up frozen…it's National Plumber Day tomorrow j/k ;)
JL