This is an archived article and the information in the article may be outdated. Please look at the time stamp on the story to see when it was last updated.
Good afternoon…well we deserve a day like today…bright skies with some clouds starting to move back through the region from the west. Temperatures are coming up through the 40s as I type this and overall this will be a more seasonable day for the last part of February. the good news is milder weather is on tap to start the week!
---
---
Forecast:
Tonight: Fair skies and chilly but not too bad with lows near 28-32°
Monday: Mostly sunny and nice with highs approaching 60°
Tuesday: Increasing clouds, windy and warmer with highs 62-65°. Winds may gust to 40 MPH
Wednesday: Clouds with some showers…there may be some thunderstorms too depending on the timing of the front coming in. Temperatures are sort of iffy. Earlier frontal arrival…cooler…later arrival warmer. I'll split it with highs in the mid 50s
---
---
Discussion:
Well after a VERY long week of mostly crummy weather…at least I can show you some clearer skies on the satellite image today…
That's better…isn't it? Although that little skinny east west cloud bank SW of KC is trying to produce a few sprinkles.
Temperatures are recovering as the sunshine is working on snow-less ground in the KC region…
We're in the mid 40s and should finish the day in the upper 40s to near 50°.
There is warmer air towards TX that will start moving this way tomorrow. So with sunshine again and a bit more of a southerly wind helping to stir the air up…and with that air being nice and dry…it should respond nicely and the warm-up will continue.
Yesterday I mentioned that an active severe weather scenario was in the making for the southern part of the country…and sadly that panned out. At least 3 dies in the 1st tornado related deaths since 5/11/17…a record of 283 days I think.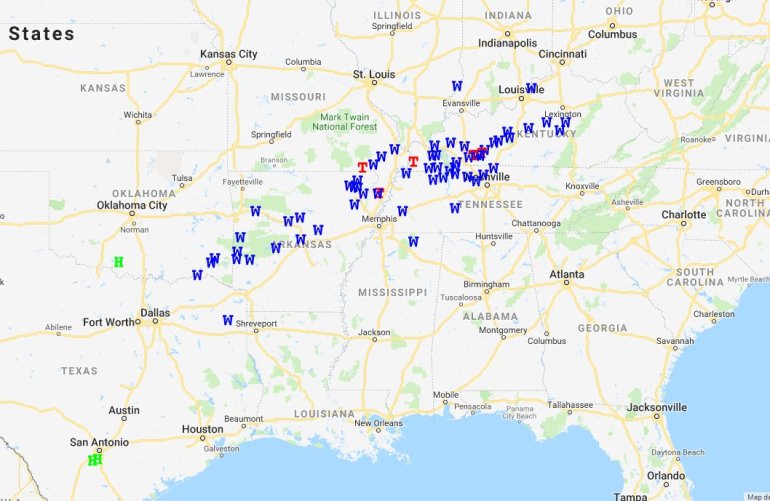 There was also a tremendous amount of flooding through that same part of the country. I believe Louisville and Cincinnati were hit pretty hard by high waters.
2/24/18 An outlook, watch & warning perspective #ARwx #INwx #KYwx #MOwx #MSwx #OKwx #TNwx #TXwx pic.twitter.com/eLgJ5s4LTQ

— james correia j☈, PhD (@jimmyc42) February 25, 2018
Closer to home…the main thing about yesterday was the flooding rains that moved through southern MO…a week week for sure down there…
Seven day rainfall totals (February 18-25) generally ranged from 3 to 6 inches w/ localized higher amounts around 7 inches. Highest totals were were across southern Missouri generally along & south of Interstate 44. #mowx #kswx pic.twitter.com/6dFCUGky78

— NWS Springfield (@NWSSpringfield) February 25, 2018
That has sent the rivers down towards southern MO out of their banks…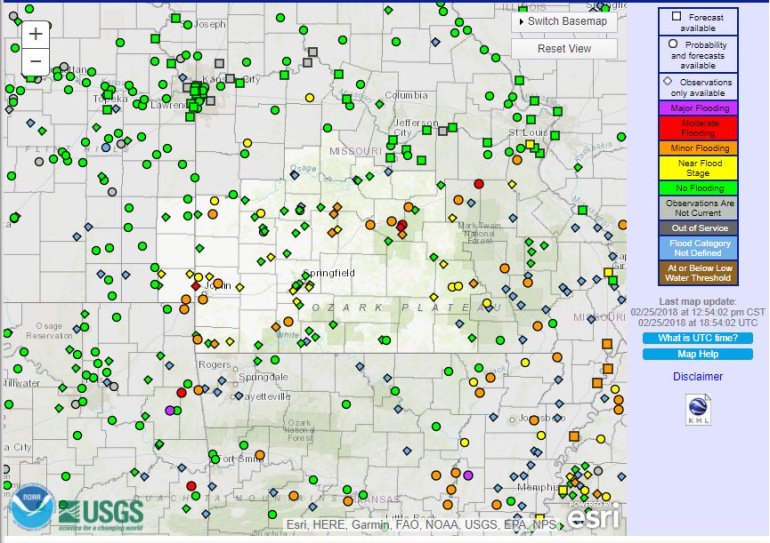 The orange and red dots above show the rivers that are in minor to moderate flood status and there are some road closures down there because of it as well per MODot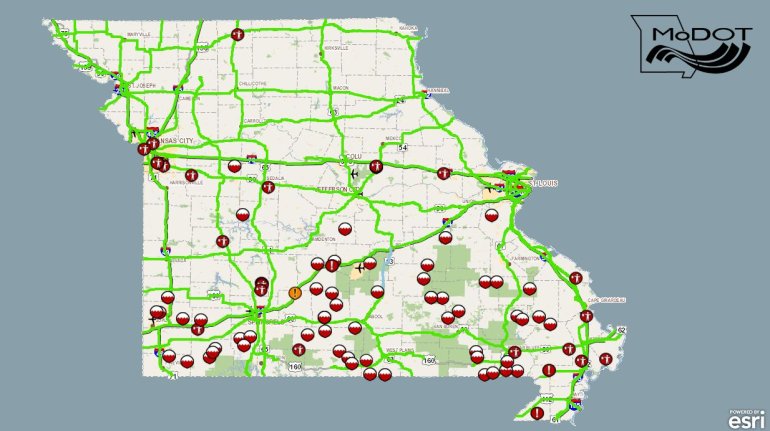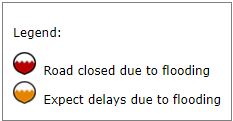 The next front is due on Wednesday and the timing of it's arrival will play a role in 1) how warm we are (near 60° is possible) and 2) how much rain we get (a later frontal arrival could allow some instability to develop…and that may result in thunderstorms. As a result rainfall totals may well be varied in the region.
More on this on Monday.
Remember a couple of weeks ago I did a poll on twitter asking what would happen 1st…our next 2″ snow or thunderstorms…well technically last weeks thundersleet answered that…but Wednesday's rumble potential will confirm it (if we get that). Just so sad for snow lovers/wanters.
Speaking of which…the "decent" snow window is now starting to close. Was it ever open? Today's data shows some small opportunities for minor events but really nothing to wrap our arms around. Frankly much past 3/10 I start losing my interest if nothing is showing up by then. Yes…March is fickle and yes…March is known for our biggest snowstorm in history in KC back in 19 whatever/forever ago…but right now we're at just shy of 6″ of snow of the winter…and unless something miraculous happens…this will be the 1st time in KC weather records that we've had 3 straight years of less than 10″ of snow. Incredible.
To be fair…I was expecting below average snow this winter…around 16″…and my thought process was we'd have a bunch of these nickle and dime events…but I though surely we could at least have 1 real storm…a 4-8″ type event. So far Mother Nature hasn't even really come close.
Speaking of which…in yesterday's blog I wrote about the NAO index. I don't want to re-write all of that again…but basically I tied that index into a significant snow predictor for KC.
Today I want to talk about another predictor for cold and some think snow…that is called the Arctic Oscillation or as we say in the weather world…the AO.
The definition first…via the National Climatic Data Center…
"The AO is a climate pattern characterized by winds circulating counterclockwise around the Arctic at around 55°N latitude. When the AO is in its positive phase, a ring of strong winds circulating around the North Pole acts to confine colder air across polar regions. This belt of winds becomes weaker and more distorted in the negative phase of the AO, which allows an easier southward penetration of colder, arctic airmasses and increased storminess into the mid-latitudes."
Basically when the AO is positive there might be a tendency for milder than average weather in the eastern 2/3rds of the US…and then vice-versa. When positive there is a tendency for more faster west to east flow…with few big "buckles" in the jet stream. When negative there are more buckles allowing bigger storms and dumps of cold air as the pattern aloft amplifies. This is a very simplistic explanation for the purpose of this discussion. On the following diagram…a positive AO is on the left and a negative one is in the right side.
In terms of real weather…here are some better effects…when positive…
and when negative…
Those images above are via daculaweather.com
The tendency of the NAO that I showed yesterday was for it to be positive all winter…although it's expected to tank this week…and the tendency for the AO is…well more variation. Also it's expected to tank this week.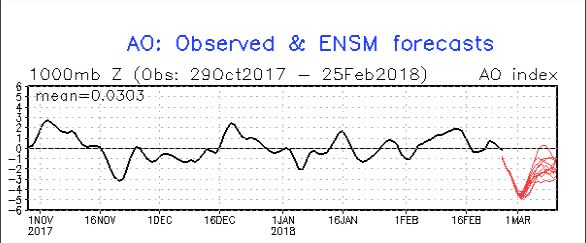 What's interesting is that both are expected to tank this week into next weekend. That usually means cold air dumping in the central and or eastern US. Sometimes this combination creates a pattern that seems more favorable for bigger Nor'easters as well…and the models are sniffing that potential for later this week and into next weekend. In my experience of watching these indices together…they seem to be more of a help for the significant eastern US storm potential than for our storm potential in the Plains. There was one winter though…2009-10 that both were in the tank seemingly all winter long and we remember what happened locally that winter.
Anyway when the flow gets buckled…there is a stronger tendency for prolonged blocking to set-up. When blocking set's up for more than a couple days or so…there is a tendency for us to have colder air seeping or even crashing into the lower 48. The forecast maps right now do show colder weather…at least for a little while during the week of the 5th.
Some meteorologists think that when the AO is negative…watch out for snow locally. I, of course, feel that I need to research this to see exactly what's going on. So yesterday I showed the last 20+ bigger snows going back to 1980 or so in KC…and correlated it with the NAO values…in brief…there were 15 events that were biased negative and 7 events biased positive in the week leading up to the snowstorms.
Let's do the same thing again with the AO…and see IF the connection is there or not. I looked at the values of the AO in the 7 days leading up to the significant snow event in KC…again the "pool" of snow events goes back to 1980 or so. IF you read yesterday's blog…the snow events are in the same order.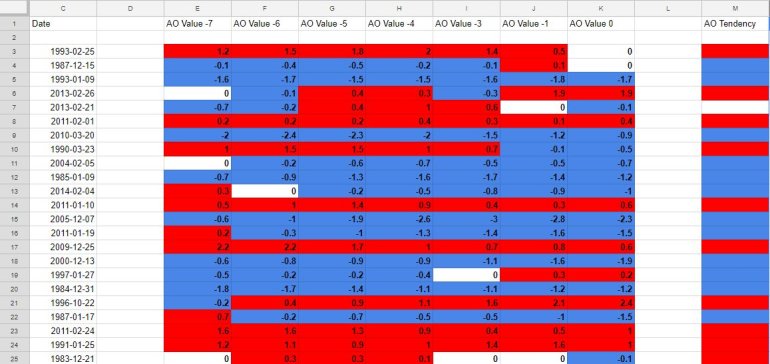 There is VERY little correlation to the overall AO indices number to a significant snow in KC. There were 10 times where the "net" number of days of AO values were positive (counter intuitive to what might be expected) and there were 12 times it was negative (in the 7 days leading up to the event). That to me doesn't really show value. There was one event where the +/- individual day values cancelled each other out.
In a way, after the data I showed you yesterday…perhaps the NAO number "could be" more helpful…but I really don't think so.
We're going to finish this research tomorrow with a look at both indices side by side…and see IF there is anything worthwhile to remember.
OK…that's it for today…I feel like a 10th grade student submitting his science project to the fair! In reality this is just a very small dive into this whole index thing.
The feature photo today is from one of the best contributors of pictures to me… Savannah Whitesell‎ down in Spring Hill, KS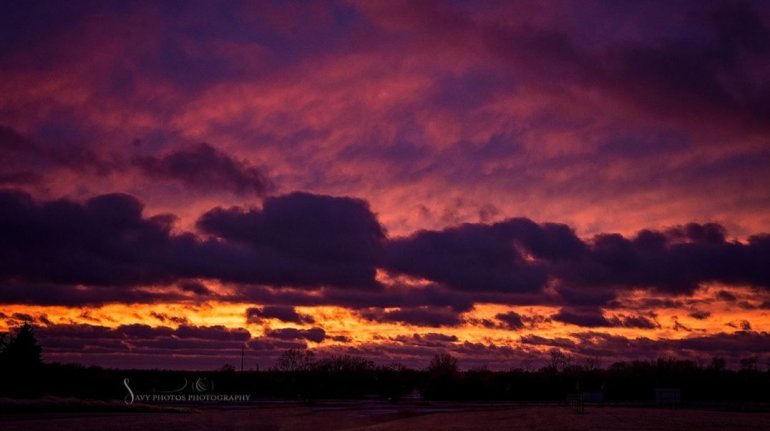 Joe
Joe