This is an archived article and the information in the article may be outdated. Please look at the time stamp on the story to see when it was last updated.
Good morning. Not exactly a "Chamber Of Commerce" start to the day in the KC area today with a lot of clouds around. Temperatures as I expected last night really never changed much and we're in the lower 60s as I type this. We should only be in the 70-75° range this afternoon. As far as the rain risk goes…yes there will be some shower activity out there although as I type (8AM) this there really isn't anything impressive coming towards us this morning in the KC metro area. How much that changes as the day/night moves along remains to be seen. The title of the blog is "no mans land" and I'm not really at this point seeing where the rain today is going to come from at this point in time.
Forecast:
Today: Mostly clouds with some thin spots and perhaps a bit of sunshine bleeding through. Highs 70-75°. Rain chances are there but as I mentioned I'm not really seeing any "triggers" for bigger storms right this moment. There may be a wave that I can't see affecting more of the MO side this afternoon. Perhaps this evening something out west could rumble our way.
Tuesday: I think we're in decent shape tomorrow. More sunshine and muggy conditions. Highs around 80°
Wednesday: Storm chances increase again. I think IF we're going to see some severe weather it would be on this day but that is a question mark as well. I do think we should get more rain in the region though. Highs may be well in the 70s.
Discussion:
The atmosphere locally is somewhat of a jumbled mess this morning after a somewhat heavier and longer lasting multiple round episode of non-severe thunderstorm pelted the region yesterday and last night. Rain was the big issue, along with the lightning. Rain amounts exceeded 3″ in some local areas. It seemed the KC vicinity was the bulls eye for the heaviest rainfall.
That type of heavy rainfall patter doesn't happen that often around these parts…I have a feeling that front which was draped on top of the KC are played a bigger role in the amounts of rain than I gave it credit for. Anyway amounts were impressive. The grass will be appreciative at least. There were areas north and south that really got missed by the good stuff. Sedalia and St Joe had less than 2/10″ from this activity so it really was a pretty sharp transition from flooding rainfall to not a lot of rain.
The severe weather aspect of the storms were confined to the central and western Plains as expected. The SPC did a good job with the area most likely to see severe storms. This next graphic shows their 8AM Sunday forecast and what happened with severe weather reports.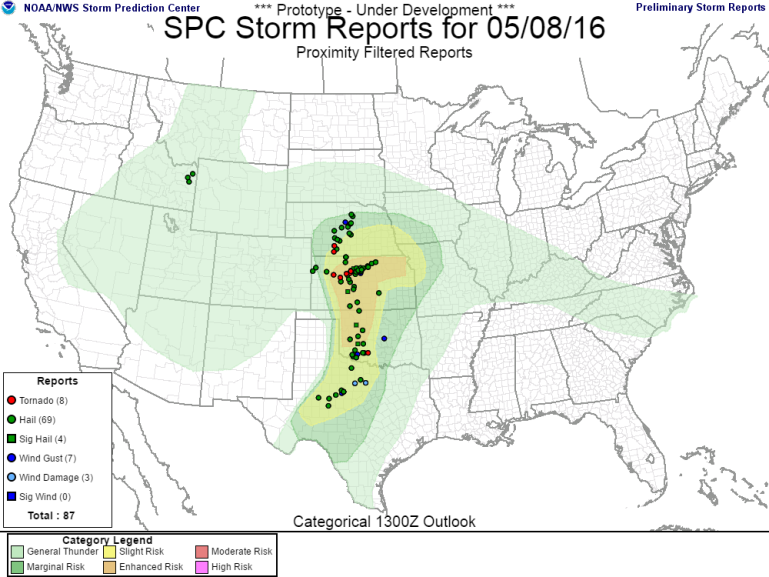 My beef yesterday was the eastern extent of the contours and that was proved valid. When we had that disturbance come up from the SW during the late morning…that was the end of it for us…unfortunately IF you just go with the SPC maps ALL the time and take everything they think verbatim…you needlessly scare and over alerted folks in the KC area to risks that really won't pan out. When I agree with them I have NO issues using their thoughts directly on the air with a graphic…when I don't then I won't use the graphic that automatically gets created in our graphics system (all the stations have that ability). It takes a little extra time BUT is important time used to create your own forecast. There were 2 thunderstorms yesterday towards Osage Co that may have had some 1″ hail with them although I don't remember actually seeing any confirmed severe hail reports come from that cell.
Other severe weather thoughts…
This has been an interesting "start" too tornado season.  It seems that there has been issues with many "set-ups" this season thus far. Something seems to be a bit "off" with the atmosphere for one reason or another. Either the moisture at the surface isn't quite right…the shear in the atmosphere isn't just right or set-ups just aren't quite good enough…but it seems to me anecdotally, that something seems to be "not right" with the various set-ups. With all that said it's only early May and we still have a long ways to go.
So far, through yesterday we've had about 400 reports of tornadoes.
That's actually more than the last couple of years through yesterday's date but is on the lower end (black line) in the graphic above and is a fraction of what happened in previous hi count tornado years through early May.
In KS there have been about 15 reports of tornadoes including yesterday.
On the MO side there have been 11 reports.
Here are the averages over the course of a year nationwide. (30 year average through 2014)
Things can change quickly…all you need is one bigger "outbreak" and those numbers above pop fast. Thankfully I'm not seeing any sign of a "bigger" outbreak coming.
With all that said…we'll keep vigilant about the storms today and WED. Today the higher risks may be more south of the region…towards AR.
Our model data is having a headache dealing with the atmospheric specifics. This is common during thunderstorm season when these large complexes throw everything for a loop in the atmosphere. Basically we just watch the current trends and look for reasons why things should or should fire locally…and right now I see more no than yes for bigger storms in KC. Clouds and instability are an issue for now…
Radar trends aren't too exciting at the time of this writing as well…let's keep an eye towards SE KS and SW MO and see if things get a bit more rainy own there because something could then move up towards the NE or NNE in the flow aloft. Probably not severe though.
We MAY have some showers/storms around this afternoon..especially from KC eastwards…but I don't think there will be any severe weather locally. Then tonight, depending on what happens out west…something may drift our way but it would be coming in at an unfavorable time with potentially limited instability to work with.
So that is sort of where we are right now…which is sort of nowhere really. Nothing concrete to get excited about in terms of bigger storms in the KC area proper right now. I'll take another look at things in a few hours and see if anything changes or needs updating. If so I'll then update the blog. If not…have a great Monday. Odds are another blog will come out on Tuesday talking about the scenario for Wednesday.
Joe