This is an archived article and the information in the article may be outdated. Please look at the time stamp on the story to see when it was last updated.
Good afternoon and thanks for taking a few minutes to read my weather thoughts on this more comfortable Sunday afternoon in the KC area. Temperatures as of this writing are well into the 80s but the dewpoints are in the 60s and that's making things "feel" a little more comfortable.  We really don't worry much about heat index values when the humidity levels are that low because they don't change the temperatures that much.
Forecast:
Rest of today: Mostly sunny and warm. Seasonable highs with readings in the mid-upper 90s and humidity levels that are more pleasant for late July. Winds are stiffening out of the north helping to bring the cooler/drier air into the region.
Tonight: Wonderful and getting better and better overnight as temperatures droop to near 60° (50s in N MO) and dewpoints continue to drop off as well.
Tomorrow: Great with highs near 80° and pleasant humidity levels.
Discussion:
So as you know we've been tracking just how cool it's been this July. As of yesterday we were running about 4° below average for the month. I've noticed through anecdotal research in the past that when July is rather cool August often is as well. Today I wanted to follow through and see if we can use this cool month as a forecast for what's coming in August…and I think when you read what I've checked on, it will be rather easy to have confidence in what will happen over the next 30 days.
The 10 coolest July's in KC weather history going back to the 1880s are as follows:
1) 1891
2) 1950
3) 2009
4) 1895
5) 2014
6) 1905 (tied with 2014 so far)
7) 1992
8) 1924
9) 1915
10) 2004
So far we're tied with 1905 for the #5 spot in the "coolest" July average temperatures. We what I'm forecasting for the rest of the month…I expect us to solidly finish the month all alone in the #5 ranking as temperatures will be below average for the rest of the month after today.
So with those years above in play…let's see how the average temperature ranked in the following August. There were two years that are not in play because August was not in the Top 50 in "coolness". Those years were 1905 and 1924.
1891: #1 in July for "coolness and #11 in August
1950: #2 in July and #5 in August
2009: #3 in July and #16 in August
1895: #4 in July and #32 in August
2014: #5 in July and a ??? in August
1905: #5 in July and out of the top 40 in August
1992: #7 in July and #2 in August
1924: #8 in July and out of the top 40 in August
1915: #9 in July and #1 in August
2004: #10 in July and #8 in August
______________________________________________
So out of those 10 years…2 are not a factor but the other 7 are (2014 remains to be seen)! I think that is very significant and shows that sometimes what happens one month can very well dovetail into the other month as well. We've seen this during the winter season at times in very amplified flow patterns that get established and we have seen it in the past in the summer as well. One tricky part of using this statistical forecast method is that during the month of August the flow (jetstream) reaches it's weakest strength for the year (typically). That means the the strong amplified patterns of the past are tougher to do in August. The jetstream also tends to lift farther and farther northwards in August as well…this is because the jetstream is dictated by temperature contrasts…usually those contrasts fade in the US region and are still present in the more northern latitudes.
How is this seen…take a look at the winds at the 250 mb level for this morning or around 30-35,000 feet up.
Notice where the colored "isotachs" (or contours of equal winds) are located. There is a nice series of contours in the upper-Midwest…that's the disturbance that is helping to drive down the cooler and drier weather into the region today through the middle of the next week.
Now notice what happens on day 16 (the 12th of August)…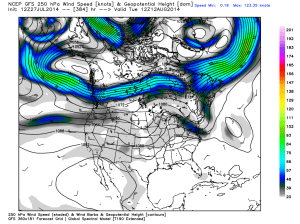 Notice where the isotachs are forecasted to be then. Up across central Canada. Again this is a forecast only and it could be wrong but it does illustrate a jetstream that is forecasted to retreat northwards.
Another factor in determining hot hot or cool we can be is the terrain. It's still pretty green out there in the big picture through the Plains states. Now granted we're going through another dry spell in the KC area that may not break for quite some time…as a matter of fact here is the 7 day forecast showing the expected rainfall accumulation.
Not encouraging for us…but VERY encouraging for the drought areas across W/C KS and OK. The bottom line for us is to start using that sprinkler if you haven't already…I know I have started and will keep it going on my newish grass for the next 7-10 days every so often. So the browning ground that is developing and will continue to expand locally could be an issue as we start to see some hotter airmasses stretch into the Plains at times…
So my forecast for August is for below average temperatures but not necessarily a really cool month (let's say top 10) unlike many of the previous other cool July months.
That's it for today and enjoy the wonderful weather across the region!
Joe