This is an archived article and the information in the article may be outdated. Please look at the time stamp on the story to see when it was last updated.
Good afternoon…a lot of filtered sunshine out there but temperatures are in the 60s right now but with the breeze blowing it feels a little cooler. As I've talked about for quite some time…if you can try and get those outdoor chores done before tomorrow evening, because while we should warm up again before the end of the month, the middle third of the month is not going to be pleasant.
Forecast:
Tonight: Fair skies and SW winds will allow temperatures to remain "mild" with lows in the middle 40s
Tomorrow: Increasing high clouds again but milder with highs in the 65-70° range South winds will increase to 10-25 MPH during the day.
Tomorrow Night: The arctic front should move/through into the region between 7PM-12AM. We'll have some additional; clouds and there may be a few light showers associated with the front and rapidly falling temperatures behind the front. We'll be mild (50s) tomorrow evening before the front moves through.
Tuesday: Blustery and colder. Any morning clouds (maybe a near daybreak flurry) will break and we should see partly sunny skies in the PM hours…highs will be in the 33-38° range in the afternoon. Wind chills will be in the teens and 20s.
Discussion:
So I guess we need to talk about the cold weather…
I put this graphic together this morning showing how long it's been since we've had pretty cold HIGH temperatures in the area…
So how long has it been since the high temperature was below…in #KC #KCwx #KansasCity pic.twitter.com/6hNnDhgklj

— Fox 4 Weather KC (@fox4wx) November 9, 2014
So it's been awhile…
My suspicion is that once we get stuck in the 30s for highs…we may be stuck there for awhile. I just did some research utilizing the FOX 4 Weather Almanac and wanted to see the coldest high temperatures from 11/12-22 which I suspect will be very cold around here…I wanted to see what year(s) compared.
In 1972 on 11/12 we had a high of 47° then on the 13th it was 44° then we had 9 straight days with highs in the 30s which I think is a record for straight days in the 30s in KC in NOV. We also had some snow mixed in through that period with 7 of those days seeing at least a Trace or more of snow and 3 days with at least 1″ or more. If memory serves that's the year/month that KCI took over as the official station in KC.
Other random facts for you concerning cold high temperatures in November…
Most days with highs below 40° in November: 13 (1991 and 1985)…then 11 in 1951/1937/1896
Here are the Top 20 coldest high temperatures in November going back to 1888
I don't think we'll see anything that low…considering the lowest is 23° achieved several times…
It will still be cold though…and it's going to last a lonnggggg time it appears…at least till the 22nd or so.
Via NEXLAB you can see the arctic air up there…in the the Dakotas and especially in Canada.
The temperatures in the above map are in RED…lots of 10-15° temperatures in Canada….that airmass will ooze south tonight then start picking up its push tomorrow afternoon.
As this process occurs snow is going to break out across the N Plains and the upper Midwest. Here is a map reflecting the higher probability of at least 4″ of snow by TUE @ 6AM
and here is the region through WED AM with the highest risk of getting at least 8″ or more of snow…click on that image to make it larger…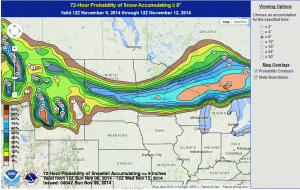 OK so let's recap the the front and use the hi-res NAM as a rough idea how things play out tomorrow into early TUE AM…
2PM tomorrow…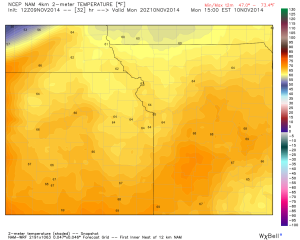 6PM tomorrow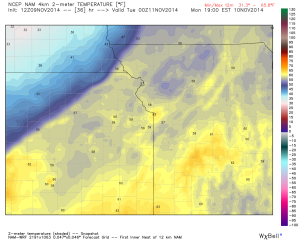 9PM tomorrow
12AM Tuesday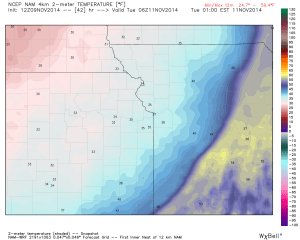 I think you can readily see the front's future in the maps above…and where we go with the temperatures…
Joe