This is an archived article and the information in the article may be outdated. Please look at the time stamp on the story to see when it was last updated.
Our weather this week will be rather quiet in the Plains…that's great news for those who have some outdoor plans or will be travelling from point A to point B. For us weather folks though…it's going to be rather boring which I guess is OK after a somewhat active weather month that produced a few nice rain events…a relatively minor snow event (but then considering our luck with snow over the past few years…I guess it was OK in the end).
2016 will come to an end in the next few days…as I was looking at the stats for the year(s) so far…I sent this information out on twitter yesterday.
Starting to look at #2016 for #KC…some early stats so far with about 5 days to go. pic.twitter.com/D32HZ7n5gR

— Fox 4 Weather KC (@fox4wx) December 26, 2016
By the way…did you know we actually set a record for precipitation on Christmas Day. That one sneaked by me until I was looking at the data yesterday. The reason why it did so by was that we only had about .29″ of moisture. I  didn't even think we'd be close to a record. With that said…unbeknownst to me Christmas Day had the lowest record precipitation value of the year (previously .28″ in 1957). So in a sense it was the "easiest" precipitation record to beat in the calendar year! Strange…even easier to beat than the record for FEB 29th (leap day) which only occurs every 4 years. Now the next "easiest" record to break on the precipitation side is .32″ for 1/24.
Forecast:
Today: Sunny and pleasant with highs around 50°
Tonight: Clear and cool with lows near 30°
Wednesday: Sunny and mild with highs approaching 55°
Discussion:
It's pretty amazing that we've already erased more than half of our December deficit in temperatures since we dipped to almost 7° below average last week. Now we're down to 3.2° below average and we're going to erase more of that deficit before the month is done. I think we'll still be below average when things are said and done…but it won't be nearly as dramatic as what things looked like about a week ago (remember it was the 18th and 19th that lows tanked to -9 and -3°).
As a matter of fact…here is how the month looks through the Plains…in terms of rankings. All are on the colder side of things…and the numbers you see represent the ___ coldest December through yesterday.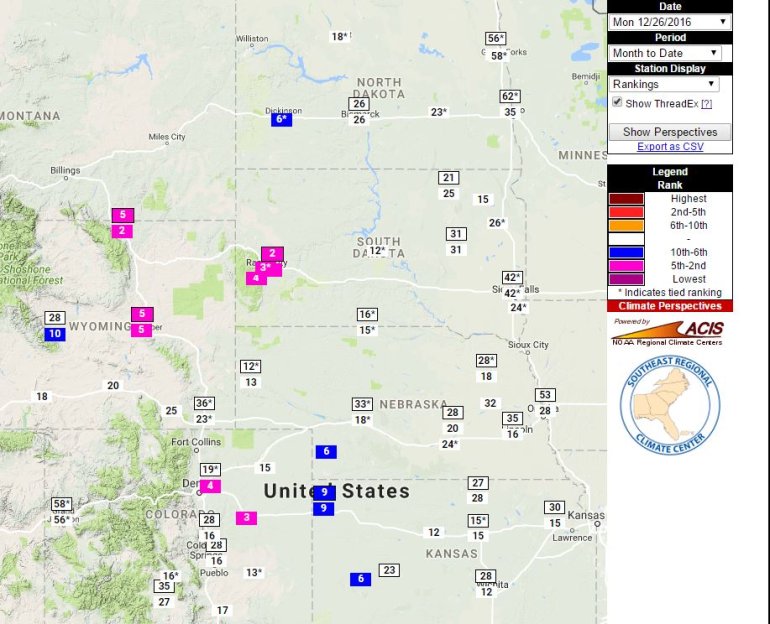 Note the rankings in the western part of KS and also the western part of SD…top 10 coldest Decembers so far…and around Rapid city, SD top 5.
as we broaden the view to cover the last 10 years or so…note the temperature anomalies from 12/1-12/25…there have been some very warm Decembers and some rather chilly ones…this falls into the latter side of things.
From a snow standpoint…here is where the Midwest stands…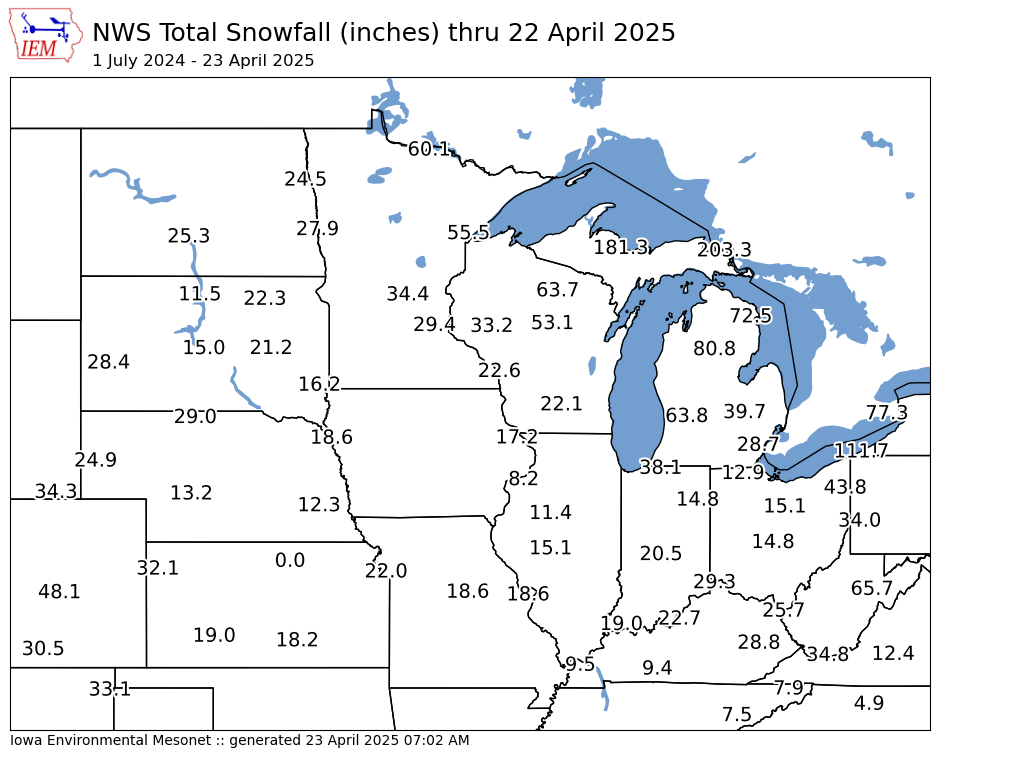 not a lot of excitement from south of I-80…
Here is the current snow cover…
Onwards…
In the bigger picture after a mild (for late December) week…next week will be markedly different. The mild air will be replaced by another arctic shot of cold weather that will linger for 7-10 days or so it appears. Let's use the EURO ensemble model for next Thursday the 5th. we're using the 500 mb forecast showing the predicted flow. Interesting to note a large "thumb" ridge in AK…pumping up in AK as sending warm air surging northwards into the arctic regions. Also note the ridge towards Greenland. Both these features are denoted by the "warm" reddish colors. What is interesting is that the ridges are trying to "link" together. That forces the polar vortex, near Hudson's Bay to migrate southwards. That sends cold/frigid arctic air in the central USA.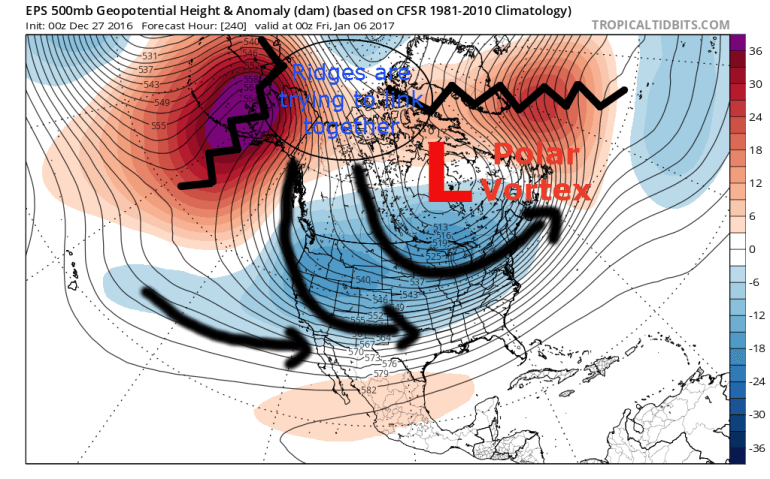 That sets up the delivery of bitterly cold and mostly dry air into the Plains and most of the US except the deep south. This shows up as we move down through the atmosphere to the 850 mb level…some 4-5,000 feet above us
That's a lot of cold weather that will get reinforcing shots every so often for about 5+ days or so…so this takes us well towards the 10-12th of the month.
When we saw lows in DEC of -8 to -18° in the region on the 18th…we had some snow on the ground. I'm not sure IF that will be the case initially…so that's why last night I mentioned the potential of near or sub-zero lows later next week.
Something to look forward too…or not as the case may be. For snow lovers…we better not waste another cold air mass. Phil Witt asked me last night about my winter snow prediction of 20″…I told him I didn't like the trends so far…as I was thinking we'd get more snow in the 1st 20 days of DEC than what actually happened…so I need to get about 5-8″ of snow in January to give my forecast a boost.
That's all for today…our feature photo comes from Misty Jones of the frozen tree tops from a few weeks ago.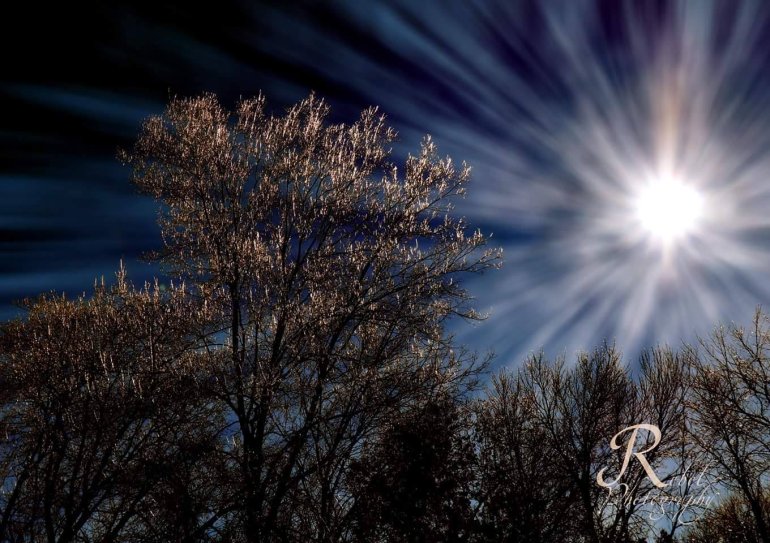 Joe