This is an archived article and the information in the article may be outdated. Please look at the time stamp on the story to see when it was last updated.
Good early Wednesday morning. If need be I'll be updating the blog sometime early this afternoon with some new information but I did want to get something out early considering the weather changes that are going to happen over the next 24 hours or so. Strong winds continue to bring in mild weather and now some low level moisture has moved into the area in the form of some low clouds. How long these clouds hang around will determine how warm we get today.
Forecast:
Today: Clouds for awhile this morning then becoming partly>mostly sunny. Continued windy and warm with highs potentially near or above 80° where the sun is more prevalent (perhaps from near KC towards Topeka) and closer to 75-80° around the KC area…to around 75° farther northeast of KC where the clouds may linger a bit longer. Storm chances will be increasing in the 4-7PM window near the KC and east areas. Farther NW into NW MO the storm chances will increase a bit earlier. IF you get rain it will be pretty brief around KC proper (you may not see a drop if the storms form a county or two east of KC this afternoon) due to fast storm movements
Tonight: Cloudy with chillier air moving in slowly. There may be some later night showers with the potential of some mixed in snowflakes in the wee hours of the morning. Temperatures dropping towards 35°
Thursday: Clouds in the AM into early afternoon with some PM clearing. When that clearing occurs will determine if we're 45°+. Earlier clearing and 45-50°…later clearing…40-45°. Whatever the case it may be a very late afternoon high. Blustery in the morning especially with wind chills in the 20s. NW winds of 15-25 MPH
Discussion:
Our 3 cats stay inside…BUT if they went outside today…JL pic.twitter.com/xT7pEG2B6f

— Fox 4 Weather KC (@fox4wx) March 23, 2016
Well this is going to be an interesting day watching the Plains as a strong surface storm will be intensifying near the region for the rest of the day. Once again I want to use this animation showing the wind fields with the developing surface storm. This is from the windyty.com folks…you again have full control of this map by zooming in and out etc.
[protected-iframe id="abaea717ff369d9c42b207213b291be5-28016812-27967000″ info="https://embed.windyty.com/?38.852,-94.779,6,menu,message,marker,metric.wind.mph,metric.temp.F" width="700″ height="500″ frameborder="0″]
You can already see the storms flow pattern. It will be getting more and more wound up as the day moves along. From a pressure standpoint…this is the latest information and will update as the day moves along.
As I mentioned yesterday the black lines are the isobars or lines of equal pressure. They are in millibars. 1000 mbs is roughly 29.53″ on the barometer at home. Each 2 mb drop is roughly a drop of .06″ so 992 mb is roughly 29.29″. That's pretty low pressure (not unusual for a spring time Plains storm fueled by strong temperature contrasts).
On the temperature side of this…
The map above represents the temperatures in a combination of solid red lines and solid tan lines. Eventually you may notice, as the dew points increase to above 56° some light blue shading cropping up as the day moves along. Any green shading represents dew points of 60°+.  As the afternoon quickly evolves you'll notice a sharpening dry line developing through the Plains and progressing our way. The blue dashed lines are the dew points as well.. (I know there is a lot to absorb in the map above)
The latest surface map may make things a bit clearer…the temperatures are in RED and the dew points are in green. You can clearly see the cold air settling into NE and IA this morning.
So as the day evolves here is what can happen. The low clouds are probably going to scour out and we should see quite a bit of sunshine today. The speed that the low clouds depart from KC westwards will determine how warm to very warm we can get. I still think a run to 80° in KC is doable with enough sunshine. As a matter of fact towards Topeka a run towards 85° is possible. This should make things unstable this afternoon + a dry line will be poking into the area later today. take a look at the forecasted dew points at 6PM this evening…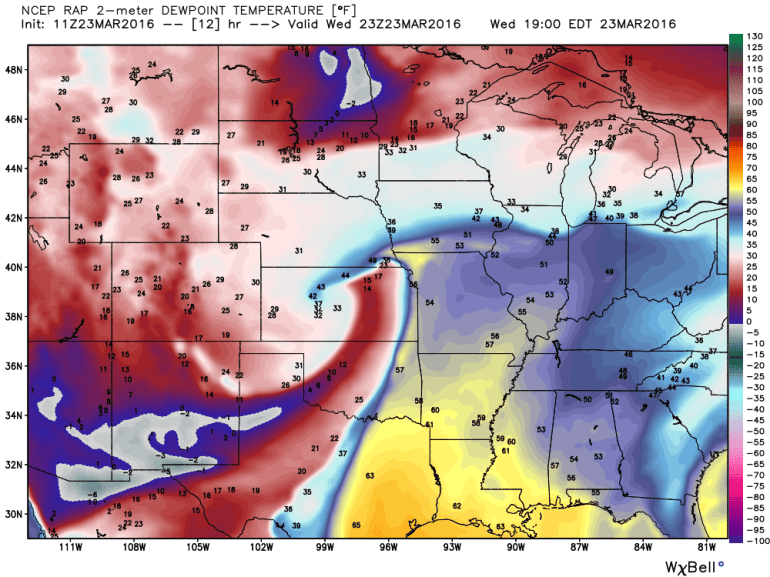 Now the forecasted 4PM temperatures…heat is building…
So what I think may happen is storms fire near the state line (perhaps on top of the state line or just to the east of KC) between 5-7PM. These storms then fly towards the ENE and NE at close to 50-60 MPH. When you get those fast storm movements…it's possible that the storms could produce some near severe level winds. Odds favor that potential to be just east of KC metro between 6-8PM or so. Here is the latest from the SPC (Storm Prediction Center). I more or less agree with this idea.
I want to leave you with the latest HRRR model that should update every few hours here on the blog. At least this morning it's showing convection developing later this afternoon and early this evening near and east of KC. This is from IA State.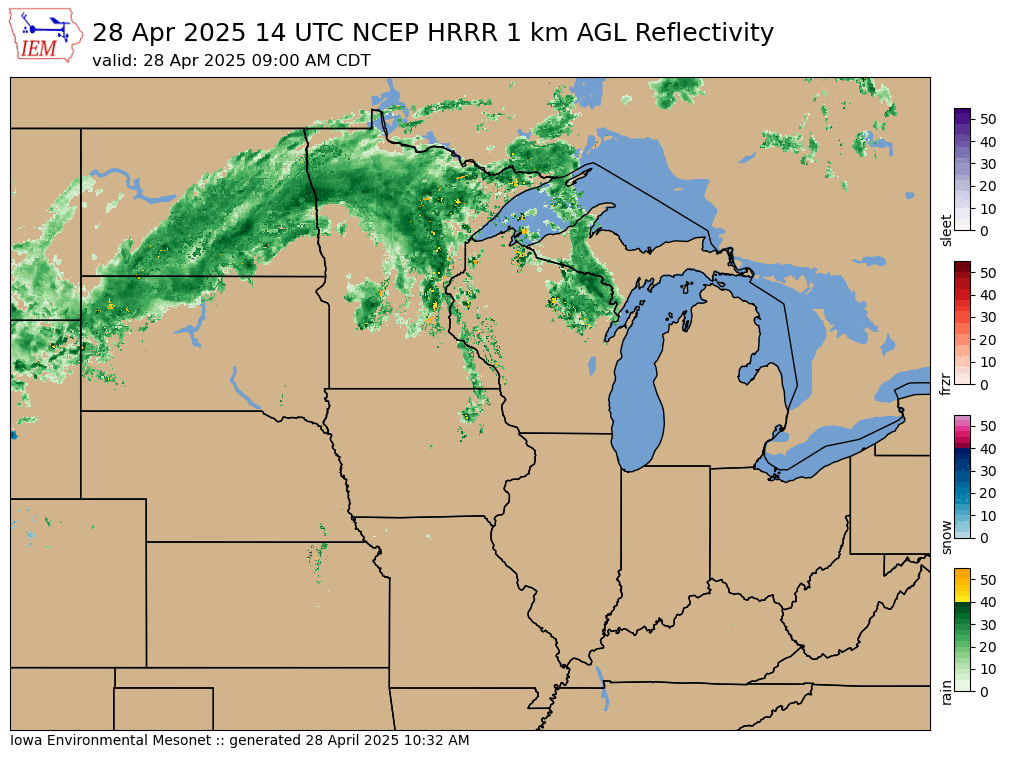 Again IF the storms fire a county east of KC…we won't get anything from the storms themselves…they'll race away and that will be the end of it until perhaps some rain showers overnight or a few snow flakes in the pre-dawn hours. It doesn't look like a lot of moisture from this system for KC proper. Another chance will come over the weekend.
That's it for now…again potential blog update this afternoon but I've set up things today to auto-update so you can get the latest maps and guidance from the model on the weather blog throughout the day.
Joe