This is an archived article and the information in the article may be outdated. Please look at the time stamp on the story to see when it was last updated.
Well I don't know what to tell you anymore. This wasn't going to turn into a "thing" really and in the end it may turn into "something" but it won't be a lot and it may be like almost all the other little systems we've seen now for the last few years. Another really non-plowable snow in the KC area that is going to be treated by a ton of salt and odds are will melt away by later Sunday afternoon. IF you're a snow lover…it's just another kick of salt in our faces…IF you hate the snow (and I know most of our viewers probably do) then you're happy campers today.
But really…come on already. Nicole this morning said where's my snow tie…it's a tie I've worn for many years when there's a decent snow coming and I frankly won't dignify the tie with these piddly events…it's disrespectful :).
So with all that out of my system…
---
---
Forecast:
Tonight: Cloudy with some light freezing drizzle/snow developing as the evening wears on. The snow won't be too hard and it will stick immediately. With that said amounts will be light overall in the KC area ranging from barely nothing to 1″. Lows near 10°
Sunday: Any leftover flakes end in during the morning and then the sun should come out quickly. Not as cold with highs closer to 32°. Whatever snow that falls will melt away in non-shaded areas.
Monday: Sunny and warmer with highs near 40°
Tuesday: Near 50°
Wednesday (Valentine's Day): Near 60°
---
---
Discussion:
Well it is snowing in parts of the area…northern MO saw 1-2″ this morning…more coming tonight…and areas SE of KC towards Warrensburg are seeing snow this afternoon. As a matter of fact the Johnson County, MO EM just sent this out "Light-Moderate Snowfall falling at a steady rate with surfaces becoming partially snow covered" as of 11:30 or so.
For KC proper however the jokes on us snow lovers. This was never going to be an exciting storm really, despite model land forecasts because of all the reasons listed this week in previous blogs. I did have some hope for some jet stream dynamics to help us along a bit to get at least 1-2″ or so…even that is going to be tough. Would I be shocked with 1″ in the Metro…no but this will almost have to overproduce at this point for KC to get to even that level…especially south of I-70. We will have "fluff factor" in our favor so maybe there could be a minor surprise…but it doesn't look good. This is the 1st time this winter that I'm starting to lose interest in the winter in KC. This is the 1st weekend where I'm sort of like…bring on the 70° days. It's been a frustrating run of winter snows over the last several years…apparently a lot of you feel the same way…it was 60-40 that Spring is being requested last I looked.
Hey KC Tweeps: …

— Fox 4 Weather KC (@fox4wx) February 10, 2018
The window for the snow is after 8-9PM till about 3-4AM or so. Perhaps some weird leftover flakes may be around near daybreak but overall this is a short-lived event that will zip through and not do a lot. Some slick roads are certainly possible, since the snow will stick immediately with the colder temperatures.
So far this winter, we've had 5.4″ of snow…we really need to get to 10″+ to keep something that's never happened before in KC weather history from happening. That would be NOT having 3 straight winters with under 10″ of snow.
So with all of that said…here is a look at radar…
and a look at the HRRR model that should get us through most of the event tonight.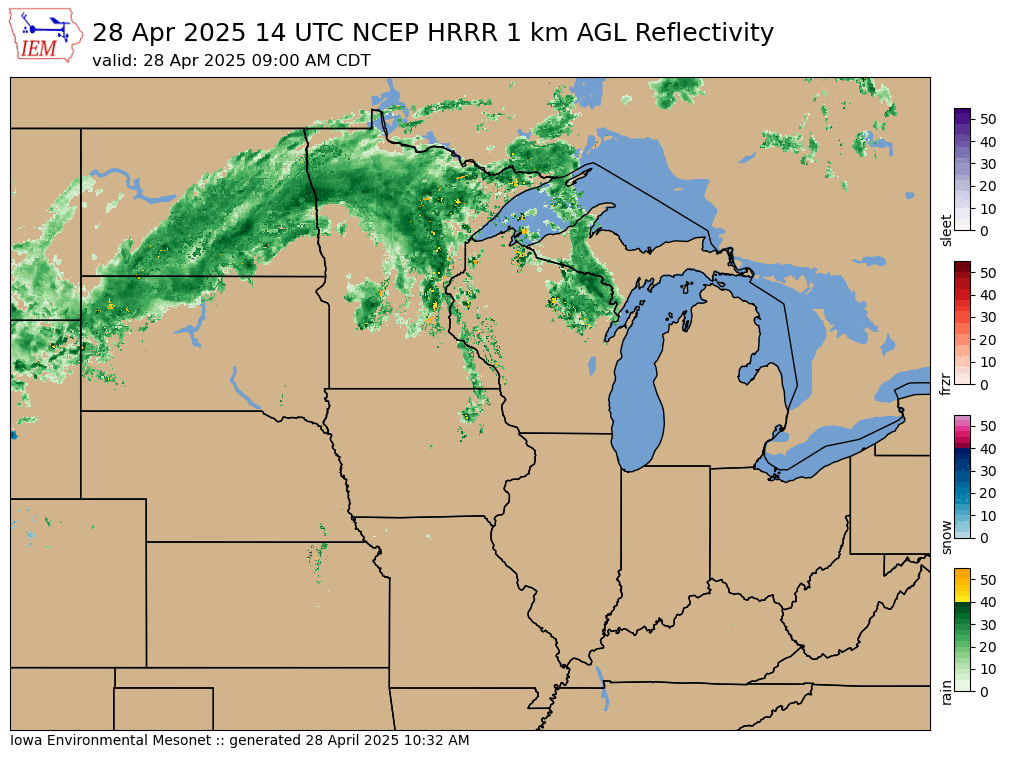 Locally a Winter Weather Advisory is in effect for areas all around KC…north, east, south. The counties are highlighted in blue…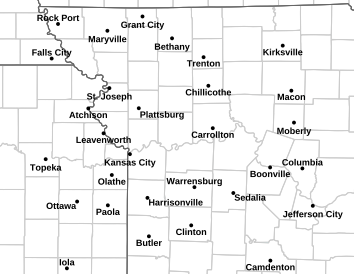 It's almost comical. Northern MO may end up with another 1-3″ of fresh snow on top of what you got last night and this morning up there
More snow is heading towards the southern Great Lakes region…
The ground is covered with snow, the lake near the shore is covered with snow, everything is covered with snow! In fact, Chicago's official snow depth of 10 inches now is the deepest since Feb 27, 2015. A glimpse of the true winter wonderland in #Chicago this morning. #ilwx pic.twitter.com/NmhqCSamW8

— NWS Chicago (@NWSChicago) February 10, 2018
7-10″ fell from the storm yesterday and several more inches are possible this weekend.
Hey it could be worse…imagine 110 straight days without anything really to talk about aside from the ups and downs in the temperatures…
https://twitter.com/NWSAmarillo/status/961334600491511810
While there's been NO change in the drought situation in the last weekly drought update…that's represented by the gray color in the map below…the yellow colors represent areas that are seeing a worsening drought.
Week over week change also shows #drought expanding in the Plains, while recent rains have helped areas in the Southeast #OATT #AGwx pic.twitter.com/3fEnSGVUf6

— Ed Vallee | Empire Weather LLC (@EdValleeWx) February 8, 2018
Notice from SE KS and into TX/NM/OK especially…it's getting worse again.
As far as our work week goes…another strong cold front will move through sometime on Thursday…odds are we'll be very mild early Thursday (another 12AM high temperature for the day?) then see chillier weather for the end of the week.
What happens next in the KC Metro area? #deepthoughtsfromjoe

— Fox 4 Weather KC (@fox4wx) February 10, 2018
If you're wondering why I'm not posting a ton of maps and explanation about the snow system today/tonight. I just don't have it in me today…it's so frustrating.
Charley Caron has the feature photo of the day…pretty shot!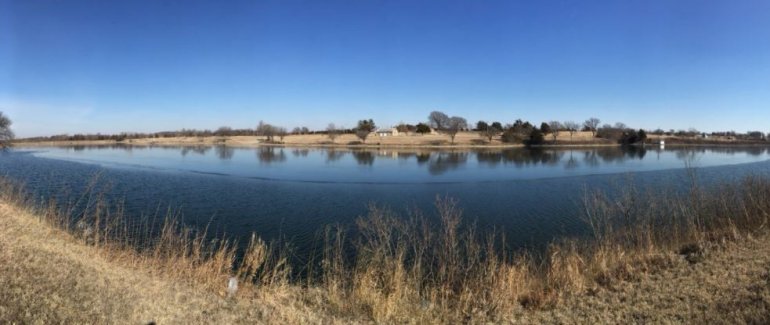 I really need some blog days off…I'll put something together I think on Sunday but I may not blog a couple of days next week…I'm sort of blogged out right now and I'd hate to waste your time.
Joe