This is an archived article and the information in the article may be outdated. Please look at the time stamp on the story to see when it was last updated.
So here it is…windy and warm again. Temperatures are in the 60s now…
So what better time, considering that there are record highs falling in parts of the Plains states…to catch you up on some snow totals thus far this season and comparing things to average through today's date and last years totals through today's date.
There are about 50 cities through the Plains and OH Valley to choose from. I only choose the cities that had the data readily available on their climate statements. For example…Denver, CO is a pain in the you know what to compare snow seasons…I can tell you they've had 14.3″ of snow…whereas last year through January they had 27.8″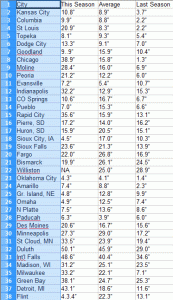 Here are a few more…click on both these images to make them larger!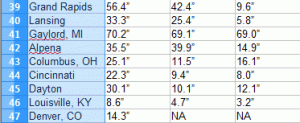 Couple of take-aways…I posted some thoughts on twitter earlier…
For #KC 10.8" vs avg of 8.9" & in 2013: 3.7". So far more #snow than Topeka/Amarillo/Gr. Island, NE/Omaha/Sioux City, IA/Pueblo, CO #NEwx

— Fox 4 Weather KC (@fox4wx) January 19, 2014
Working on a #snow update thru the central part of the country…big winner compared to 2013. #Chicago! 38.3" vs 1.3" in 2013 #ILwx

— Fox 4 Weather KC (@fox4wx) January 19, 2014
Indianapolis is doing very well with the snow situation this month…
(@NWSIndianapolis): January 2014 now 3rd snowiest record January (23.3") in Indianapolis,IN http://t.co/HglVdIpaZR pic.twitter.com/lKWqgWimP4

— Johnny Kelly (@stormchaser4850) January 19, 2014
Significant differences in the state of MI as well compared to last year.
For the Plains…it doesn't look to good over the next 10 days…here is a look at the EURO model forecast through the 30th…some indications we may have something going on in early FEB…we'll see through.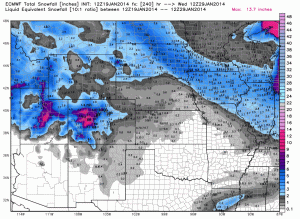 Have a great day! 60s in mid-January…we'll take it!
Joe