This is an archived article and the information in the article may be outdated. Please look at the time stamp on the story to see when it was last updated.
Good afternoon…bright and sunny out there today with just a few cumulus clouds out there. Temperatures are already warmer than they were yesterday and we're still going upwards. Today will be the 1st day this month with highs 90° or higher. Did you know that we typically do that 41 times each year…and that not including today, we've done it 8 times already. You can see we have a ways to go.
---
Forecast:
Tonight: Clear skies and warmer with lows in the mid 70s
Monday: Mostly sunny and hot with highs around 95° and heat index values closer to 105°. Breezy too with SW winds of 15-25 MPH.
Tuesday: Partly cloudy skies with highs again in the mid 90s. Heat index values close to 105°. SSW winds of 15-25 MPH
Wednesday: Partly Cloudy and hot with highs in the mid 90s again.
---
Discussion:
So the other day I wrote about how there really isn't a true definition for a heat wave. Go ahead…look it up. There isn't really. At least in terms of actual concrete numbers, for example when the temperature is ___ over a stretch of ___ days then that's a heat wave. Or, perhaps more localized, when the heat index is ___ over a stretch of ___ days then that is a heat wave.. I wish it were more concrete. Some meteorologists locally say "3 straight days with highs 95° or above"…sure why not…it's as good as saying 4 straight days of highs above ___ or 8 straight days (well you get my point). I guess a heat wave is whatever you want it to be. The NWS though has to react because of all the weather related deaths locally in the KC area…it's not tornadoes or floods or lightning that get us…it's heat.
According to the KCMO government…those most vulnerable are…
-Infants under one year of age
-Elderly in the community
-Those who are disabled
-Persons taking drugs or medications, including diuretics, sedatives and narcotics
-The economically disadvantaged.
Anyone can suffer a heat illness or death, but members of these categories are often hit the hardest by heat (your risk is based on who you are, especially if you are in one of the categories above, what you are doing, and what you are putting in your body). The reason for this is because of the following most common causes of heat death and illness:
Refusal to leave home to go to a cool shelter
Keeping windows closed for fear of being robbed
Not using air conditioner because of high energy costs
Inadequate fluid intake
Furnace effect from fans. The furnace effect is when someone is no longer sweating because they are too hot and the air is too humid, and a fan is being used. That fan is not cooling the air or the person, just pushing more hot air on the person. In effect, the person is being broiled.
end text…
According to a recent study (through 2013) by the MO dept of Health and Human Services…hundreds have lost their lives due to "hyperthermia" or when the body's internal temperature is too hot over the years as a matter of fact the death toll from heat is over 1000 from 1980-2013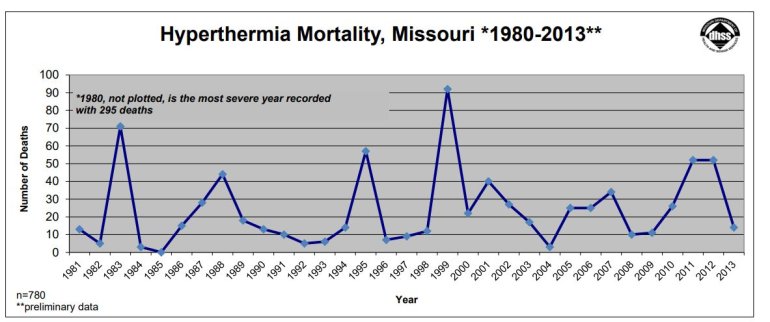 From 2000-2013 61% of the heat deaths came from St Louis City/County and Jackson Co, MO.
Inner cities are especially vulnerable because of the heat retention of the concrete/buildings etc. When temperatures don't drop off at night (typically because of the higher dew points in the region) it's particularly bad.
There are some questions about how the heat will play out this week. Many factors may come into play including clouds, rain chances, perhaps a late week cold front etc. Storms over the upper Midwest can always rotate clouds our way, even coming in from the NE to the SW. Any cloud cover at all can reduce expected highs 1-5° on a daily basis.
I'm not a big fan of the various heat advisories/warnings etc that the NWS issues…but I don't want to get into that now. I will though show you the criteria, because odds are TV weather people will be showing you graphics displaying this information. My bet is IF you put them on the spot they wouldn't know the criteria off the top of their heads…heck I'm not even sure sometimes and I find the whole thing confusing. Heck though IF it gets some folks to respond in a positive way…and in some cases these are trigger alerts for certain services to be provided (cooling centers etc) then I'm all for it.
Interestingly, not including today…officially at KCI we've had 13 hours with temperatures 90°+ so far this year!
On average the airport there reports 90°+ for 150 hours of the year…so we're only 8% there or so!
Interestingly the Downtown Airport has a higher frequency of  92°+ hours…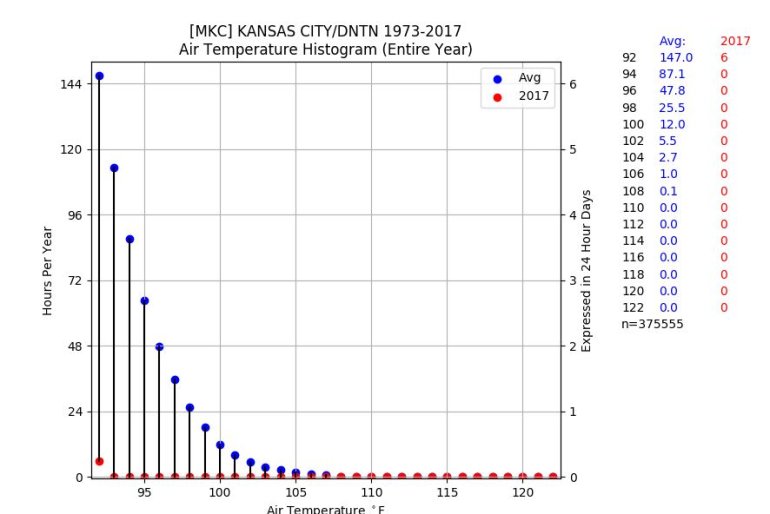 How long will the more "extreme" heat linger. Well at least for a few days…probably into Wednesday. Then as we head towards THU>FRI we may have some sort of weak boundary lurking in the area. This may help with clouds and rain chances. In don't think, right now, that this is a 5 day+ type of set up which is the more concerning situation. As a matter of fact we may drop below 90° for highs later this week for a day or so. It will truly depend on a weak cold front that may try to slip towards the KC area later WED into THU.
I won't be surprised if parts of N MO Monday makes a run towards 100°, nor would I be surprised if Downtown KC tries to get close on Wednesday.
Try to stay as cool as possible this week…exercise early or late in the day…DRINK WATER…wear light colored clothes…you know the routine…just do it and make sure those who may not be able to prepare as well as you are safe too!
Our feature photo comes from Lynn D of Liberty, MO…she took this shot up in Kearney, MO last night.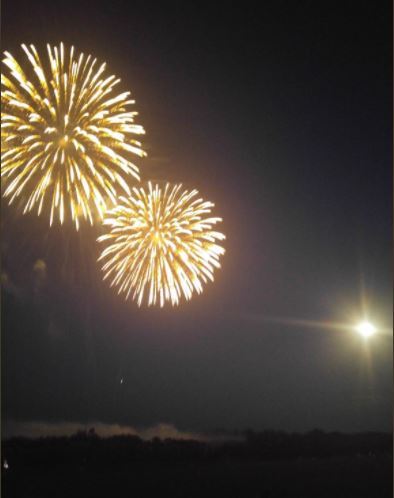 Joe